This is not a sponsored post. All opinions are my own. 
There was exciting news out of Knott's yesterday! As soon as I saw the first post online about the opening of Mrs. Knott's Express Bakery now being open in the California Marketplace, which is located just outside the park, I knew I needed to investigate further!
Anything food-related is going to grab my attention, especially when it's at Knott's. Bonus points if it's "boysenberry" (and some of the items actually are) This was the tweet that caught my eye:
NOW OPEN: Mrs. Knott's Bakery Express
Enjoy some specialty doughKNOTTS, coffee and boba tea now available at the new bakery express located in the California Marketplace next to the Cable Car Kitchen. ?☕? #KnottsBerryFarm pic.twitter.com/DT5aPFoXnl

— Knott's Berry Farm (@knotts) July 21, 2018
I mean, how could I ignore this tweet? Mrs. Knott's Express Bakery looks like a great place to grab some delicious looking donuts! Plus, they offer coffee, tea, juice, soda and one of my favorites from last year's Boysenberry Festival: Knott's Boysenberry Boba Tea!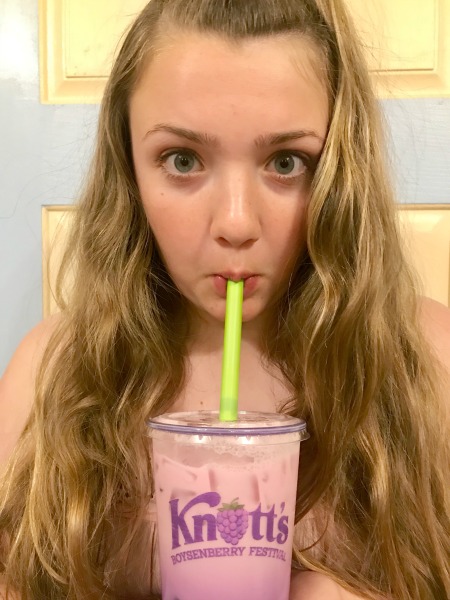 Oh my goodness! We fell in absolute love with this drink and were sad to see the festival end, knowing we'd have to wait an entire year to get our hands on another one. Now you can grab one any time though!
But getting back to those donuts…. which one of these cronut-style donuts would you try first: Fruity Pebbles, Bacon or Chocolate Explosion? This picture from Clementine County looks like a good start! I can't wait for my next visit to Knott's!
For more information about Knott's, please go here.
Some photos are property of Knott's Berry Farm and Clementine County blog.