This post was sponsored by Nature Made® as part of an Influencer Activation for Influence Central.
The start of each new school year is another chance to get organized and re-establish  a daily routine. This year, I'm hoping to not only establish a routine that helps our mornings run smoother, but to integrate some healthier habits for my family, especially my daughter. When I say "healthier habits", I'm referring to a healthier diet, filled with better nutrition. Sometimes, the hustle and bustle of a busy life can interfere with efforts to eat a more balanced, healthier diet though.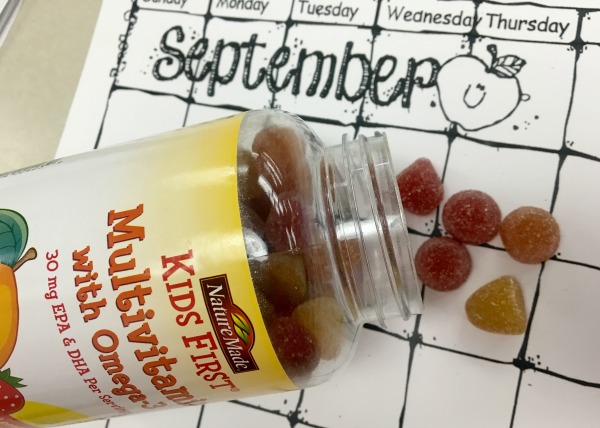 As my daughter gets older, she seems to have gotten pickier about foods that she'll eat. It seems like she'll gobble down any vegetable on the planet (even Brussels sprouts) but fights me when it comes to fruit. It's so strange.
As a mother, I'm always concerned about my daughter's eating, mostly concerned about her nutrition. I also feel like lack of nutrition affects learning and education is something we place a high priority on. 
One way for my daughter to get the vitamins she needs is for me to give her Nature Made® KIDS FIRST Multivitamin with Omega-3 Gummies daily. They are great-tasting gummies that come in Strawberry, Lemon, and Orange. (They're all natural fruit flavors.) 
 Have you seen tried these with your kids yet? I found them when I was shopping at Target, near the pharmacy and healthcare section. They are definitely kid-friendly and she loves taking hers every morning before school. 
Nature Made® KIDS FIRST Multivitamin with Omega-3 Gummies provide 3 key nutrients, plus the essential omega-3 fatty acids EPA and DHA. I worry about artificial colors but their colors are actually derived from natural sources and don't contain any synthetic dyes.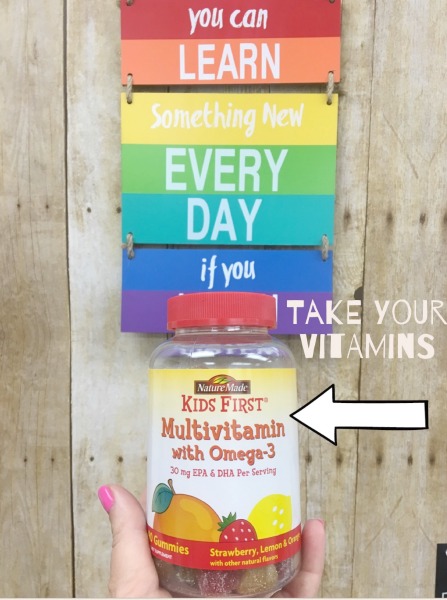 I feel confident that we're starting the new school year on track with healthy habits. Choosing high-quality vitamins and supplements from Nature Made® makes it easier. It also doesn't hurt that I remind my daughter each morning before school that you can learn something new every day if…you take your vitamins! 
Connect with Nature Made® on Facebook and Twitter. Connect with Target on Facebook, Twitter, and Pinterest.
†These statements have not been evaluated by the Food and Drug Administration. These products are not intended to diagnose, treat, cure, or prevent any disease.