I was invited to attend a media event in order to provide this coverage. All opinions are my own.
I was so excited when family and I were invited to a special night at SeaWorld San Diego to experience their Christmas Celebration. Wow, SeaWorld goes all out, with more than a million holiday lights, hundreds of Christmas trees and 5,000 feet of garland. The lights of SeaWorld's 320-foot Skytower Tree of Lights, which is the largest Christmas tree in Southern California, dance in sync with classic holiday songs.
What's New at SeaWorld's Christmas Celebration for 2017
This year at SeaWorld's Christmas Celebration, there's an all-new live holiday musical, O Wondrous Night. It brings the moving story of the Nativity and the meaning of Christmas to life through song and celebration, It is "The Greatest Story Never Told:.
The spectacular stage show is performed nightly, under the stars, in the Nautilus Amphitheater It tells the Christmas story from a new point of view: through the eyes of the animals. The musical features more than 30 carols, beautiful storytelling puppets and live majestic animals, including camels, a donkey, llamas, sheep and doves.
It's absolutely amazing and beautiful and will fill your heart with the true message of Christmas. Here's a look at "O Wondrous Night":
In addition to O Wondrous Night, all the seasonal favorites that have made SeaWorld's Christmas Celebration a family holiday tradition are back for park guests to enjoy. Here are some of the other fun holiday festivities you'll find this year at SeaWorld's Christmas Celebration:
Rudolph's Christmastown
Returning this holiday season is the most famous reindeer, Rudolph the Red-Nosed Reindeer in his very own area, Rudolph's Christmastown.
We were excited to see our friend Rudolph the Red-Nosed Reindeer again this year. Did you know SeaWorld is the only theme park on the West Coast where people can meet Rudolph?
Yep! Rudolph is hanging out with his friends Clarice, Bumble, and Yukon Cornelius. You should get over there to visit him and take advantage of the fun photo opportunities. 
Nightly Tree Lighting
There's a nightly tree-lighting ceremony featuring the 40-foot Happiest Christmas Tree, which is accompanied by the Misfit Brass band. It was a delight to sip on hot cocoa and watch all the fun! 
Festive Food Offerings
There's also an special holiday menu featuring Holiday Pizzas and delicious varieties of Mac & Cheese.  Feast on Mashed Potato, Cranberry Arugula and Classic Pepperoni Pizzas.
There's also Holiday Mac & Cheese, Christmastown Mac & Chese and Classic Mac & Cheese.
Santa's Christmas Village 
Friends and family can cozy up at Santa's Christmas Village, where children listen to Mrs. Claus during story time. Kids can share their wish list and take pictures with Santa at Santa's Cottage.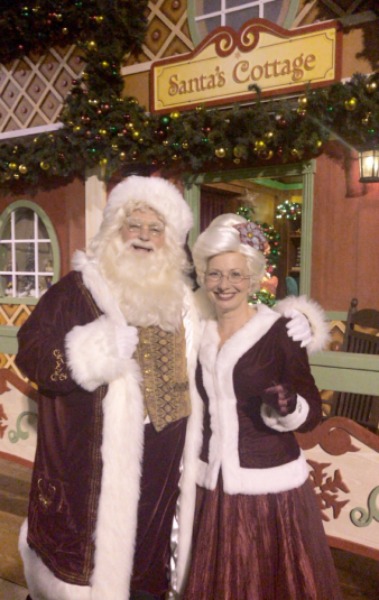 Parents can also check in for a pager that will hold their spot in line to meet Santa so that the family can explore the Village, including educational encounters with real reindeer from Santa's workshop, "Merry Moments" with Santa's friendly elves and delectable culinary creations. You'll also want to join in the Christmas Sing-Along with Mrs. Claus and the Elves, as well as the Elves Dance Party. For extra fun, mae sure to stick around for when it starts to snow! 
Dolphin Island Christmas
SeaWorld's Christmas-themed dolphin show celebrates the holidays with a tropical twist as dolphins and pilot whales perform amazing athletic feats set to island music.
Clyde & Seamore's Christmas Special
The park's prank-loving pinnipeds Clyde and Seamore have a hilarious holiday time in this Christmas-themed sea lion and otter show!
Cat's Christmas Parlor
Outside Nautilus Amphitheater, guests will find the Cat's Christmas Parlor, where the feline stars of Pets Rule! hang out in their own holiday-themed house. It's so cute to see them hanging out!
All of SeaWorld's Christmas Celebration festivities are included with park admission. (with exception of arcade-style games and reserved experiences such as Breakfast With Orcas and Santa) SeaWorld has a variety of admission ticket offers that provide tremendous value perfect for both local residents and tourists, including the SoCal Annual Pass for less than $100. 
.Did you know….a visit to SeaWorld helps support animal rescue programs as well as provide millions of dollars in donations and in-kind services to conservation projects around the world? Seeing animals at SeaWorld supports saving them in the wild. For more information, please visit http://www.SeaWorldSanDiego.com or call (619) 222-4SEA.
Some images are property of SeaWorld and used with permission.