Our family was invited to spend an afternoon at Splitsville Orlando in exchange for this review. All opinions are my own. 
Splitsville Luxury Lanes™ in Orlando, Florida is a such a fun place to go for some bowling, gourmet food & hand-crafted cockails! It's located in Disney Springs and features 50,000 square feet split between 2 stories with 30 lanes for bowling, inside and outside dining options, billiards, multiple bars and even live entertainment!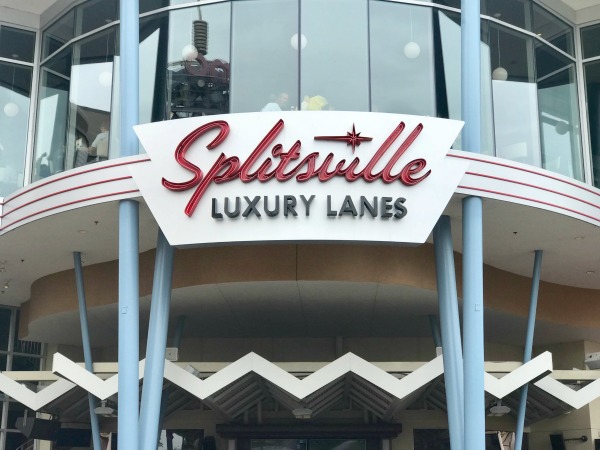 During our most recent trip to Walt Disney World Resort, we headed over to Splitsville Orlando for some family time. It was a welcomed change of pace from the hustle and bustle of the parks and is a great opportunity for your family members to bring out their competitive sides. 
You're going to love the retro decor of the place! It features brightly colored accents, hand-painted murals and other fun touches.
They even have Minnie and Mickey details on the bowling balls! You can bet I grabbed the hot pink Minnie Mouse ball right away! It just doesn't get any better than that!
Let's talk about bowling at Splitsville. This isn't ordinary bowling, it's completely amazing bowling!.Take the yummiest food, the best drinks and add those both to your own little lane. When they say "luxury bowling" they literally mean that! 
Once you're checked in and your bowling shoes are ready, you are shown to your lane, where you have unlimited bowling for the duration of your reservation.
You can sit comfortably at your lane-side dining table while you wait for your next turn to bowl and your friendly Splitsville server will keep any food and drinks coming that you order from their amazing menu. (Keep reading for more about the food.)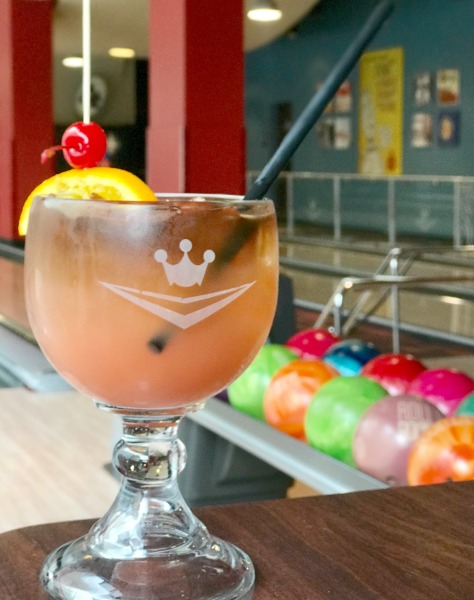 Dining at Splitsville is like nothing you've experienced at a bowling alley before! You have the option of dining inside or outside at Splitsville and don't even have to be there for bowling to dine there. However, eating and bowling is like the ultimate way to make yourself feel like a kingpin!
Splitsville has taken "typical" bowling alley food and turned it up about 10 notches, to offer things such as:
Pizzas – You can choose from a variety of different pizzas such as cheese, pepperoni, BBQ Chicken, Veggie, Margherita, Firehouse, Hawaiian, and Meat Lovers.
Entrees – Choose from items such as Fish n' Chips, Grilled Salmon with Mango Chutney, Sweet n' Spicy Chicken Bowl and more.
Salads – Freshly made salads include Chicken Chopped, Ahi Tuna, BBQ Chicken, and Blackened Caesar.
Handhelds – You'll love handhelds such as a Cheeseburger Deluxe, a Bacon Cheeseburger, a BBQ Pulled Pork Sandwich and a Turkey Club Supreme.
Sushi – Splitsville also offers an extensive sushi menu which is prepared fresh on site and made-to-order! I can't wait to try some of that on my next visit.
Other dining offerings at Splitsville  include appetizers, desserts, and a Kids Menu.
The drink menu at Splitsville Luxury Lanes is as extensive as the food menu and includes Frozen Drinks, Bowl Drinks, and Specialty Cocktails, as well as draft beer, bottle beer, and wine. There are also non-alcoholic options including 130+ varieties of sodas and teas. Any drink, both alcoholic and non-alcoholic, can be ordered and served in a 28 oz. Splitsville Pin Sipper Souvenir for an extra charge, Sounds like the perfect souvenir to me, which is why we brought home 2 of them! 
Here's a short video showing some of our fun day out at Splitsville.

Walk-ins are always welcome but you can also make a reservation at Splitsville for either a lane or a party. Some fun party ideas for Splitsville include: birthday parties, office team building, and even corporate events. To make your reservation, please go here and fill out the form and wait for a social director to get back to you via email or phone to finalize your reservation.
I had no idea I was going to love Splitsville so much. I don't think I can go back to "regular" bowling again! It's definitely true what they say…"Fine dining is better in rented shoes"! 
So…, are you ready to "Roll in and Rock Out" at Splitsville Orlando?  We can't wait to go back! To find a location closest to you, go here. 
Connect with Splitsville on Facebook, Twitter, and Instagram. You can join in on the conversation and share about your own experience using #SplitsvilleOrlando + #DisneySprings on social.