It's no secret that I love parties. I love throwing parties. I love being invited to parties. I love attending parties that are hosted at a location, especially when they're done really well. I am always on the lookout for fun & unique places to have parties. For me, it's not only important that party packages are reasonably priced to fit in my budget, but also that the party itself, be something I'd be proud to invite my guests to. I think we've all had at least one disappointing experience at an establishment that promised a good party and delivered the opposite. 
Emi and I recently had the opportunity to experience a "Decorate Your Own Cupcake Party" at Casey's Cupcakes. I can honestly say that I was as excited as Emi was, if not MORE excited, for al the days leading up to the party! I can't think of a better match for us, since Casey is "The Queen of Cupcakes" and I've pretty much titled myself "The Queen of Parties"! Oh I think I forgot to mention that everything in a Casey's store is pink! Again, it's a perfect fit for me since my favorite color is pink! For Emi, an extremely pink dress was a necessity for her to wear on this special occasion, as was a pink hair accessory AND some pink lipgloss! She was channeling her "inner Casey"!

Emi was ready to party and came prepared with her Casey's Cupcakes backpack AND even carried my camera bag!

When we arrived at the Woodbury Town Center location in Irvine, Emily was very excited to see balloons 

just right inside the store!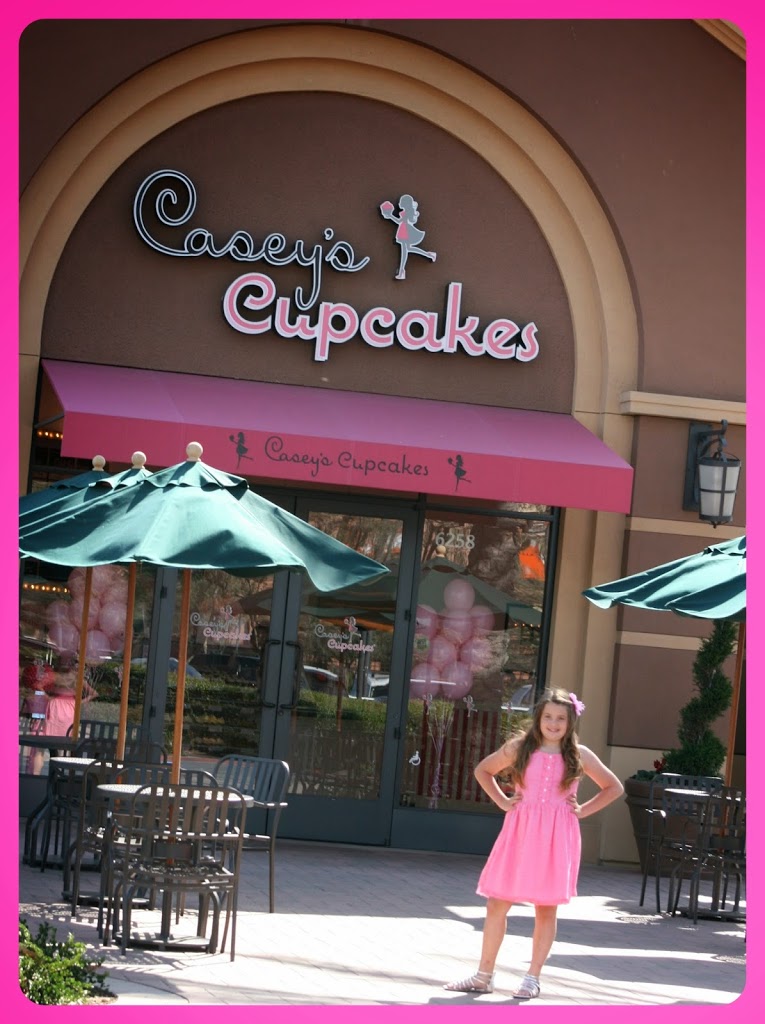 As soon as all of the children had arrived for the party, they each got to choose a tiara or a crown to wear for the party, which they also took home as a keepsake after the party. 
The children were then led into the Casey's Cupcakes Party Room.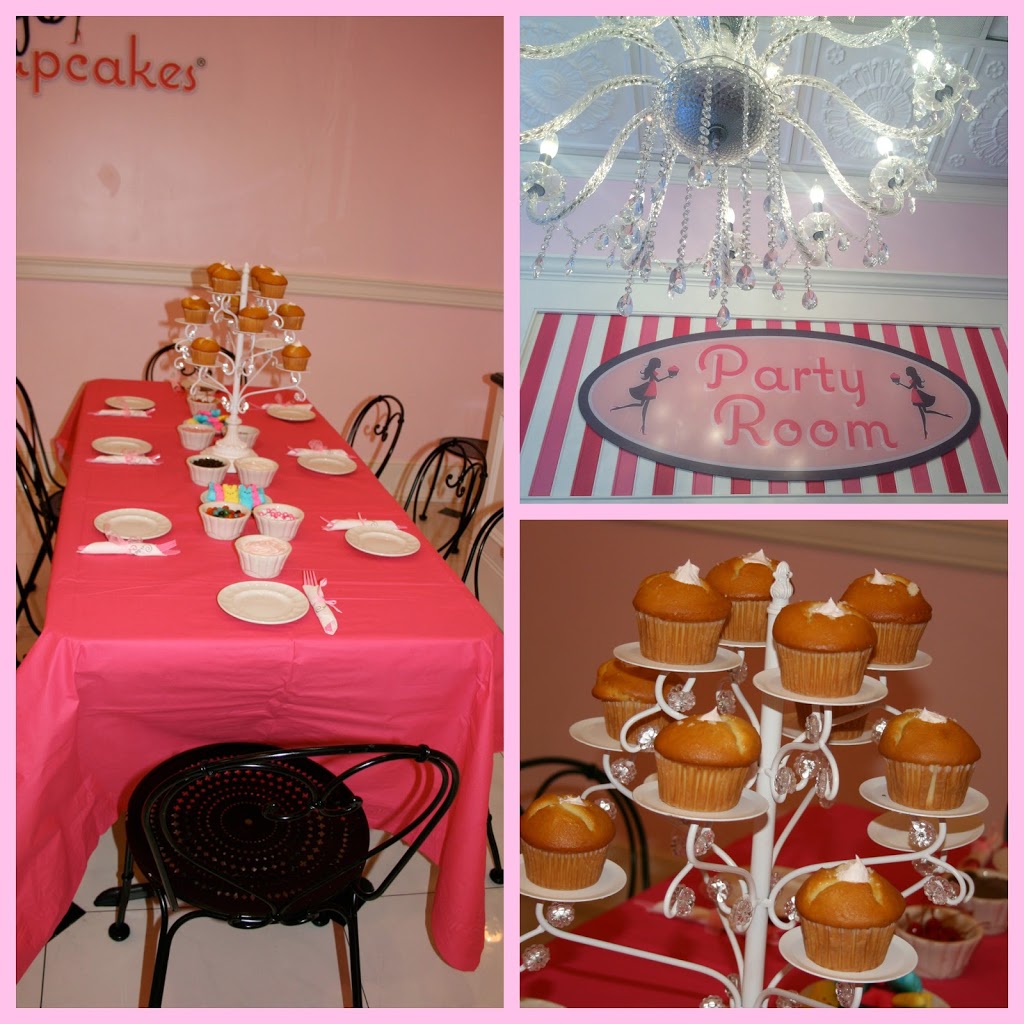 I loved the way the room was set up. I also LOVED the beautiful chandelier!
The private party room is very pink and was beautifully decorated for our party. There was an elegant cupcake holder in the center of the table, an array of yummy frostings to choose from, and a beautiful assortment of sweets to adorn the cupcakes, including Sixlets, jelly beans, sprinkles and even Peeps bunnies. The Peeps seemed to be an especially big hit with the mommies! (I won't name any names though.)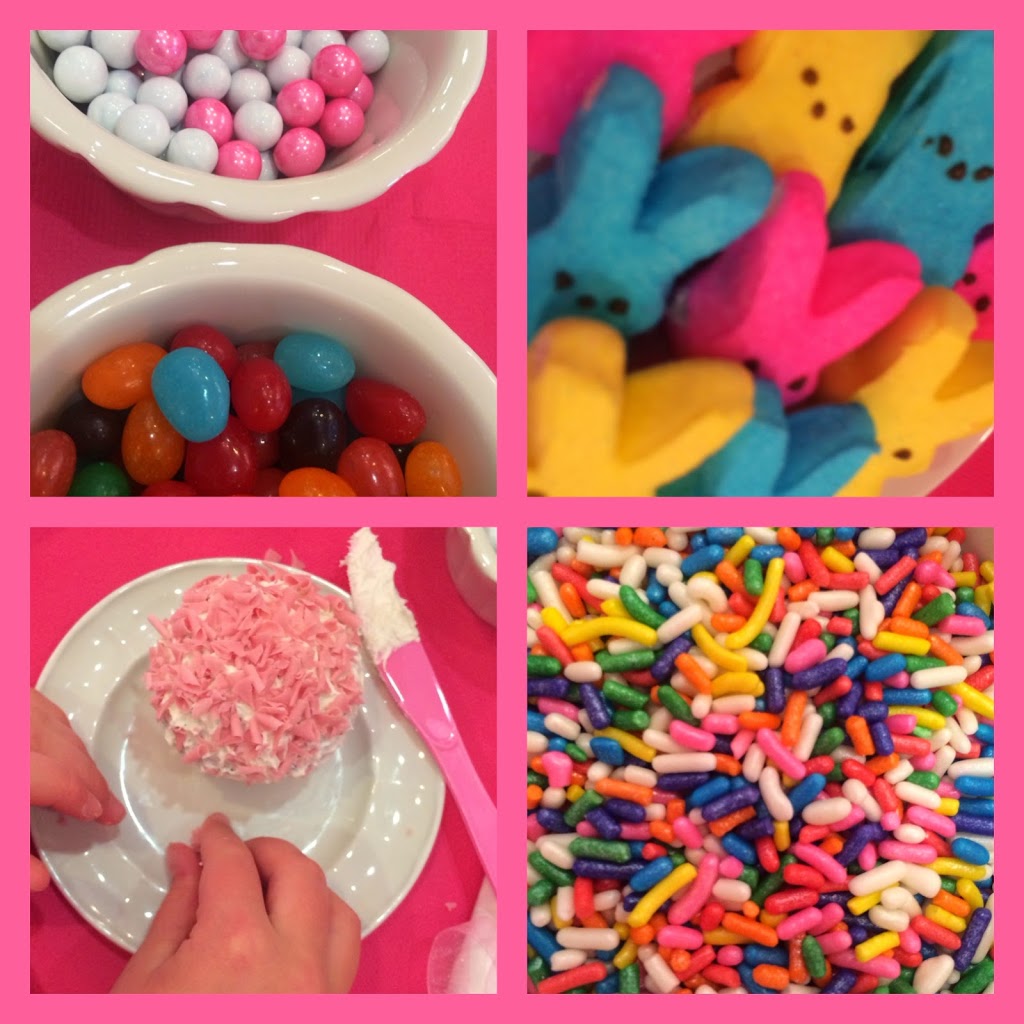 Sixlets, jelly beans, Peeps and sprinkles! So many goodies to choose from!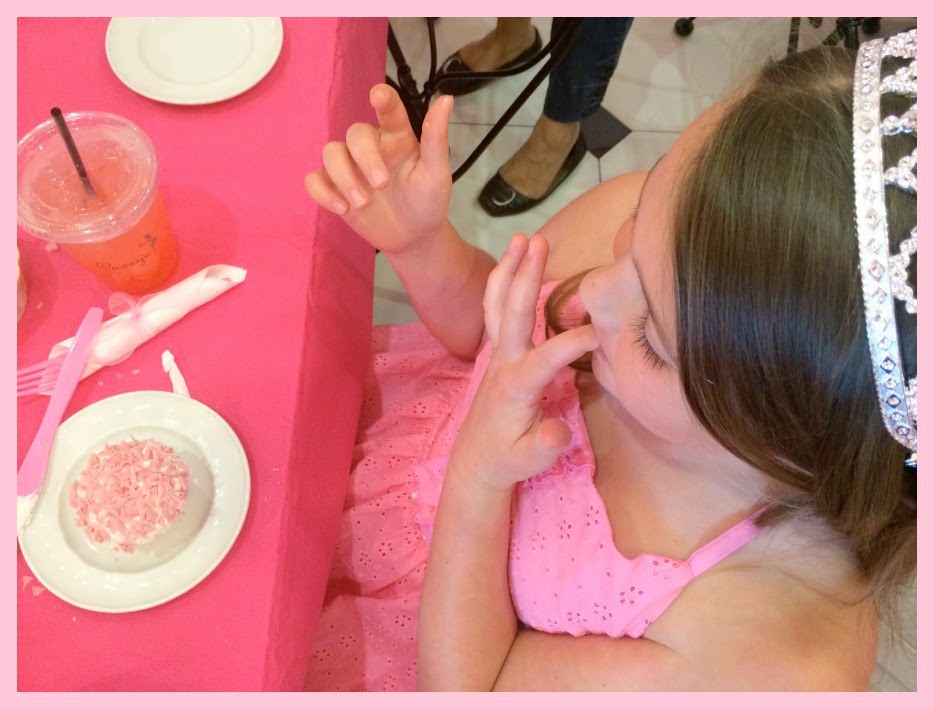 It's hard to resist licking your fingers when there are yummy frostings on the table!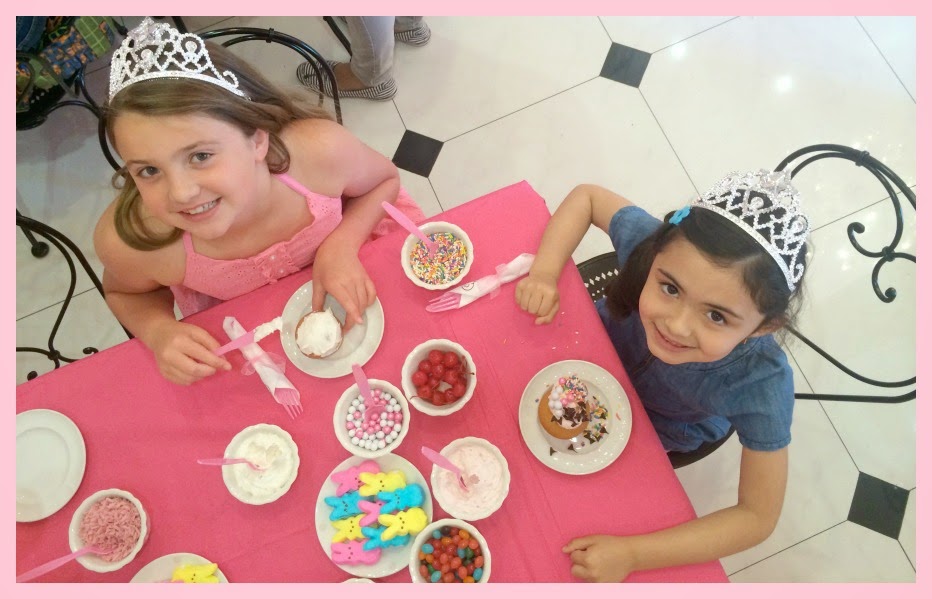 How adorable are they?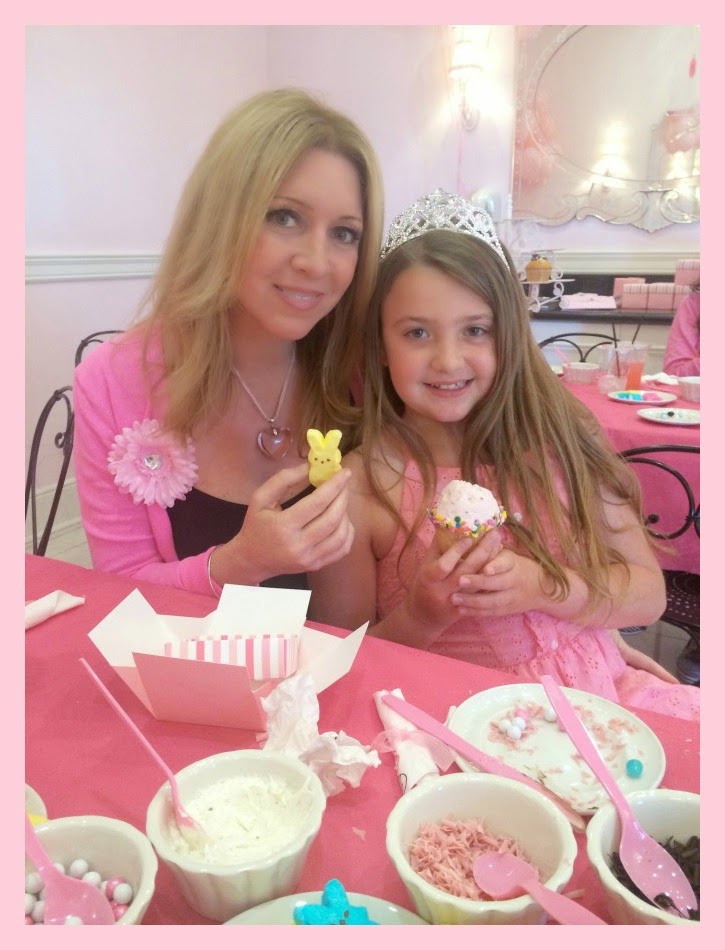 Immediately after this pic was taken, I'll bet you can guess what I did with that Peep?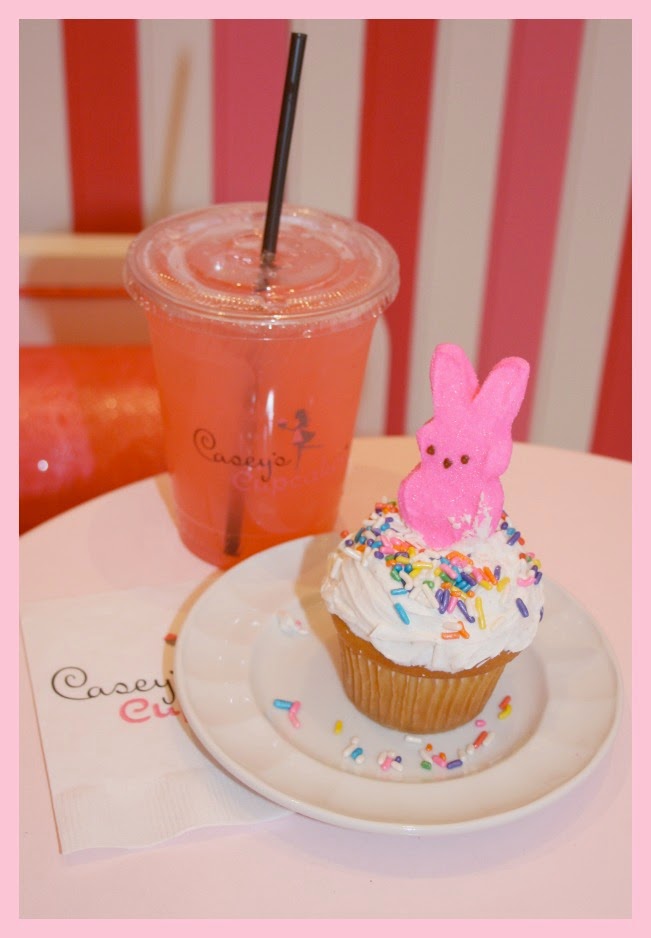 We had a choice of pink lemonade or hot chocolate to go with our cupcakes! What a perfect afternoon snack!


Emi and the other kids had so much fun decorating their own cupcakes. Casey's Cupcakes really went all out to make every detail of the party special, down to the adorable, pink boxes and bags to carry home extra cupcakes in!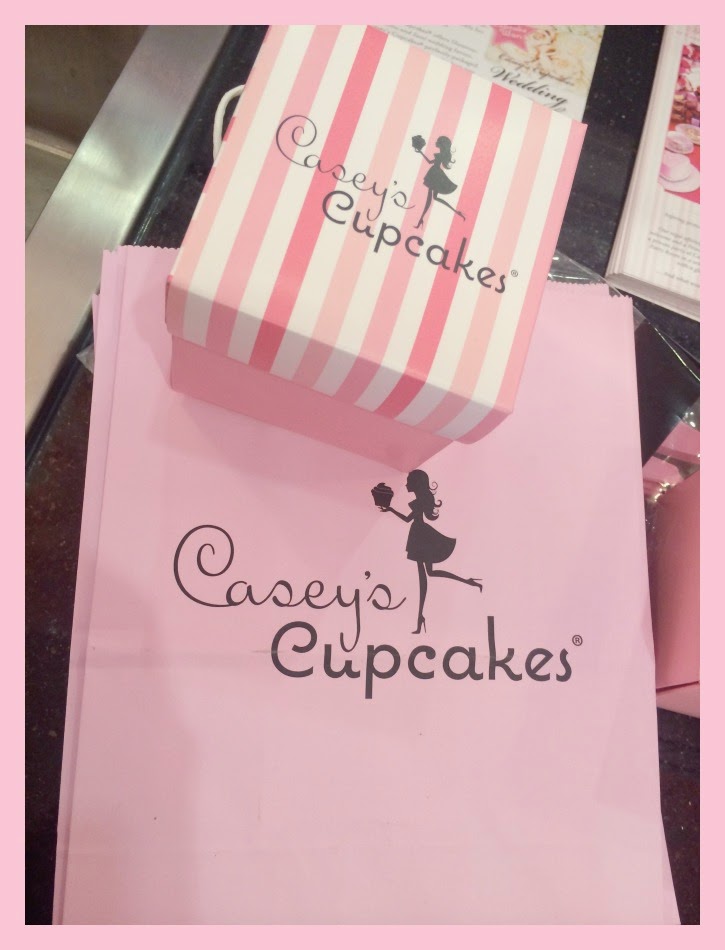 When the party was over, Emi was happy to take home one of the Casey's Cupcakes balloons! She is a HUGE fan of Casey, has many of Casey's logo items at home AND even has a Casey's doll. 
Before we left, Emi insisted on recreating Casey's signature pose, featured in the logo. 
I swear my daughter is the most fun!

What do you think? Did she pull it off? 
If you are thinking of throwing a party anytime soon, whether it be for a special occasion, such as a birthday or graduation, or even a girls day out, you should look into one of the party packages that Casey's Cupcakes offers. They currently have 5 store locations and their Woodbury Town Center location is in Irvine and has a private party room, which is the one pictured in these photos. They offer a couple of different party packages at this location. The "Tea Parties & Tiaras" party is an amazing offering and can easily be adapted to include crowns if you have boys in your group. 
Casey's description of a "Tea Parties & Tiaras" Party:
Aspiring princesses will feel like royalty for a day
at Casey's Cupcakes! 
Our regal offerings start with a sparkling Apple Cider welcome 
and a Princess Tea. The lady-in-waiting will enjoy 
a private party in the party room 
in a setting inspired by a classic Parisian cafe 
with a glamorous Hollywood twist.
….And what would a princess be without a Tiara? 
The Tea Parties & Tiaras party is an all-inclusive package which includes:
*Private Party Room at the Woodbury Town Center store location
*Sparkling Cider Welcome Beverage
*One delicious cupcake per person to decorate (with an option to add a 2nd)
*Choice of Creamy Frostings
*Assortment of decorative toppers
*Choice of Casey's Cupcakes Fine Teas
Casey's can work with you to tailor a party to fit your occasion and party size. Our party was beautifully done and is something we we're proud to share about with other friends and family. 
It's also fun to just stop by one of Casey's location in the afternoon for a cupcake and a drink with your favorite little (or big) person. Casey's is one of our favorite pastimes! 
To inquire about pricing and availability and to make a reservation for one of Casey's parties, please call 949.424.9250. 
To visit the Casey's Cupcakes website, click here.