We had so much fun spending an afternoon at the Irvine Park's Easter Eggstravaganza, which is located inside of Irvine Regional Park. 
In addition to the beautiful natural scenery, it's all decorated for Easter too! Everywhere you turn, there are adorable children, dressed up in their best spring outfits. It's the perfect setting and occasion to photograph some precious moments, that's for sure!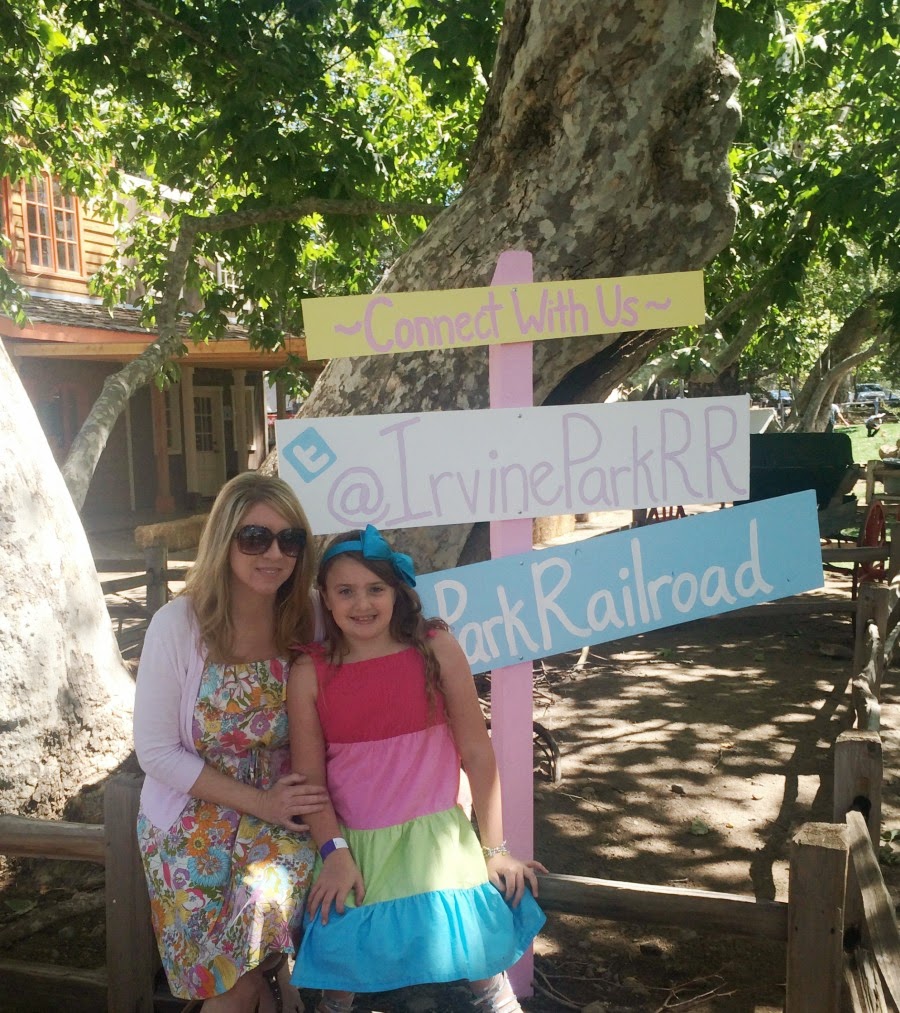 The Eggstravaganza features so many different activities to choose from that we weren't sure where to start. 
The activities include: 
     *Easter egg hunts
     *Photos with the Easter Bunny
     *Train rides
     *Hay rides
     *Cookie decorating
     *Face painting
     *A bunny bounce house
     *Various picture stands for photo opportunities
     *Carnival games
So, we basically decided to do them all! 
I loved how organized the Easter egg hunt was. We first obtained a wristband for the age-appropriate time for Emi. They created very fair rules for the children, first sitting them all down together, to explain the rules for the hunt, discussing how many eggs they could "find" and take home in their baskets, as well as other candy they might find on the ground. The kids were so excited to get started and sprinted at the cue to begin.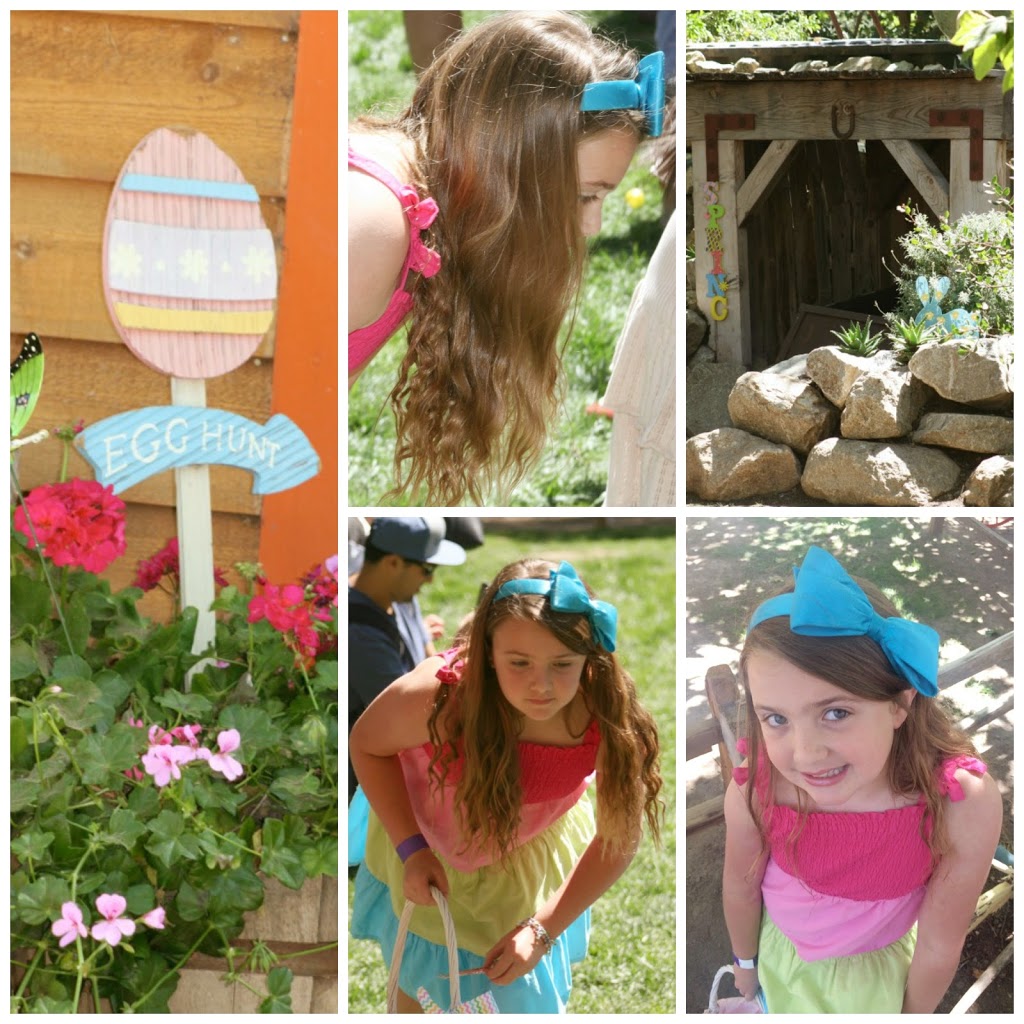 Although we remembered to bring our own basket, they do have baskets for sale there, as well. 
Emi was mesmerized by how much candy there was in the egg hunt area, in addition to the eggs! 
After the egg hunt, we strolled over to visit the Easter Bunny. He was extremely interactive with the Emily, first playing peek-a-boo with her, which helped make her unafraid to sit with him. That's something that might be a relief for parents with hesitant children. 
Pictures like this, melt my heart!
Apparently visiting the Easter Bunny makes you hungry, so we stopped by the snack shack for some freshly popped popcorn, before heading on over to the face painting area!
The artists in the face painting booth that would create each child's ideal design for them. Emi let her artist know that she preferred more of an arm design, as opposed to having her face painted. 
She loved her "tattoo" so much, that I think she hid from the water in the shower hitting that arm for as long as she could! 
I loved all of the different photo opportunities there were throughout the area. Emi tried to convinced me to get in this one, but I let her do the honors!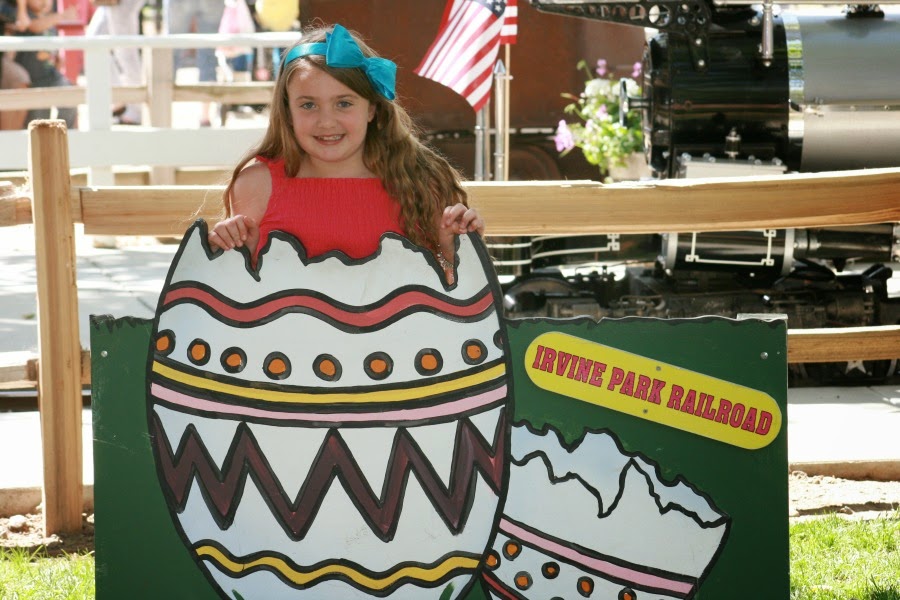 I love this one! My little chick!
I was most startled by this one..it shows how tall Emi is getting! She's only 8! Wow! 
Next, we hopped aboard the train, which for me, is the best part of the entire thing. There's just something about trains that reminds me of childhood! Emi chose to sit directly behind the engineer! We took the token "train selfie" as we relaxed on the long ride.
For our finale, we visited the cookie decorating booth, where Emi got her very own sugar cookie to decorate with colored frostings and sprinkles. What more could a kid ask for? 
It was such a fun afternoon. 
Head on over before the fun ends on April 19th!