Valentine's Day is just around the corner! It's my most favorite holiday! This year I got a head start on my Valentine's treat preparation and stocked up on PEEPS® Valentine's Day products. You can't go wrong with   PEEPS® because they're irresistible and everyone loves them!
As you can see, our Valentine's Day this year is going to be all about the PEEPS®! They come in a variety of shapes and seasonally-inspired flavors to satisfy your Valentine's sweet tooth.
This year's PEEPS® Valentine's offerings include:
Pink Marshmallow Chicks
Pink Marshmallow Bunnies
Chocolate Dipped Strawberry Crème Flavored Chicks
Marshmallow Hearts
Cherries Drizzled and Dipped in Chocolate
Chocolate Covered Raspberry Flavored Hearts
Strawberry Crème Flavored Marshmallow Hearts
Vanilla Crème Flavored Marshmallow Hearts
In addition to serving as a savory token of affection, PEEPS® Valentine's Day products are also fun to incorporate into snacks at home and Valentine treats for others. I put together a couple of cute printables to add to some of the PEEPS®Valentine treats I'll be sending to school with my daughter, for her classmates and teachers!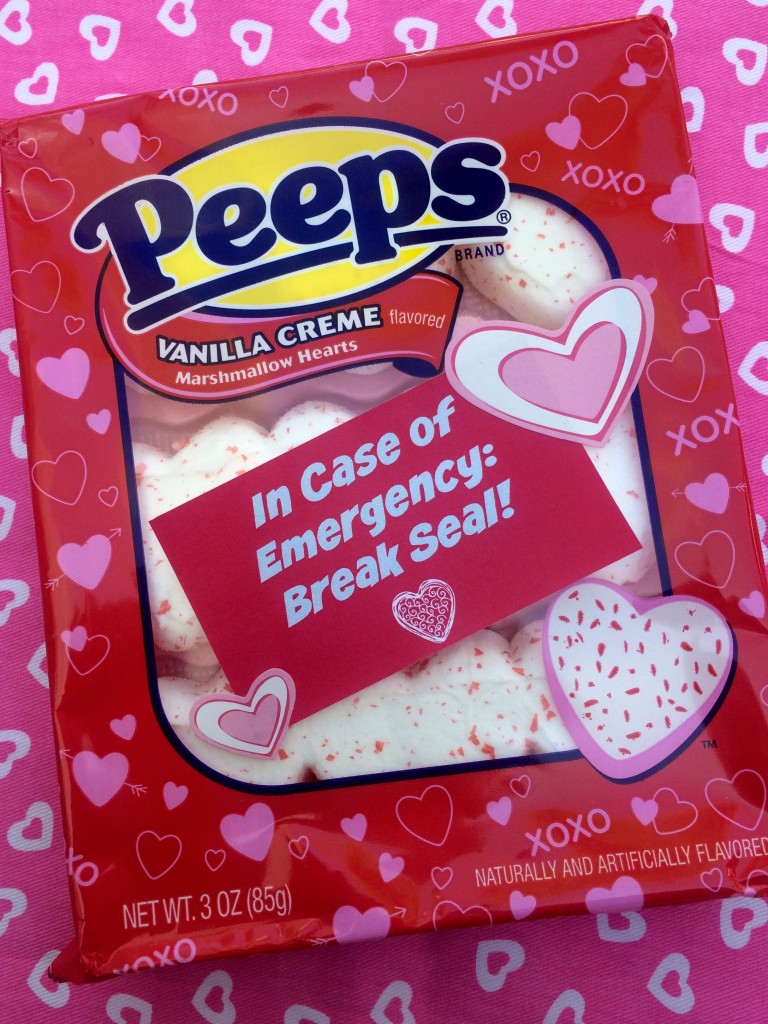 I LOVE these Vanilla Creme PEEPS®Marshmallow Hearts! I made this little "In Case of Emergency: Break Seal!" labels to stick onto this package. I think I'll give these to my daughter's teacher. Being a teacher, I'm SURE there are times she has an "emergency" and will be able to utilize these properly, don't you think?  It'll be as easy as breaking open the package seal and enjoying them!
I made these little heart "You're one of my favorite Peeps!" printables to attach to these 3-packs of new Strawberry Crème Flavored Milk Chocolate Dipped PEEPS®. I know the instructional assistants for my daughter's class are going to love them!
I also made these "Will you be my PFF?" tags to attach onto a single pack of the new flavor, Milk Chocolate Covered Raspberry flavor! "PFF" stands for Peeps Friends Forever!
I cannot wait for Valentine's Day to get here! Do YOU love it as much as I do? What's YOUR favorite part about Valentine's Day?
Try one or all of the seasonal varieties and express your PEEPSONALITY® by incorporating them into your favorite Valentine-inspired creations! PEEPS® Valentine's treats can be found nationwide at grocery and drug stores, PEEPS & Company retail stores or at http://www.marshmallowpeeps.com.
I was provided with some PEEPS® Valentine's treats in order to write my feature. No other compensation was received. All opinions are 100% my own.