I received promotional items in exchange for this post. All opinions are my own.
Sherlock Gnomes is coming to theaters THIS Friday, March 23rd and we couldn't be more excited because we loved the first one and absolutely adore Gnomeo and Juliet! Who wouldn't? 
The beloved garden gnomes from Gnomeo and Juliet are back for a whole new adventure in London. When Gnomeo and Juliet first arrive in the city with their friends and family, their biggest concern is getting their new garden ready for spring. However, they soon discover that someone is kidnapping garden gnomes all over London. When Gnomeo and Juliet return home to find that everyone in their garden is missing – there's only one gnome to call… Sherlock Gnomes. The famous detective and sworn protector of London's garden gnomes arrives with his sidekick Watson to investigate the case. The mystery will lead our gnomes on a rollicking adventure where they will meet all new ornaments and explore an undiscovered side of the city.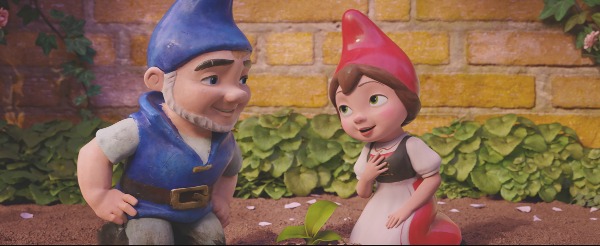 This action-packed sequel features the voices of returning cast, James McAvoy, Emily Blunt, Michael Caine, Maggie Smith, Stephen Merchant and Ozzy Osbourne, plus Johnny Depp as Sherlock Gnomes, Chiwetel Ejiofor as Watson and Mary J. Blige as Irene.

If you haven't already watched the trailer, here it is:

I was inspired to make a Gnomeo and Juliet garden-themed Easter basket this year since the release of "Sherlock Gnomes" is so close to Easter. It was super easy to put together since there seemed to be a bunch of "untraditional" colors of baskets and plastic eggs at the store plus I felt like the red and blue accents went with the gnomes' colors.
I also made a fun "Gnomeo and Juliet" Tic-Tac-Toe Game to go in the Easter basket because honestly, I'm obsessed those little gnomes so much. 
All you need to do is print out your own copy here and grab 2 different colors of manipulatives, candy or any other small items and play with your favorite little partner. It's also perfect for using in a classroom or with homeschool curriculum.
Do you have plans to go see Sherlock Gnomes when it hits theaters March 23rd? For updates on this film, follow along on the official website, as well as Facebook, Twitter and Instagram. Also, you can join in on the conversation on social media by using #SherlockGnomes! To purchase your tickets in advance for this film, please go here.
Some images are property of Paramount Pictures and MGM Studios and used with permission.