As September gets closer, I am getting more excited about the upcoming movie "THE BOXTROLLS"! It's being made by the creators of "Coraline" and "ParaNorman" and Emi and I loved both of those movies.  Have you taken a peek at the trailer for the movie yet?
THE BOXTROLLS ​tells the story of a community of quirky, mischievous creatures who have lovingly raised an orphaned human boy , Eggs. THE BOXTROLLS featur​es​ the voices of Elle Fanning, Ben Kingsley, Isaac Hempstead-Wright and Tracy Morgan.
Check out THE BOXTROLLS' new character posters! Aren't they adorable?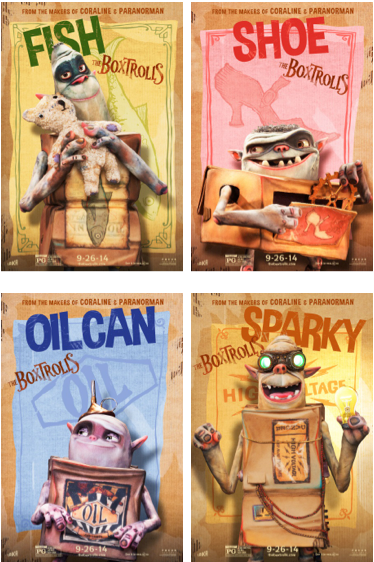 You can download your own set of their character posters here.
I think I'm partial to "Shoe"! Which one of these do YOU think is cutest?
THE BOXTROLLS releases  in theaters September 26. 
Visit: http://www.theboxtrolls.com/
Like: https://www.facebook.com/theboxtrolls
Follow: https://www.facebook.com/theboxtrolls
Follow: http://instagram.com/theboxtrolls#