I feel like summer has just flown by and little by little I've been getting ready to go back to school.
For me, there are 2 kinds of "going back to school". First, I have to go back to my own first grade classroom. A couple of weeks after that, I have to get ready for Emi's first day of school!
The first day of school for Emi is kind of a big deal around here. (I'm sure no one is surprised, right?)
I start "hoarding" things for her 1st day of school breakfast, as early as June! I stick them in cupboards, closets, and in the back of my car! I don't think I even sleep the night before her first day because I'm so busy setting everything up just perfectly, like I'm throwing some big party or something! I'm pretty sure Emi is just excited to see donuts sitting at the table each year.
Earlier today, I was looking back through my pictures from what I did last year and I just can't believe it's been almost a year since Emi started 2nd grade!
Whenever there's a special occasion or a holiday, I love to decorate with printables by Lauren McKinsey! She always has the most adorable collections, some of which you can even personalize before you print! Last year, I was able to use this particular collection for both this table AND in my own classroom!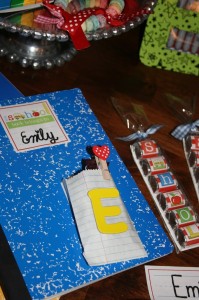 This was some of the back to school swag from last year.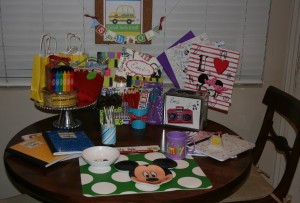 I was in LOVE with this lunchbox by Timree, which actually has a chalkboard inside to write a note in.
The personalized folder is also part of Timree's school supply collection.
These were little pretzel bags filled with Hershey's Nuggets that were each wrapped with a printable, also from that collection. The best part about assembling these the night before, was that there was no one else around to count how many I'd eaten!
Always remember to send something for your child's teacher on the first day.
Emi likes to bring something for her new teacher and something for all of the former ones.
(Teachers appreciate that kind of gesture, even if it's just something small.)
I feel like I'm going to have a hard time outdoing myself this year
after looking over what I did last year!
 Guess we'll find out in a couple of weeks!