This is not a sponsored post. I received a Toyota Prius on loan in order to write this review. All opinions are 100% my own. 
I'm a busy mom who's always on the go. Between driving carpools, teaching school, getting my daughter to and from all of her extracurricular activities, and keeping up with our own little family of 3, I feel like I never stop moving. I normally drive an SUV because I have so much stuff to carry with me all of the time. I also have a husband who's over 6 feet tall, so it's just always been easier for our family to go with an SUV as our "go-to" vehicle.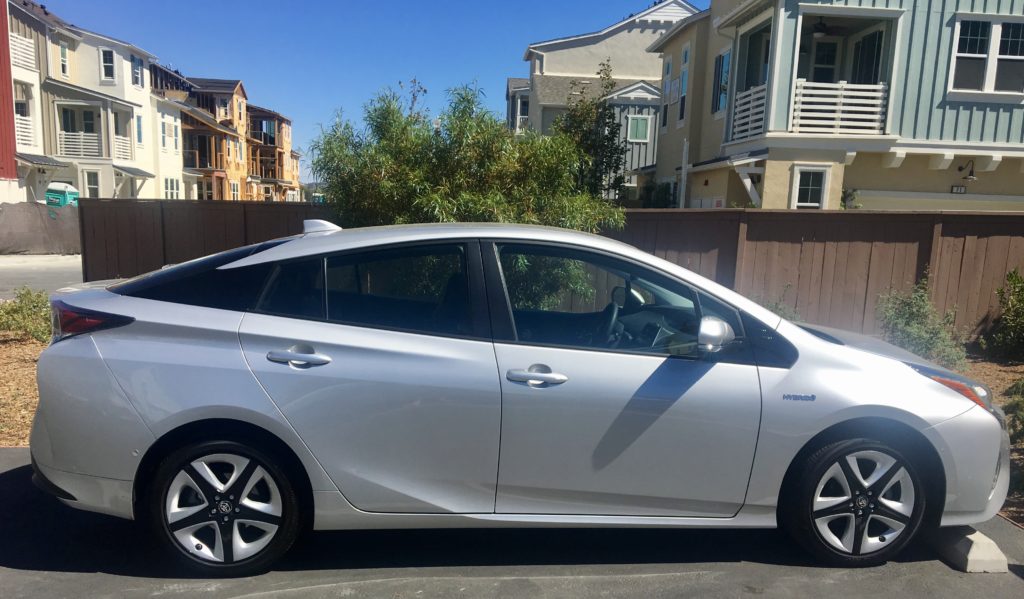 When I was asked if I'd like to spend a week driving around a Toyota Prius Four, I'll admit, I was hesitant at first. Initially I wondered how I'd fit our entire family in it. I was also concerned that there wouldn't be room inside for all of our junk, but I decided to give it a try…and boy was I surprised…in a good way!
I'm going to share 5 great reasons why I loved driving around the Toyota Prius Four, even though there are probably way more! 
The Prius Four is adorable. I see them out on the road all the time. I love the sleek design of the vehicle and it just seems so clean in shiny silver. From the stylish wheels to the body shape to the luxurious interior, I just love everything about the way this car looks and was so excited to get to drive one! 
Have you ever been next to a Prius Four when it started? It is so quiet. I wasn't expecting that and there were actually a couple of times when I had to double check that it was on, even though I knew I'd pushed the power button to start the car.
I loved how quiet this car was to drive. I almost felt like, in a way, it kept me calmer. 

As someone who normally drives an SUV, I'm always envious of other drivers because I know that they're not pouring (and wasting) a ton of money into their gas tanks, the way I am. Did you know that the Prius Four gets up to 58 mpg in the city and up to 53 mpg on the hightway? That's amazing! (especially compared to what my regular vehicle gets!)
I don't think I had to put any gas in it for the entire week I drove it! When you don't have to spend a ton of money to fill up your "guzzler", it translates to more money in your pocket. The Prius was definitely developed and designed with fuel economy in mind!
I also appreciated all of the design efforts to keep so much of what a driver needs, within reach and provide the least amount of distractions possible. There's a great spot to set your cell phone where it can charge wirelessly. In addition, the bluetooth compatibility allows the driver to do everything hands-free!
Some of the features that you'll find in one, convenient location, which allow for less distraction while driving include Blind Spot Monitoring and Cross Traffic Alert. 
Probably the most surprising thing about driving the Prius Four was the leg and headroom. I honestly thought I'd have to push my husband's head down to get him into the car but I didn't! He's over 6 feet tall and had no issues getting into the car or riding around comfortably inside it.
There's also plenty of room in the backseat. I expected that the space in the backseat would be compromised but my daughter and her friends had ample space to get comfortable. Their legs weren't squished at all.

The space in the trunk area is generous too. I could load up the back with my weekly groceries and still had room for other things. That was also a surprise to me. I expected a lot less space in the trunk than there was. It was impressive.
There are so many great reasons to get yourself into a Prius Four. Like I said before, it really surprised me how much I loved driving this car. I love good surprises like that! 
I was provided with a vehicle on loan in order to facilitate this review. All opinions are 100% my own. 
Storage
Green