Disclosure: I was provided with a Kia Sedona vehicle for a week, in order to facilitate my review. No other compensation was received. All opinions are 100% my own! 
I recently had the pleasure of spending a week driving around a beautiful, 2015 Kia Sedona. The moment I saw her parked there, sparkling in the sun, I KNEW she had to be a girl!  She was so pretty!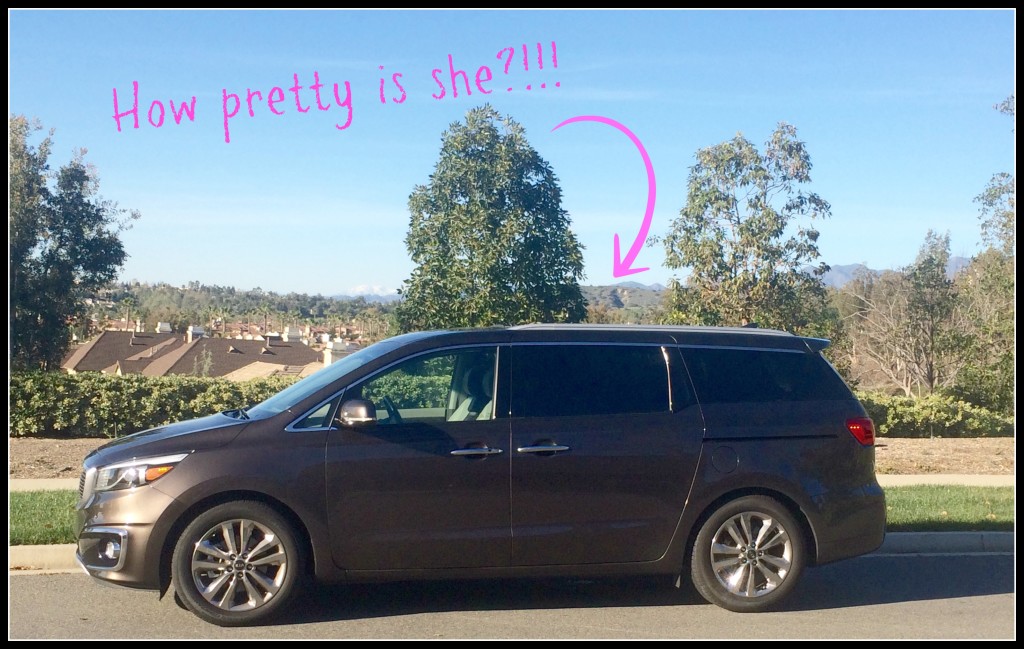 The 2015 Sedona is premium comfort in a minivan. I'd never driven a minivan before and I must say that I previously misjudged how awesome they are. I enjoyed our time together so much that it felt like I was hanging out with one of the girls. Let me tell you a few reasons why!
I already mentioned how sparkly the Kia Sedona was upon delivery but every feature about the this vehicle is stylish. The vehicle, itself, has a sleek design.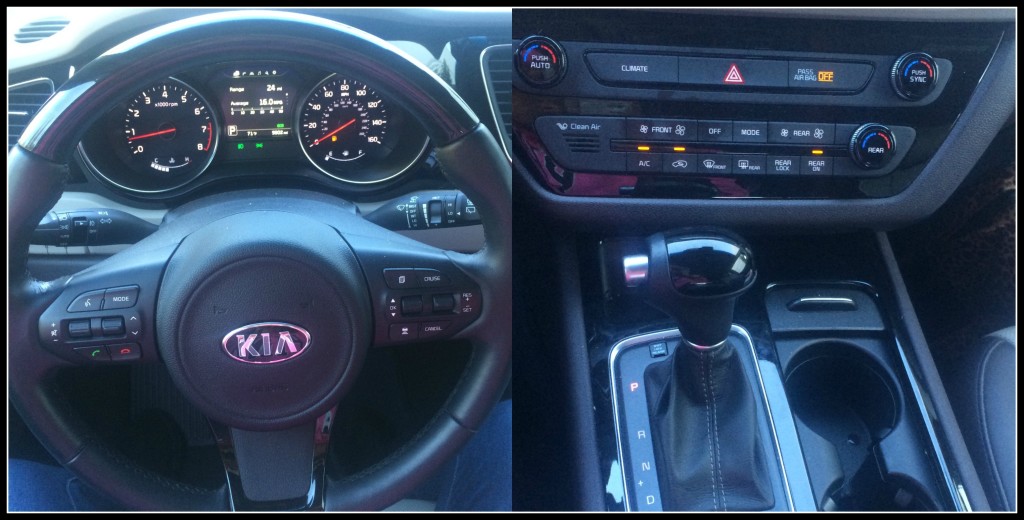 The interior is extremely luxurious and with a roomy driver's cockpit and the model I drove had leather everything.  It's equipped with high-tech gadgets, which makes it even more functional. It's like a mom's dream! And…the Sedona even has great taste in "shoes"! Just look at those alloy wheels!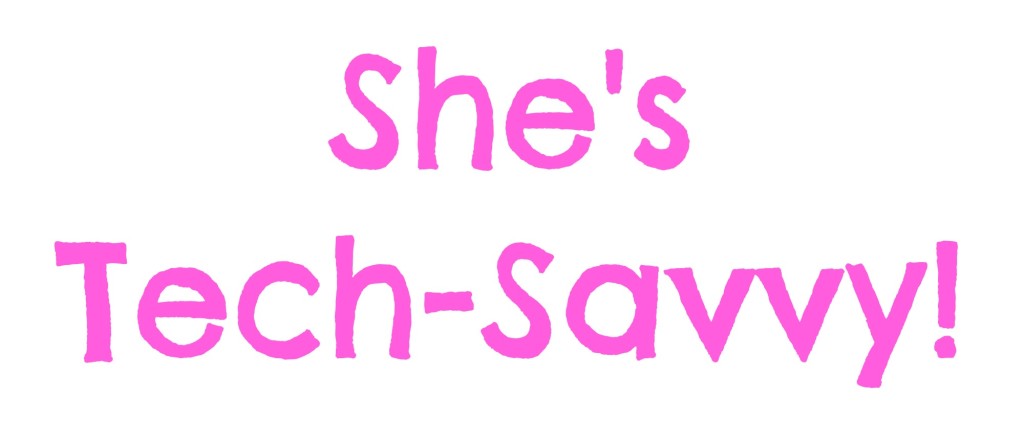 The  2015 Kia Sedona is equipped with some high-tech features and gadgets that I found so convenient and efficient. She knows the importance of being "with the times" in order to keep up in the modern world!
Here are just a few of my favorite tech-features
Remote Keyless entry: First of all, this remote keyless entry just requires that the key be nearby, like in your hand or purse. You don't need to enter a code or push anything from the key or your keychain. You literally push a button on the driver's door and and it unlocks the doors. This is a huge convenience when your hands are full because no one likes to juggle everything they're carrying to find their keys. I know that I rarely approach my car with empty hands, so this almost seems like this feature was created just for me.
Push Button Start with Smart Key: This is another great feature. As long as the key is in the car, the car will start with one touch of the ignition button. It's another great convenience and time saver.
Voice Command Navigation System: You can utilize the large 8″ display on the dashboard with Voice-Command. Real-time highway traffic helps you navigate the most efficient route to your destination. The system also has the capability to help you locate restaurants, gas stations, stores, and pretty much any destination you're looking for. It even reminds you when you're low on fuel AND helps you search for the closest gas station!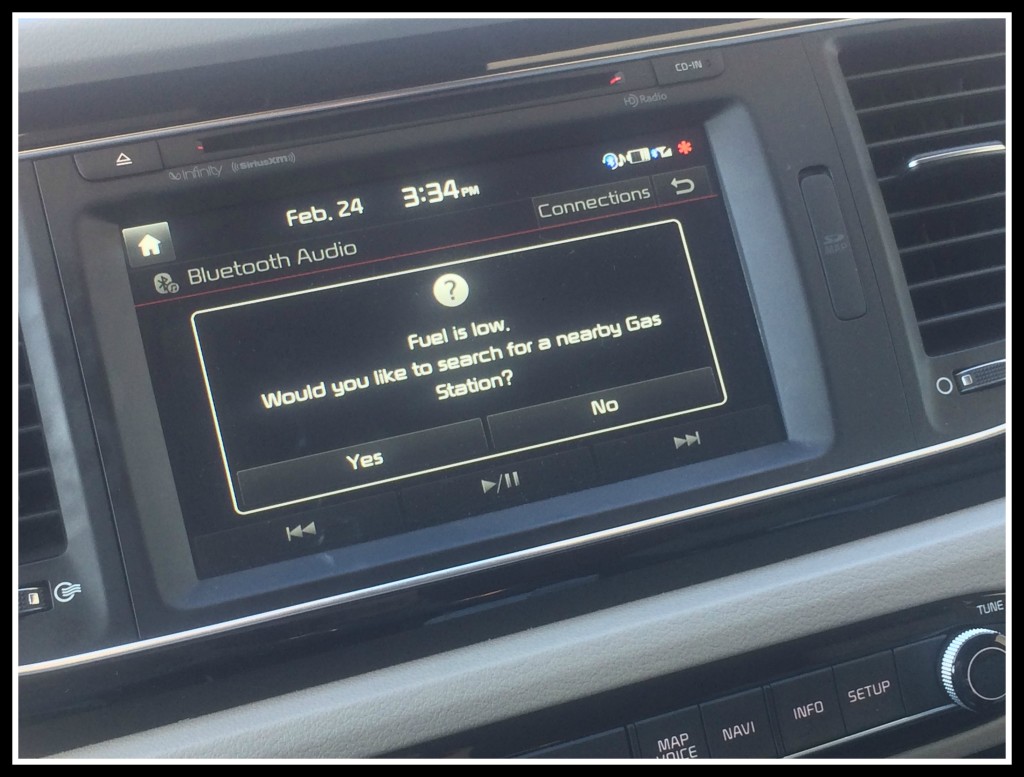 Smart Power Liftgate:  I loved this feature! You just have to stand behind the Sedona with your Smart Key and the liftgate opens automatically for you! It's the next best thing to having someone open it for you.
Read about some of the other tech features on this vehicle here.
The Sedona had the most complete safety back-up camera system I've seen on any vehicle I've driven. When the car was in reverse, you had a view of what was behind you from the rear-camera display on the dashboard, but there's actually a surround view monitor on the car so you can see around the entire car too. In the case of something or someone being in the close proximity of the car, it's also equipped with a backup warning system which will beep at you. It's such an efficient setup and Kia has taken that extra step towards safety with these features!
Another safety feature is the BLUETOOTH® Wireless Technology Hands-Free Connectivity. This feature allows for you to maintain your focus on the road and keep both hands on the wheel. Kia seems very dedicated to ensuring "distraction-free driving" for its car owners and they are doing an excellent job of making that happen through the design of their cars. So many of the buttons are right on the steering wheel or right up on the dashboard so that it doesn't take your attention away from the road.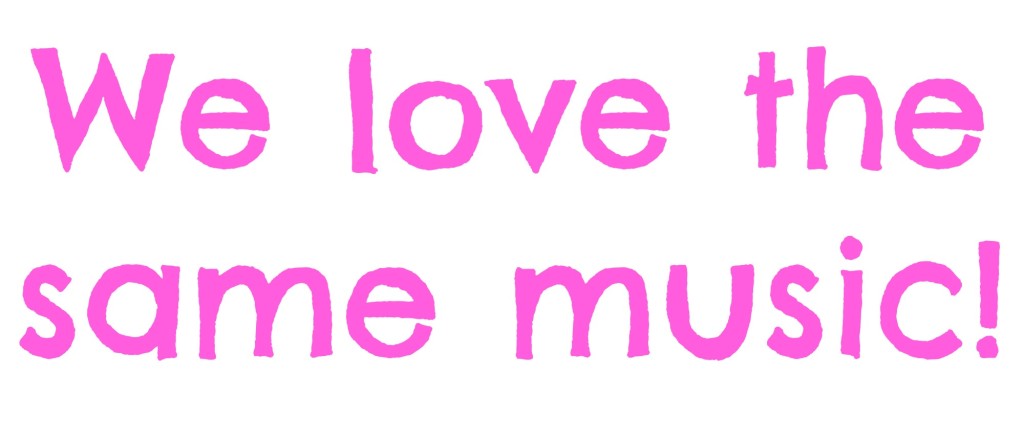 The stereo system in the Sedona is on point! In addition to the usual AM/FM stereo and a CD player, it also has MP3 capabilities and featured SiriusXM! I was spoiled with the SiriusXM, especially when Foo Fighters and Britney Spears came on!  My daughter, on the other hand, was way more excited about having access to Radio Disney in the car though than hearing "mommy's music"!
The Sedona is very verbal and not afraid to use her voice. As I pointed out before, the vehicle is equipped with many tech-savvy features. Not only does it have so many technological features but it also uses its voice. Using an audible warning, the system will let you know when there's either something in your way when you're backing up or if anything is close to your vehicle when you're changing lanes. It produces a very significant beep that really grabs your attention  immediately.  Another time you'll hear her use her "big voice" is when she's helping you get somewhere with the navigation system or telling you about traffic.
I think the funnest part of our week with the Sedona was taking her on a weekend road trip to Vegas for one of my daughter's cheer competitions! She was so comfy to ride in. The third row of seats is a complete row, but also folds down easily to provide a ton of room for luggage and trip necessities.
I loved that the Sedona didn't judge how much stuff we brought for our quick getaway trip! She understands a girl's need to excessively pack!
I also loved that she didn't have to be reminded that "What happens in Vegas, stays in Vegas!"…especially when it means bringing home tons of bags from shopping at places like M&Ms World! All of the shopping we did in Vegas will just remain our little secret!
I think this is actually the best part about the Sedona.  She knows how to keep the kids happy! As a mom, this is a priority and I spend a great deal of time trying to keep my daughter happy. The Kia totally "gets" it and has some features that "wow-ed" the kids on our road trip.
TWO sunroofs: I feel like I can't even compete with this one! The rear-seat passengers can also enjoy an open-air experience with the 2nd Row-Power Sliding Sunroof. You're able to operate the 2nd-row sunroof, independently from the 1st-row sunroof, with front and rear controls.We spent quite a while playing with this feature. (when we were parked, of course) It sure makes for some cute photo opportunities too!
Back power windows…they roll down: I think one of the biggest problems with minivans relates to having sliding back doors that don't have access to fresh air via windows that roll down. The Sedona not only has power windows that roll down in the back, but also has screens you can put up to help block out sun. This was definitely a feature we loved when we were driving through the sunny desert on our way to Vegas!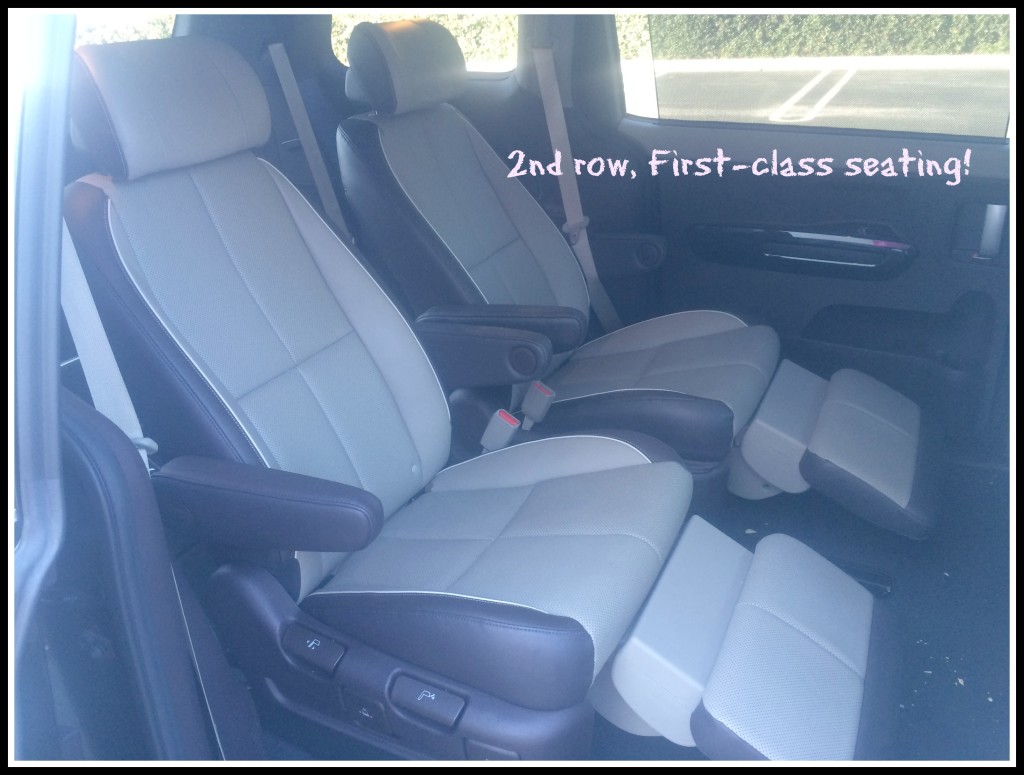 2nd row, First-Class Lounge Seating: The seating in the 2nd row absolutely blew me away! It's pure heaven back there with those recliner seats that provide adjustable lower leg support. It was like one of those luxury movie theater chairs.  There's also a 2nd-Row Center Seat that's available to make even more room for you and all your friends. It can fold down, using the Slide-N-Stow™ system,  to provide an armrest and cup holders for two 2nd-row passengers when you don't need it. (It can also fold up and forward or be removed completely.) These seats made ME want to climb in the backseat and ask someone else to drive!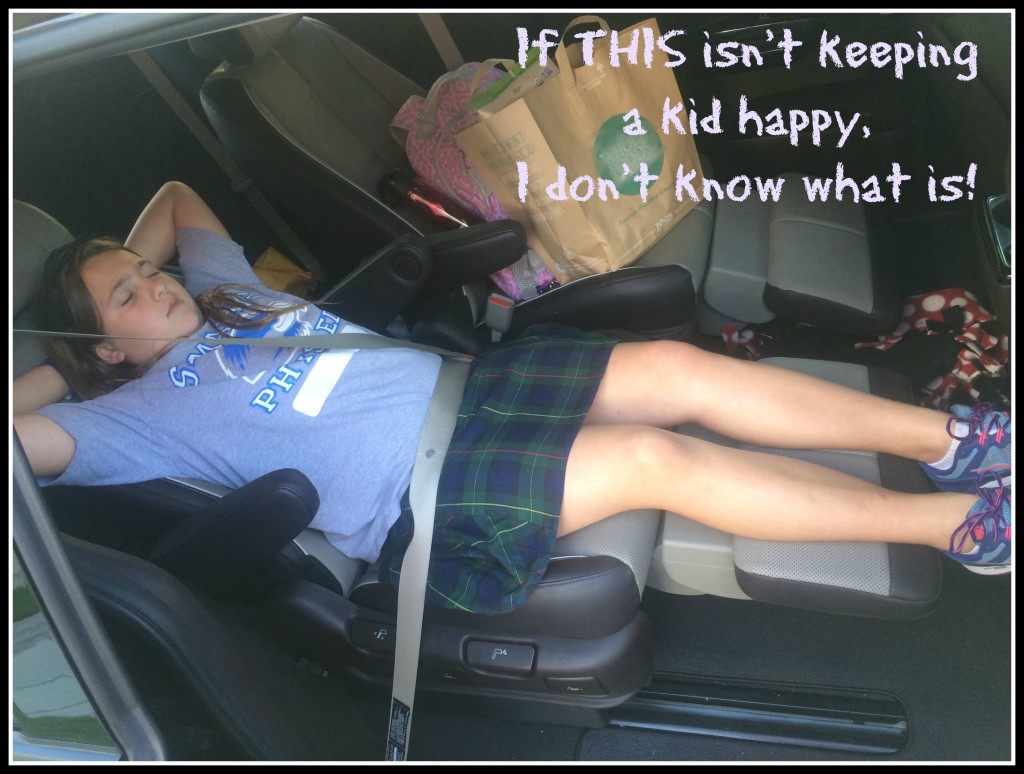 Now you can see all of the reasons why I not only fell in love with the Kia Sedona for the week I drove her ar0und, but also felt like she understood me like one of my girlfriends would! I loved driving this vehicle and would highly recommend it to others. I only have one daughter and I'd still love to own a Kia Sedona JUST to have all of that space inside and luxurious features. My daughter still talks about the Sedona, to this day!
To read more about the Kia Sedona, click here. Connect with Kia Motors on Facebook, Twitter, and Instagram too!