Come experience the joy and magic of the holiday season at Brea Mall! Santa can't wait to greet children bringing him their holiday wishes. The Simon® Santa Photo Experience is now open and children can visit and be photographed with Santa through December 24 in Fountain Court, on the Lower Level near JCPenney and Nordstrom.
You can now save time and avoid the line with Santa by making an appointment! Just reserve your magical moment with Santa online by clicking here. For available hours, click here.
The popular Pet Photo Night will return to the Simon Santa Photo Experience at Brea Mall this year on Sunday, December 6 from 7 p.m. to 9 p.m. Many pet owners view their pet as an integral member of the family and are just as committed in caring for their pets as their "human" family members. Pet Photo nights are hosted after regular mall closing and the set gets an extensive cleaning following the event to remove any potential risk to allergy sufferers. Reservations can be secured by clicking here.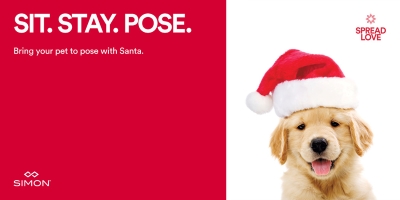 The Simon Santa Photo Experience is again sponsored by Gymboree and Universal Pictures Home Entertainment. With the highly-anticipated release of "Minions," available on Digital HD on November 24 and on Blu-ray and DVD December 8. Come visit the Simon Santa Photo Experience and receive a fun-filled activity sheet and custom Minion holiday headband, pose for photos with the colorful Minions standee, and watch highlights from the movie.
Simon's theme for Holiday 2015 is "Spread Love." From the love of giving to those who matter, to children's love of Santa, to celebrating love through holiday festivities with family and friends. Join Simon to experience the season's good cheer with the best of holiday shopping and entertainment.
In addition to extra festive hours throughout the season, Brea Mall will also feature:
a Giving Tree from December 4-13, near Guest Services
a holiday photo booth experience on select weekends in December
Kidgits Sunrise with Santa on December 5 from 8 a.m. to 10 a.m.
giftwrapping from December 11-24 on the lower level near Macy's Women's store in support of the Simon Youth Foundation.  
Guests to every Noerr set will have another opportunity to share Santa's heart by making a donation via The Noerr Programs to Save the Children. For nearly 100 years, this non-profit has given underserved children in the U.S. a healthy start, the opportunity to learn and protection from harm. Since this program began four years ago, Noerr has collected over $978,000 largely due to the generosity of Simon shoppers. This season, Noerr will pass the $1,000,000 milestone.
For more information, visit Brea Mall on Facebook, Twitter, and Instagram.
This is not a sponsored post. All opinions are 100% my own. Images and logos property of Simon & Noerr.