I was invited to a media tasting at TRADE. All opinions are 100% my own. 
If you haven't heard the exciting news in the food world, TRADE food hall is now open in Irvine! This eclectic collection of eateries, including a bar, is a foodie's paradise. It features a gorgeous vertical garden, crisp decor, and an open-air patio. Food halls seem to be the "modern food courts" nowadays! The OC food scene has been defined by creative, experience-driven food halls like TRADE.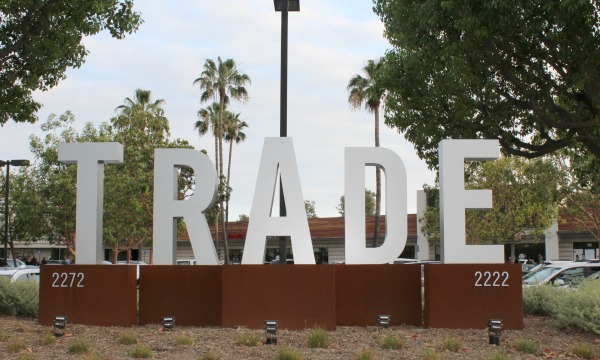 We had the opportunity to visit TRADE on a media preview night before it was open to the public and it was such a treat to sample food and drinks from each of the places.
Here are the eateries you'll find at TRADE:
Butterleaf: The new vegetarian. Serving up the Signature Butterleaf Burger (sweet potato, kale, melted onions, kimchi sauce)
Two Birds: Cluckin' good chicken. Serving up Bird In The Bush (Salad, salt and vinegar slaw, tomato, pickle, romaine lettuce, pickled onion, and cucumber)
Dos Chinos: Latin Asian grub. Serving up Chorizo Fried Rice (chorizo, Chinese sausage, chimichurri, pineapple)
Megadon: Latin, Asian, and Mexican fare. Created by Hop Pham of Dos Chinos.
Gyro King: Mediterranean fare. Serving up the Gyro (served with gyro meat, lettuce, tomatoes, onions and tzatziki sauce)
Pig Pen Delicacy: Pork-haven eatery. Serving up the Candied Bacon Egg & Cheese Sandwich (candied bacon, soft scrambled eggs, cheddar, banana ketchup)
Portside Fish Co.: Fresh seafood. Serving up the Fresh Calamari Bowl and Fresh Fish Taco
Sweet COMBforts: Home of the Waffle Pop. Serving up Fruity Pebbles n Cereal Belgium Liege waffle
Center Hub Bar  is also located inside TRADE, which is going to be your new favorite bar. Serving up The Stubborn Mule (Hangar One Vodka, Muddled Cucumbers and Mint Leaves, Lime Juice, Blueberry Syrup, Ginger Beer)
Just outside of the food hall, there are 3 more dining spots to check out: Oo'Toro Sushi, Hiro Nori Ramen (opening soon), and KRISP Fresh Living.
TRADE is a must-try for foodies everywhere! Be sure to stop by soon to check out this cool collection of food personalities! I know we're already planning our next trip there!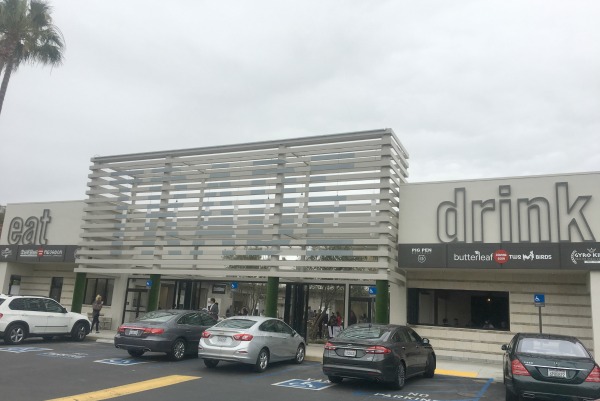 TRADE is located at
2222 Michelson Dr.
Irvine, CA 92612.