I don't know who is more excited for The Angry Birds Movie, me or my daughter? These adorable characters had us all addicted way back when on our iPhones and now they're coming to the Big Screen in a 3D animated comedy,
On May 20, 2016, when the film hits theaters, we'll finally find out why the birds are so angry!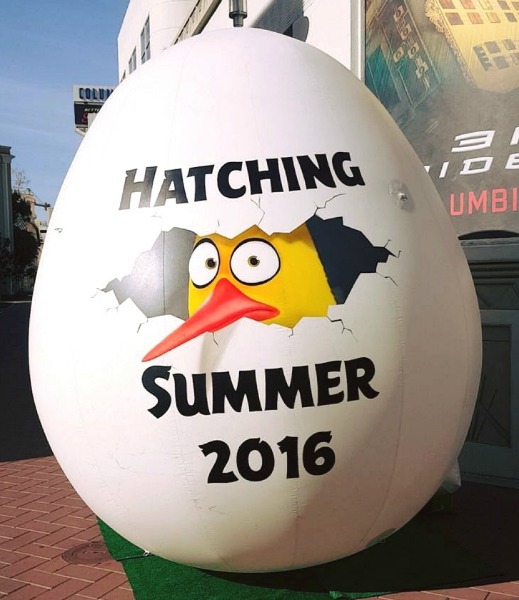 My contributor, Cynthia, spent a morning at Sony Pictures Studios, grabbing a "Sneak Beak" screening of the upcoming film.  Although she can't really tell us specifics about the movie, she did say that it's a must-see for the entire family and that we're all going to love it and laugh a lot!
The movie takes us to an island populated entirely by happy, flightless birds – or almost entirely. In this paradise, Red (Jason Sudeikis, We're the Millers, Horrible Bosses), a bird with a temper problem, speedy Chuck (Josh Gad in his first animated role since Frozen), and the volatile Bomb (Danny McBride, This is the End, Eastbound and Down) have always been outsiders. But when the island is visited by mysterious green piggies, it's up to these unlikely outcasts to figure out what the pigs are up to. (Bill Hader is the evil pig leader Leonard.)
Watch the trailer:
Not only did my contributor get a "Sneak Peak" at the film, she also got to sit in on a group interview with the film's producer, "John Cohen" and Jason Sudeikis, Josh Gad, Danny McBride, and Bill Hader, from the voice cast. These guys had the media-filled audience in stitches as they talked about details from behind the scenes. I'm even more excited to see it now! 
Overall, it seems that casting hit the nail on the head with these four! The combination of their humor and what each of these actors brings to the table is something that definitely translates into a hilarious film that's going to cater to an audience of all ages! Remember, the film "hatches" in theaters everywhere on May 20! Will you be there?
Find The Angry Birds Movie on Facebook, Twitter, and Instagram.
This is not a sponsored post. I was invited to a media presentation in order to facilitate my post. All opinions are 100% my own. Photos are property of Kinda Silly Mommy.