We received products in order to facilitate this post. Some images and logos are property of American Girl All opinions are 100% my own.
Have you met the WellieWishers yet? They are new lifestyle brand for American Girl, aimed at girls ages 5 to 7. (Although my own daughter is older than that and adores this collection.) The WellieWishers are an adorable group of girls who each have the same big, bright wish: to be a good friend.
The group of friends consists of Emerson, Camille, Kendall, Willa, and Ashlyn. 
They imagine and play in an enchanted neighborhood garden supervised by Aunt Miranda and through their heartwarming and humorous adventures, the WellieWishers help a girl to learn how to "stand in another person's wellies" to discover the skills of empathy, kindness, and compassion that will help her be a good friend.
As a mom, and an educator, I feel the importance of providing children with the opportunity to play can help their social-emotional learning. Character education for children is more important than ever and just giving them time to play, allows them the chance to learn how to get along with others, be empathetic, show kindness and share responsibility for others' well-being. The WellieWishers are a great tool to do this because their "story" involves all of that. When children explore the world of WellieWishers, they "step into their colorful garden boots" and get ready for stomping in mud puddles, putting on shows, and helping friendships grow.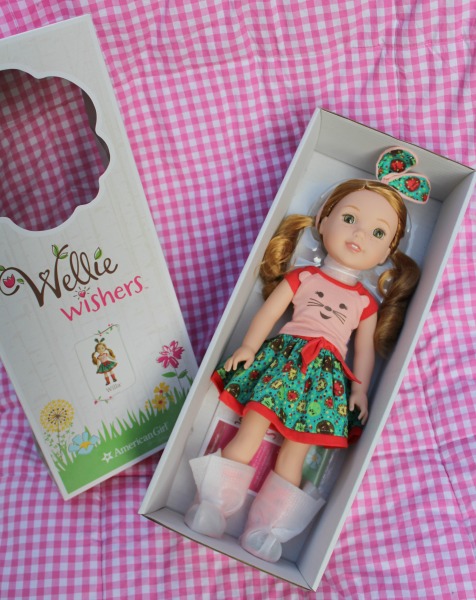 My daughter was so excited when we received a "Willa" doll and her pet rabbit "Carrot" on our doorstep to review. They are so cute and all of my nieces ,who visited our home over the holidays, wanted to play with them.
The WellieWishers are a little bit smaller in size than the traditional American Girl dolls. I actually like this size and it's easier for a littler girl to tote them around. Willa has beautiful hazel eyes, freckles, and 2 strawberry blonde ponytails. 
She comes dressed in a super cute outfit that consists of a hedgehog print floral skirt, a tee with a hedgehog face on it, and a coordinating headband that has bunny ears on it! However, my favorite part of her outfit are her ladybug wellies. They are so cute!
Willie has a pet bunny named "Carrot". (It's sold separately.) Carrot comes with an aqua-colored bunny hutch that opens up and has a ramp so Carrot can "walk the runaway". The door has a cute little heart cutout window for Carrot to peek out of from the inside.
The accessories include a little name sign that you can fasten to the side of the hutch, a carrot-shaped water bottle for inside, a food dish and some pretend carrots. Carrot is so soft and cuddly.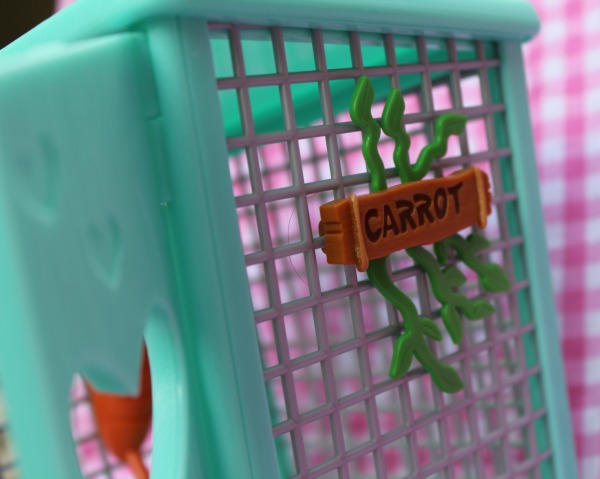 As you can tell, we are slightly enamored by the WellieWishers. I love everything about them and what they stand for. To view the whole collection, go here. 

You can also see the WellieWishers' adventures come to life in their all-new animated series on Amazon. Here's a sneak peek:
You can join in on the conversation and share your own friendship moments by following #WellieWishers.
Images and clip are property of American Girl and Amazon.