I think I'll start off this post with the dessert first! I like to do that!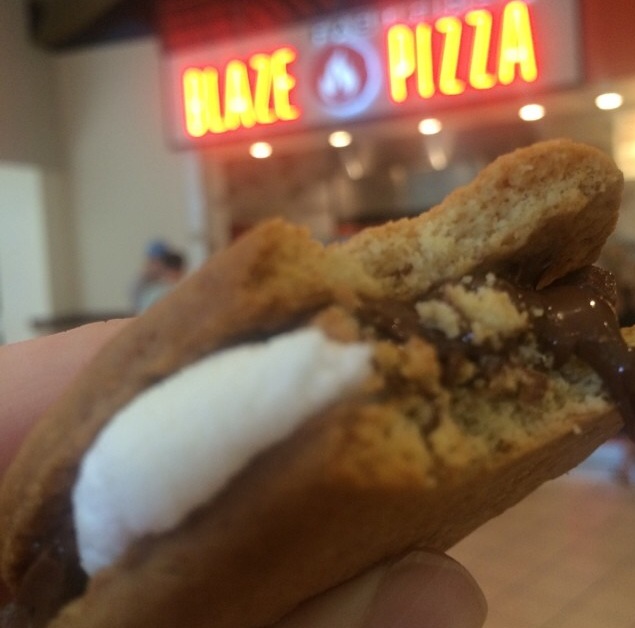 This is the s'more pie at Blaze Pizza! It's the perfect beginning (or ending if you're traditional) to any meal! We have been waiting months for Blaze Pizza to open in our mall and had already previewed their menu online. That's when I knew I was destined for this dessert. It's quite a yummy s'more pie and they stick it next to the pizza oven so that it warms up just right, to where the marshmallow melts.
Blaze Pizza is a great addition to The Shops at Mission Viejo food court area. They label themselves as "Fast Fire'd" pizza but by no means are they a "traditional" fast food, food court option! So fresh and so yum!
Check out the crowd that came out to celebrate their grand opening!
Did I also mention that all of these people were waiting in line for their free pizza to celebrate the grand opening? 
Their menu has quite a few salads and numerous options for pizzas. Each pizza is made-to-order as you let them know what you'd like. I like that they offer options for people with dietary restrictions. It's sometimes difficult for families to find a restaurant to dine at together, when they have one or more family members with special dietary needs and/or food allergies. Check out their menu allergen Info here.  No matter what your dietary needs, they've got your covered. 
I am so happy that Blaze Pizza has finally opened up in "my mall"!
Welcome to The Shops at Mission Viejo, Blaze!