Make this holiday season a memorable one with Great Wolf Lodge Southern California  as they celebrate their favorite winter howl-i-day…Snowland! Create new family traditions this holiday season with uninterrupted time together under the enchanting spell of Snowland's twinkling lights, holiday trees and indoor snow showers that melt into perfect 84-degree basking weather in the Great Wolf Lodge water park. The entire resort is transformed into a magical winter wonderland.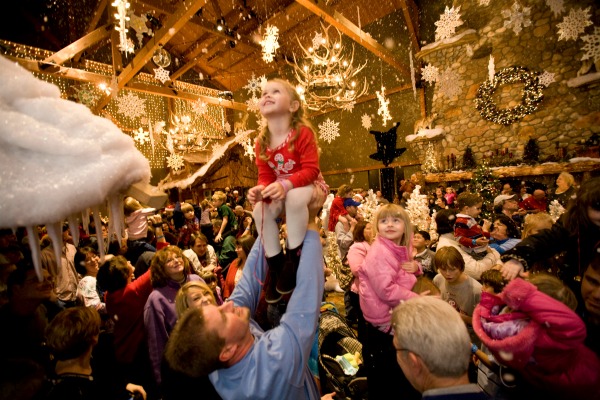 Starting November 26 and running through January 1, Great Wolf Lodge will have a limited number of Snowland Suites available, so book yours here today!
Watch this festive "Snowland" video from Great Wolf Lodge's YouTube:

Snowland-themed suites – Great Wolf Lodge transforms 10 of its suites during "Snowland" into an enchanting Snowland Suites, just for the holidays. Each one comes complete with glimmering garlands, twinkling lights and a fully decorated holiday tree. You'll open the door to your personal winter wonderland and receive a free copy of the winter story book, "Unique as a Snowflake". Great Wolf will also surprise your children with an evening milk and cookies delivery by one of our Great Wolf Kids characters!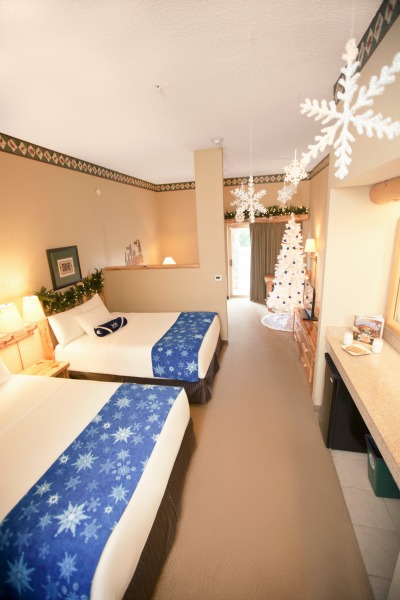 In addition to Great Wolf Lodge's indoor waterpark access, guests will be treated to countless themed activities during Snowland.
Spectacular decorations throughout the lodge
As you enter the lodge at Great Wolf, you'll be mesmerized by how it's been transformed into a magical winter wonderland, complete with spectacular decorations,
Annual Tree Lighting Ceremony and Visits with Santa Claus
Santa Claus will make his grand entry on Saturday, November 26 at the Great Wolf Lodge Tree Lighting Ceremony. He also visits regularly throughout the holidays. You'll find Santa's "Letter Depot" in the lodge where you can mail letters to Santa in order to make sure he receives them on time.
North Pole University activities
During your stay, your children can enroll in North Pole University for their winter, 2016-2017 snow-mester. They'll delight in completing our holiday-themed activities and receiving their official "Snowploma". They also receive a limited edition Rowdy the Reindeer trading card you can only get here!
Life-Size Gingerbread Houses You Can Dine In
The Great Wolf Lodge culinary team spend weeks cooking up and creating the intricate beauty of their life-size gingerbread houses. Each unique-as-a-snowflake masterwork welcomes you with amazingly detailed gingerbread walls, candy trim and plenty of white icing snow. When you dine in, your fee goes to the Ronald McDonald House Charities®! You can request to dine in one when you book your dining reservation.
As you can see, there's a lot going on over at Great Wolf Lodge during Snowland. It's the chance to create some new holiday memories with your family and you won't want to miss out!
Great Wolf Lodge Southern California
is located at
12681 Harbor Blvd
Garden Grove, California
Connect with Great Wolf Lodge Southern California on Facebook, Twitter, & Instagram.
This is not a sponsored post. Images and logos are property of Great Wolf Lodge. All opinions are 100% my own.