This shop has been compensated by Collective Bias, Inc. and its advertiser. All opinions are mine alone. #BetterWithCraisins #CollectiveBias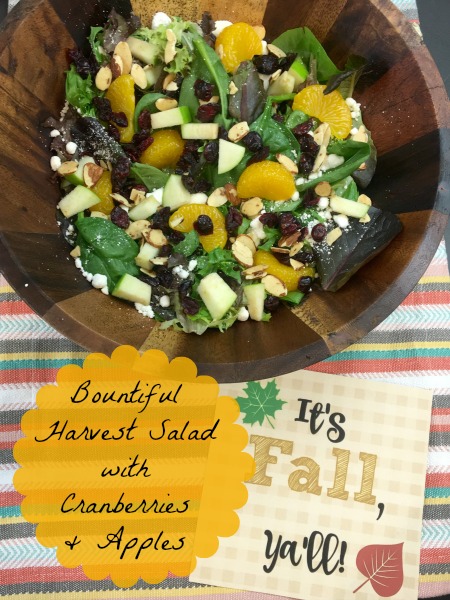 I don't know about you but I get really excited about the arrival of Fall every year. I think a lot of people would say it's fun to finally to break out the sweaters and boots, but when you live in Southern California, that isn't usually the case. (It's usually still sandals weather around here.) 
What I do get most excited about are the beautiful, seasonal colors all around, pumpkins appear in the stores, and the feeling that we're on fast-forward towards the holiday season! My most favorite part about this time of year though, are the foods, I could spend all day cooking and eating my favorite fall recipes! It's Fall, Ya'll! (Grab this free Fall printable, here.)
 One of my most popular recipes to make is my "Bountiful Harvest Salad" made with cranberries and apples. It's a really light and delicious salad that combines baby lettuce, Ocean Spray® Craisins® Dried Cranberries, green apple, mandarin oranges, feta cheese crumbles, and candied almonds. Tossed in a light olive oil-based dressing, this salad goes really well with just about any meal or even just on its own. It's also pretty simple to throw together! This salad is probably the most requested thing I get asked to bring to friends' parties and family get togethers. 
I used to buy the Craisins® Dried Cranberries for my recipes from Sam's Club but they seem to have disappeared from their shelves. Luckily, I picked up a couple of bags at Target. In addition to adding these little yummies to a salad or baking with them, they are perfect to snack on, right out of the bag. 
I think it's the "zing" that make them unique. 1/4 cup of Craisins® Dried Cranberries provides 1/2 cup of fruit. 
Here's how you can whip up your own "Bountiful Harvest Salad"!

Ingredients for salad
6 cups lettuce of your choice, washed. (I sometimes use bagged lettuce to save time.)
1 large Granny Smith apple, chopped
1 11 ounce can mandarin oranges, drained
1/4 cup Craisins® Dried Cranberries
1/2 cup raw almonds, sliced (for toasting)
1/2 cup Feta cheese crumbles (blue cheese also works with this recipe)
1 tablespoon parsley, finely chopped
3 tablespoons sugar
The juice from 1 lemon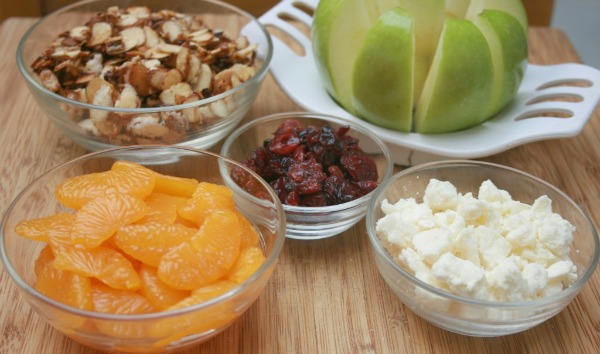 Ingredients for dressing
2 tablespoons sugar
2 tbsp white wine vinegar
1 tablespoon chopped parsley
1/2 teaspoon salt
1/2 teaspoon pepper
1/4 cup olive oil
Instructions
Preparing your candied almonds is something you can do ahead of time. Allow for some time to do this though. In a large saucepan, combine the sugar and almonds and put over medium heat. Continue to stir the mixture every couple of minutes until the sugar starts to melt. Once this happens, continue stirring evenly to sugar coat all of the almonds evenly and then transfer from the pan to some foil, allowing the almonds to cool down and solidify a little bit.
The dressing preparation is another step that can be done ahead of time and set aside. I usually double the recipe for the dressing in case I need to whip up another batch of the salad. (I told you it's very popular at parties!) Whisk together salt, pepper, sugar, and olive oil in a small bowl. Finely chop up parsley and add to the mixture. Shake well before tossing onto the salad. 
Salad Preparation
Add washed and dried lettuce to salad bowl.
Cut and core apple and either cut into large apple slices or dice it up. Next, add to salad bowl. If you don't plan on serving right away, squeeze lemon juice onto apple to prevent browning.
Drain mandarin oranges and add to salad.
Add Craisins® Dried Cranberries feta cheese crumbles, and candied almonds to the bowl and mix everything together.
Set salad aside until you're ready to toss with dressing and serve.
I hope you love my Bountiful Harvest Salad as much as I do! Leave me a comment if you made it too. Also, don't forget to grab your "It's Fall, Ya'l" free printable above! To find more great ideas and recipes to use in and a store near you, go here.