We're really excited in our home right now about all things Beauty and the Beast! First, with the release of the film's 25th Anniversary Edition on Blu-ray™ and DVD on Sept. 20 and also with the upcoming "real life" version of the story, which will be in theaters in March 2017! How can you not be excited and nostalgic? Right now, I'm having a giveaway to win a code for a Digital Copy of "Beauty and the Beast". To enter, go here.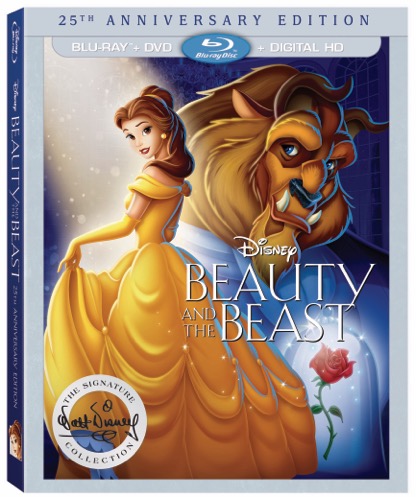 This "tale as old as time" has always been one of our favorite Disney films to watch as we absolutely adore Belle! She is so beautiful and kind and as a teacher, I love that Belle has such a love for reading! She is absolutely breathtaking in her gown and every time we wave to her in the Disney parade, we can't help but grin from ear to ear.
In honor of the release of this Disney classic's 25th anniversary, we made a super cute no-sew Belle hair bow. It was very easy to put make.
Here's what you'll need to make your own "Belle Hair Bow": 
One big yellow bow (ours had a rubber band already attached to it.)
Tulle "rounds" (I used white tulle rounds that had a touch of gold glitter) 
Red ribbon roses
A hot glue gun
Scissors
To make your bow:
Take one of the tulle rounds and roll up.
Use the glue gun to fasten rolled tulle round to the yellow bow in the center. 
Snip the ends of the round to shorten. 
Use parts that you snipped off to tie around the middle of the tulle "bow", to cover up the hot glue spots, tying in the back of the yellow bow.
Add the red ribbon roses to the center, using the hot glue gun. "Traditionally", Belle has just one rose, but we liked adding a few. How cute did our "Belle" bow turn out?
Do you have a favorite character in Disney's "Beauty and the Beast"? Tell me which one in the comments.