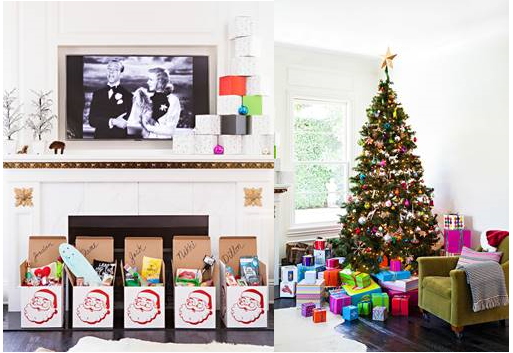 The holidays are a joyous time, but also one of the busiest and most hectic of the year. Having little elves to help with Santa's work can make the holidays stress-free, leaving more time for celebrations and making memories with family and friends. This is where Boxfli, the coolest one-stop holiday shipping shop, comes in to help you!  
Boxfli can make the holidays easier than ever with great products and convenient services, from a wide selection of unique novelty gifts to colorful and whimsical boxes and filler, and gift packaging and shipping. With stores in Costa Mesa and Mission Viejo (and an e-commerce site), Boxfli is truly a one-stop holiday shop. This holiday season, Boxfli's box designs (starting at only $2) range from glitzy and glamorous to vintage-inspired, with whimsical sayings, bold geometric holiday styles, Hanukkah designs, and more. 
Paired with a range of bubble wrap or crinkle filler, colorful tissue paper and even a spritz of scent to personalize it, each gift can be tailored to the recipient, making giving gifts just as fun as receiving them. In addition to full-service wrapping, packaging and shipping, Boxfli has an array of fun novelty gifts that make great stocking stuffers, party favors, or creative add-ons that can top a gift. Most are under $10. 
Some of Boxfli's time-saving tips this holiday include:
No wrapping required with these boxes, which is a big time saver during the holidays.
Use boxes instead of stockings – you can fit more than candy and an orange!
Think beyond the tree – Have hostess gifts ready to go by stacking the boxes on the mantle as part of the holiday décor.
Welcome your guests with a small gift at each place setting at your holiday gathering.
When the holidays are done, you'll be able to store holiday décor in the boxes (the holiday print boxes make it easy to find the holiday décor next year) and fold the rest of the boxes flat to be used again next year! 
Connect with Boxfli on Facebook, Twitter, and Instagram.

This is not a sponsored post. All opinions are 100% my own. Images and logos are property of Boxfli.