This post was sponsored by Ling Ling. All opinions expressed in my post are my own.
Last week, I had a unique opportunity to attend a Ling Ling Asian Foods cooking class in L.A. at Hipcooks. The class was led by Chef Katie Chin and attended by a fun group of local influencers. The place was beautifully adorned with festive red and gold decor and some traditional New Year's decorations.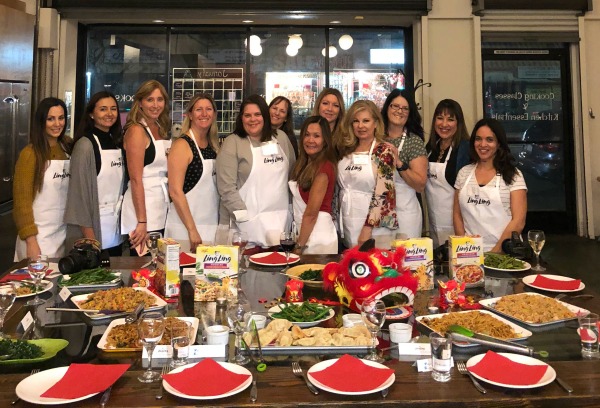 Since Chinese New Year is just around the corner, falling on Friday, February 16 this year, I was excited for the opportunity to try out several simple-to-prepare-at-home Ling Ling items that you can put together to make an easy meal for your family. I'm addicted to Ling Ling Potstickers and now they offer Fried Rice and Noodles, too! All of the Ling Ling items are perfect for preparing your own an authentic Asian Chinese New Year meal at home.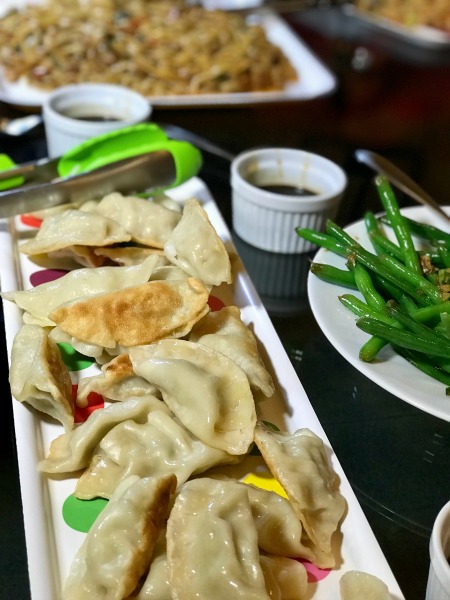 It was night of laughter and learning led by Chef Katie Chin, who is an extremely talented and just an adorable person. She shared so much with us. Not only did she give us some helpful tips to plan our Chinese New Year menus, she was also very open and personable and sharing quite a bit about her personal story and how she came to be involved in the culinary industry.
Chef Katie started off by teaching us how to blanch kale and green beans to use in 2 simple recipes: a Kale with Ginger Salad and Sweet & Spicy Green Beans. I had no idea how easy it is to blanch veggies but I know I'll do it more often now. Both of these recipes make great side dishes to feature on your Chinese New Year menu. (Please see down below for recipes.) 
After we were finished preparing these two dishes, we all sat down to enjoy an early Chinese New Year dinner together. The table was filled with delicious Ling Ling entrees and New Year's decor.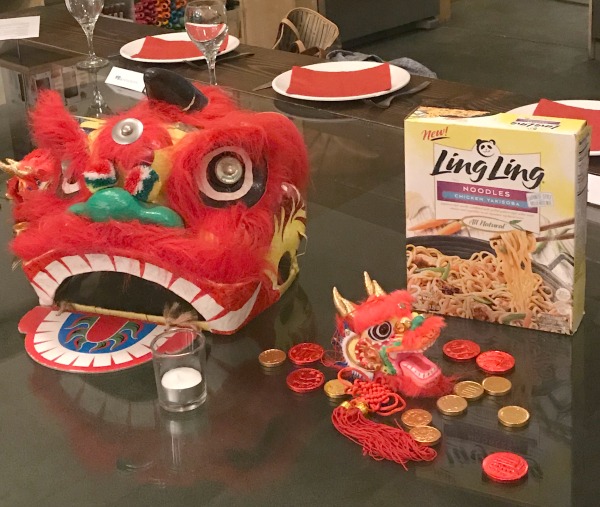 Ling Ling's most well known product are their potstickers. Have you tried them before?
They're made with delectable chicken or pork, and tender vegetables and are expertly combined in a mouthwatering dumpling wrapper. Each comes with Ling Ling signature dipping sauce and they are so delicious!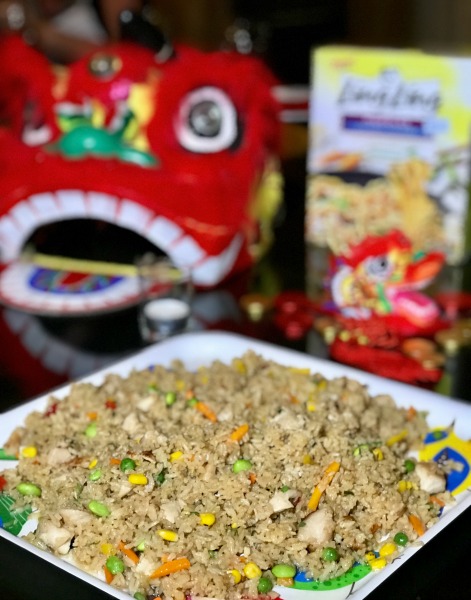 Ling Ling also has Fried Rice dishes from Japan and China. Their authentic recipes are expertly crafted and made with tender vegetables, delicious proteins and flavor infused rice that tastes great down to the last grain. You're going to love these once you try them and they are so simple to prepare at home. Ling Ling Fried Rice is available in Yakitori Chicken, Yakiniku Beef, Thai-Style Chicken, Chinese-Style Vegetable, and Bibimbap Beef flavors.
Another great Ling Ling product available in stores are the Authentic Asian-style noodles infused with delicious sauces, succulent proteins, and vegetables. There are two traditional Asian varieties to choose from: Drunken Noodles and Yakisoba Noodles.
Aside from all of the food, I also enjoyed getting to learn about some Chinese New Year customs and traditions from Chef Katie. Here are some of the DOs and DONTs to follow for starting out the New Year:
Don't use foul language or bad words on New Year's Day or they will follow you throughout the year.
Don't wash your hair on the actual Chinese New Year because you will "wash away" your good luck for the year.
Greeting friends with oranges or tangerines (with the leaves still attached if possible) during the New Year will ensure that your friendships remain intact
Don't sweep on New Year's Day as you'll "sweep" all your good luck out the door
Be sure to step into new shoes on New Year's morning to start your year off on the right foot. This was a personal favorite of Chef Katie and I can see why.
One of the cool customs we also learned about was the distribution of red envelopes to children, filled with money to start the year with prosperity. These signify Joy and Luck!
I was so inspired by Chef Katie, that I went and purchased her latest cookbook, a tribute to her mom; Everyday Chinese Cookbook – 101 Delicious Recipes from My Mother's Kitchen. A very special thank you to Chef Katie Chen and Ling Ling Asian Foods for hosting me for a fun night out! 
Kale with Ginger (serves 4)
Ingredients:
1 large bunch kale, rinsed with hard stems and center ribs removed and coarsely chopped
1 Tablespoon fresh minced ginger
2 teaspoons neutral oil, such as canola
1 teaspoon soy sauce
1 teaspoon sesame oil
1/4 cup water
1 teaspoon toasted sesame seeds
Instructions: Blanch kale in boiling water until bright green. Using a slotted spoon, transfer to an ice bath to cool. Drain and set aside. Heat the oil in a wok or skillet over medium-high heat. Add the garlic and stir-fry until fragrant, about 30 seconds. Add the kale and stir-fry for a few minutes until wilted but still slightly crunchy. Add the soy sauce and sesame oil and stir-fry for 30 seconds. Sprinkle with sesame seeds and serve.
h the beans in boiling water until tender-crisp (about 3 minutes). Using a slotted spoon, transfer to an ice bath to cool. Drain and set aside.
Sweet & Spicy Green Beans (serves 4)
Ingredients:
1 pound green beans, washed and trimmed, cut into 1-inch pieces
1 Tablespoon neutral oil, such as canola
2 garlic cloves, minced
1 teaspoon fresh minced ginger
1/2 teaspoon Srircha sauce
2 teaspoons soy sauce
2 teaspoons oyster sauce
1 teaspoon sugar
1 green onion, green and white parts, finely chopped
Instructions: Blanch the beans in boiling water until tender-crisp (about 3 minutes). Using a slotted spoon, transfer to an ice bath to cool. Drain and set aside. Heat the oil in a wok or skillet over medium-high heat. Add the garlic and ginger and stir-fry until fragrant, about 30 seconds. Add the drained green beans, Srircha, soy sauce, oyster sauce and sugar and stir-fry for 1 more minute, then add the green onions and stir-fry for 30 more seconds.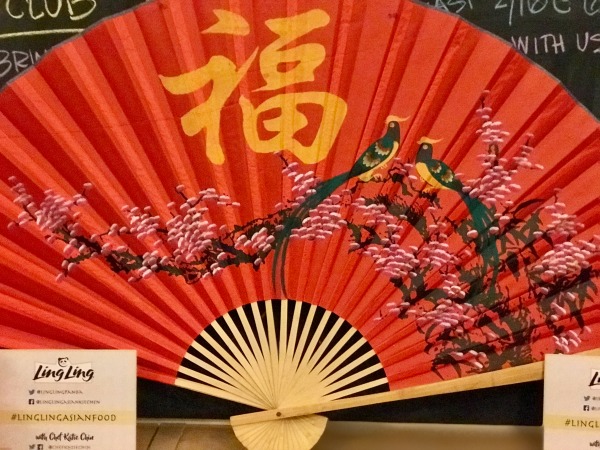 I am excited for Chinese New Year this year because I feel like I can prepare a meal for my family with these Ling Ling products plus the 2 additional recipes from Chef Katie, and I feel confident that will look like I've spent hours cooking and that they'll actually eat. As a busy mom, I don't always have hours to spend in the kitchen, but preparing something quick and simple, with quality products is something I can be proud of. Ling LIng authentic asian foods are so simple to work with and I appreciate that.
To find a store near you where Ling Ling products are available, please go here. How will you be celebrating Chinese New Year? Will you be preparing any special dishes for your Chinese New Year menu? Share with me in the comments.
Connect with Ling Ling on Facebook and Twitter.