I was invited to attend a media event in exchange for coverage. All opinions are my own.
The Seasons of Fun at Knott's Berry Farm got even more exciting this year. Kicking off 2018 with the addition with something brand-new-to-Knott's, the PEANUTS Celebration, takes place weekends starting January 27 through February 25, 2018, plus Presidents' Day.
This special celebration debuted last weekend and we were lucky enough to be there to experience it.
During Knott's Peanuts Celebration, guests can encounter The Peanuts Gang in the park, including Charlie Brown, Lucy, Sally, Snoopy, Woodstock and a couple others. Also, for the very first time at Knott's, the Peanuts Gang is joined by their friend PigPen, everyone's favorite messy pal!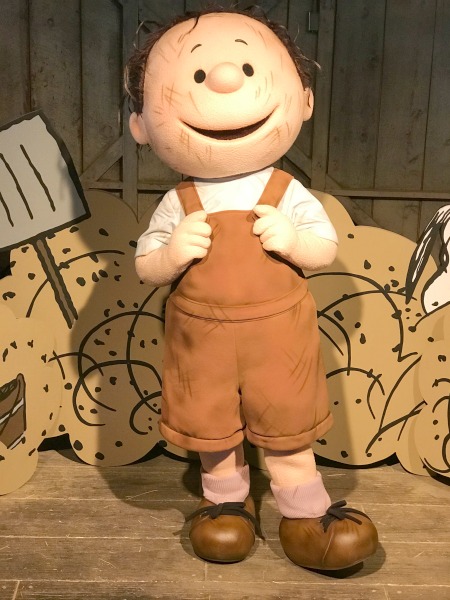 The all-new Knott's PEANUTS Celebration is uniquely dedicated to celebrating the beloved PEANUTS characters. The park celebrates the world Charles M. Schultz created and is currently. adorned with PEANUTS inspired décor. Guests can check out new character experiences, comic strip inspired photo opportunities, deliciously themed-treats and new whimsical shows.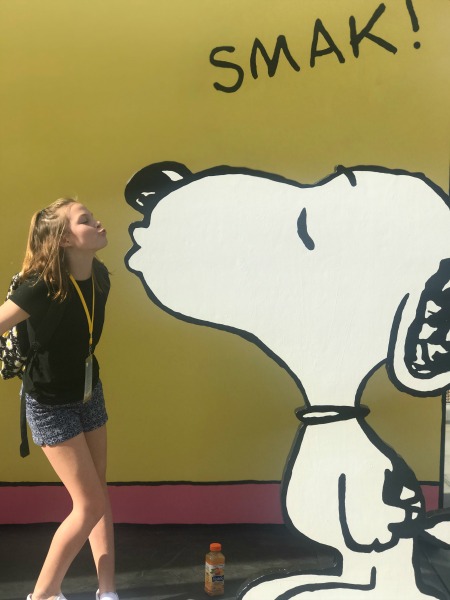 One-of-a-Kind Peanuts Photo Opportunities
As you enter the park, you'll see some of the new photo backdrops set up and available for photos. For your convenience, Knott's photographers are on hand to take your photos, which are also available for purchase through Knott's Pix program. You are also welcome to use your own camera and mobile device to take photos.
In addition to the photo backdrops created especially for this celebration, you'll find other photo opportunities throughout the park with the Peanuts characters. If you're looking for PigPen, you can find him in the PigPen's Pig Pen, located in Ghost Town, (a.k.a. the Livery Stable) with his animal friends. PigPen is available for photos throughout the day.
Special Peanuts Celebration Entertainment
During Knott's Peanuts Celebration, there's a complete lineup of whimsical entertainment. The shows are offered a few times a day throughout the day so you can fit them all into your day.
Peanuts Balancing Act – In this show, over in the Camp Snoopy Theater, watch Lucy and Charlie put their talents to the test. 
The Music Goes 'round and 'round – Join in on the daytime fun, held on the Calico Mine Stage, as Sally and Schroder host a retrospect of music and have guests dancing in the aisles! .
Peanuts Cowboy Jamboree – Franklin and Linus are on a Western escapade as they transform into cowboys. They're also looking to challenge guests with some of the rootinest, tootinest games in Calico. Join in on the fun in Calico Ghost Town.
Lucy and Sally's Fiesta Fantasy – Uncover hidden fun as Lucy and Sally take a journey south of the border. Enjoy lively music, traditional costumes and live performances on the Fiesta Village Stage. 
Woodstock's Music Festival – This nighttime festival is held on the Calico Mine Stage and features the Peanuts Gang as they're joined by the family-friendly indie band The Jelly of the Month Club. This high energy rock concert is fun for the whole family. .
Peanuts Sketch School
The PEANUTS Sketch School was one of our favorite highlights of our visit. It's held in the Bird Cage Theatre and is hosted by a resident art teacher. The class starts with step-by-step instructions on how to draw the perfect PEANUTS masterpiece. Paper and pencil are provided as you enter the theatre. (We got to draw Lucy.)
As you go through the drawing lesson, the instructor also provided fun and interesting facts about the character. After class is dismissed, a special showing of a classic PEANUTS television special is shown. If you are bringing children, I suggest arriving a little early so they can get a seat on the stage. There is plenty of seating available though for all guests.
Peanuts Celebration Treats 
One of my most favorite parts about any visit to Knott's is always the treats! I was amazed at all of the special treats that the Knott's culinary team came up with for Knott's Peanuts Celebration.
There are 16 special Peanuts Celebration treats offered throughout the park including Charlie Brownies, Charlie Brown cotton candy, Peanuts Characters cupcakes, Chocolate Covered Apples, Charlie Brown Marshmallow Pops, Snoopy Cookies, and more. After sampling many of them, I cannot wait to go back and try some more.
Have you had a chance to experience Knott's Peanuts Celebration yet? If not, be sure to do so before it ends on February 25. It's absolutely adorable and I can assure you, you'll have a great time!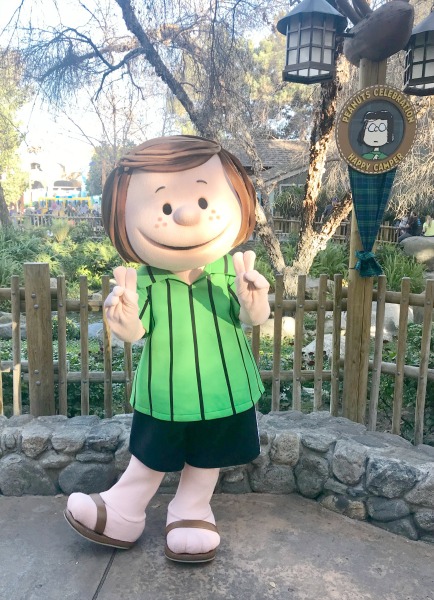 The best way to enjoy every weekend of the all-new Knott's PEANUTS Celebration and all of the other Seasons of Fun is with a 2018 Season Pass. A Regular Season Pass includes unlimited admission in 2018 to Knott's Berry Farm with no blackout dates, and a Gold Season Pass includes unlimited admission in 2018 to both Knott's Berry Farm and the newly expanded Knott's Soak City Waterpark with no blackout dates. Regular passes are just $94 or six easy payments of $15.66 and Gold Passes are $113 or six payments of just $18.83. These offers end April 8, 2018. Applicable taxes and fees apply online. Payment plans are only available at knotts.com.
Logo is property of Knott's and used with permission.