I was invited to attend a conference and provided with entrance to the Disneyland Resort. All opinions are 100% my own. 
Pixie Dust landed in my inbox a few weeks ago, in the form of a magical invite to the Disney Social Media Moms Celebration On-the-Road at the Disneyland Resort. Just the mention of anything Disney, brings a smile to my face and warms my heart so I was giddy to share this news with anyone and everyone who would listen!
So grateful for the invite to #DisneySMMC on the road! You never get used to #PixieDust in your inbox! Thank you, @DisneyMoms! MAGICAL day! pic.twitter.com/u72NJEOH2n

— ✨Wendy✨ (@OverthetopMommy) July 25, 2017

After I shared about my wonderful invite on my social channels, I received a few questions asking what exactly Disney Social Media Moms Celebration is? So let's just start there.
Disney Social Media Moms Celebration is a multi-day conference that began over 7 years ago at the Walt Disney World Resort. This annual event put on by the Walt Disney World Events Team, is by invitation only and is extended to a couple hundred social media moms (and dads) and their families each year. Attendees participate in a conference and also get to spend to time in the Parks with their families during their stay. Last year, I had several friends attend and have the opportunity to experience the very first "Land and Sea Celebration" where they sailed aboard the Disney Wonder! (Read about my friend Gayle's experience here.) How magical does that sound? A Disney cruise is definitely on my family's travel bucket list! Have you been on one before?

The Walt Disney World Events Team took the Disney Social Media Moms Celebration out "On-The-Road" a few years ago, creating a half-day "mini" conference, making several stops across the country, and even in Canada. I was lucky enough to attend the "On-The-Road" conference last year, when it was held at Paradise Pier at Disneyland Resort.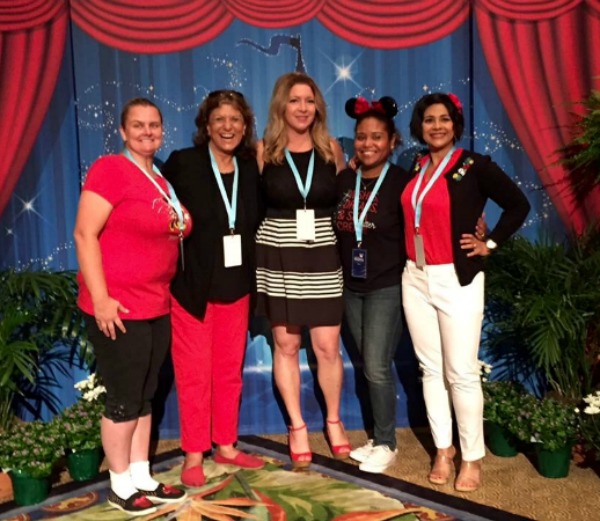 Whether you're invited to the regular Disney Social Media Moms Celebration conference or one of the "On-The-Road" locations, you'll have the chance to learn about the latest Disney news, including the happenings at the parks, with Disney Cruise Line, at Disney Aulani, with the Disney Parks Moms Panel Search, and with Disney Vacation Club. You'll also receive social media tips and tools and gain valuable insight from speakers at the conferences
Disney Social Media Moms "On-The-Road" at Disneyland Resort was held this year in Disney California Park, inside Stage 17. It was a jam-packed morning and I want to share all about my experience with you. (To read what I did to get ready for this big day, go here.)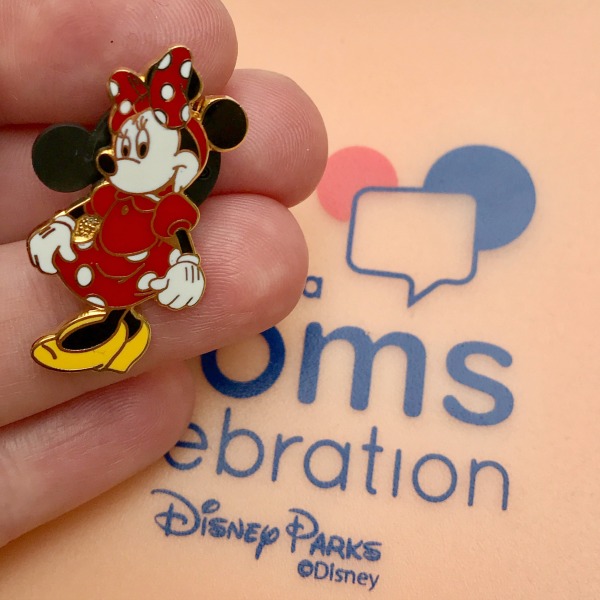 Upon arrival at the conference, we were each given a Disney pin so we could participate in some pin trading with the other attendees as we enjoyed a delicious buffet breakfast.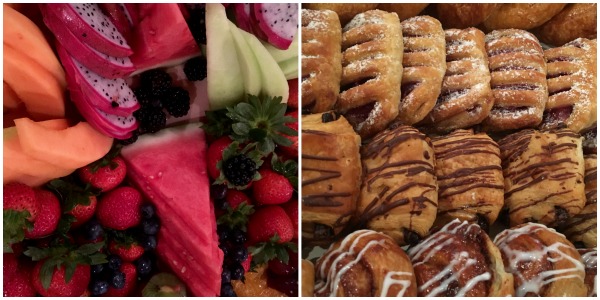 Have you ever done pin trading in the Parks? It's so much fun. I LOVE my new Minnie Mouse pin! She's adorable! It was fun to pin trade and get to know some of the other Disney Moms in the room.

What followed was a lineup of wonderful speakers, each one sharing either exciting news about Disney or an inspirational story. Lisa Mendillo, Managing Editor at Walt Disney World Resort, grabbed our attention immediately as she began with one of the most magical giveaways you might know of right now: a raffle to win a pair of (highly sought after) Disney Rose Gold EARs!
I don't think I've ever heard a room get that quiet in such a short time! We were all crossing our fingers and hoping to be chosen! Although I wasn't one of them, I was excited to know one of the winners, Tania of Latina Mom TV.! It's always exciting to see your friends win something! 
Lisa also touched on some of the latest happenings at the Disney Parks, Disney Cruise Line, Aulani, and the Disney Parks Moms Panel Search.. Here are just a few of those updates:
The World of Pandora – New to Disney's Animal Kingdom, the World of Pandora brought a whole new element to the Park and features.
Rivers of Light – Also new to Animal Kingdom, this past February was the nighttime show "Rivers of Light" which combines live performance, floating set pieces, a soaring musical score, fountains and more in a celebration of animals and nature.
"Happily Ever After'" Fireworks Show – Catch this nightly show in the sky above Cinderella Castle is the most spectacular fireworks showcase in Magic Kingdom history. It starts with a dream…and takes you on an unforgettable journey that captures the heart, humor and heroism.
Guardians of the Galaxy – Mission: BREAKOUT! opened at the end of May inside Disney California Adventure Park at Disneyland Resort. This thrilling attraction takes guests. New for this year at Halloween Time, read about the nightly transformation this attraction will undergo just for Halloween!
Disney Junior Dance Party –  This summer, an all-new Disney Junior Dance Party debuted at Disney California Adventure Park. This high-energy, live show experience that takes its inspiration from the most popular Disney Junior shows on TV, including the new series "Mickey and the Roadster Racers," as well as "Doc McStuffins," "Sofia the First" and "The Lion Guard." The show is set to include live appearances from some of your favorite characters, fun music from Disney Junior and much more.
Disneyland Railroad and Rivers of America Attractions – The Disneyland Railroad and the attractions along the Rivers of America (the Mark Twain Riverboat, the Sailing Ship Columbia, and the Davy Crockett Explorer Canoes) reopened at the end of July, after a complete refurbishment, which made room for the upcoming Star Wars area. The scenes along the Rivers of America, which are backdrop for Disneyland Railroad's route, portray scenes that were inspired by Walt Disney's true-life adventure movies,
Disney Cruise Line –  Marvel Day at Sea features exclusive character interactions where you'll have a chance to meet astounding Super Heroes and a very extraordinary Villain.
Disney Parks Moms Panel – The 2018 Disney Parks Moms Panel search will begin this year on September 6 as the application period for Round 1 will open.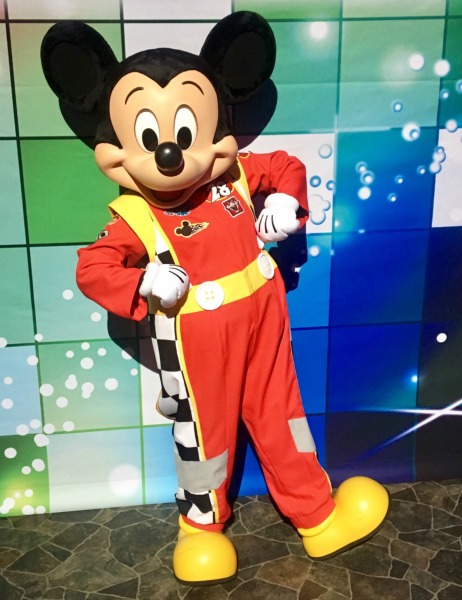 It seems like there's always something new and exciting coming soon at either one of the Disney Parks or with Disney, in general.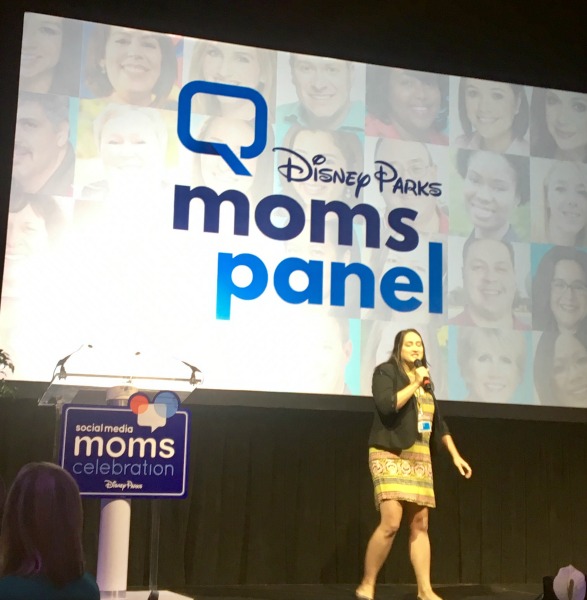 Did you know that the Disney Parks Moms Panel search will begin this year on September 6? The application period for Round 1 of applicants is only open through September 13. If you aren't familiar with the panel or are still on the fence about applying, here are 3 reasons why I think you should apply this year. Although I've never been chosen for the panel, I have applied for it twice before and can tell you what it's like to apply.  It's a great opportunity for any Disney Mom (or Dad) to pursue. 
Since I am a huge fan of the Disney Parks Blog, I was really excited when we heard from Erin Glover who is the Editorial Content Director of Disney Parks Blog! She is so knowledgeable about all things Disney and shared some great tips with us about the best ways to share our content from our blogs to social channels.
Just as soon as Erin was finished speaking, a familiar tune started to play in the room. It was "Baroque Hoedown" and if the name still doesn't ring a bell, that's the theme song for Disney's Main Street Electrical Parade. We had our own personal performance at the conference that day as 2 royal couples danced in the front of the darkened room, wearing their beautifully lit-up costumes from the actual parade.

The Main Street Electrical Parade originated inside Disneyland Park in 1972 and just recently returned to the Disneyland Resort this past January for an encore performance which ended on August 19. I'd have to say that this was my most favorite parade of all time, mainly because of how much it reminds me of my childhood. 
The conference attendees were delighted to be introduced to.Stacia Martin, a Disney Artist and Historian. Ms. Martin has been with the Company for 39 years and as she stood in front of the crowd, up on the stage, she talked to us about so many interesting topics and facts she knew and had come to learn all of these years, while she sketched away, making it look like it was effortless.
She first sketched Tink as she talked. Next, she called up my friend Caryn (from Rockin' Mama) to the stage to sketch her favorite character. What an exciting thing to be called up for! We all watched in awe and as Ms. Martin finished the sketch of Winnie the Pooh.
We then learned that Ms. Martin had also sketched a personalized rendering for each of us and that we'd be taking ours home that day! Here's the one I got to take home. I will treasure it forever!
As soon as we were asked to turn off our cell phones and put away any device at the conference, I knew something good was coming next. Sure enough, we got to see a never-before-seen clip from "Olaf's Frozen Adventure" which is a 22 minute animated short from Disney Animation Studios. The short will be shown in theaters this holiday season when it precedes the full length animated feature "Coco", due to release nationwide on November 22. I don't want to spoil anything but I am happy that the original (voice) cast is returning for this holiday adventure. Here's the official trailer:
After the sneak peek we also got to have a Q & A with the directors of this featurette, Kevin Deters and Stevie Wermers. Can Thanksgiving hurry up and get here already?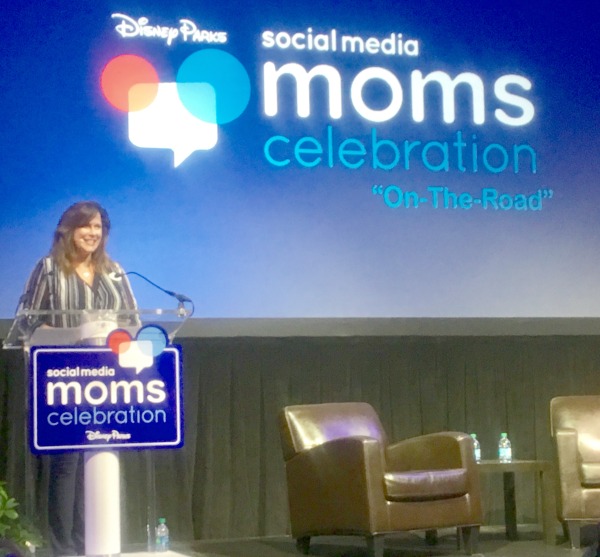 Leanne O' Regan, Director of Content Relations for Disney Parks, introduced the surprise keynote speaker, Amy Robach of CBS' Good Morning America. Amy is an amazing journalist and news anchor and sat down on stage with Leanne to share about her journey and her battle with breast cancer.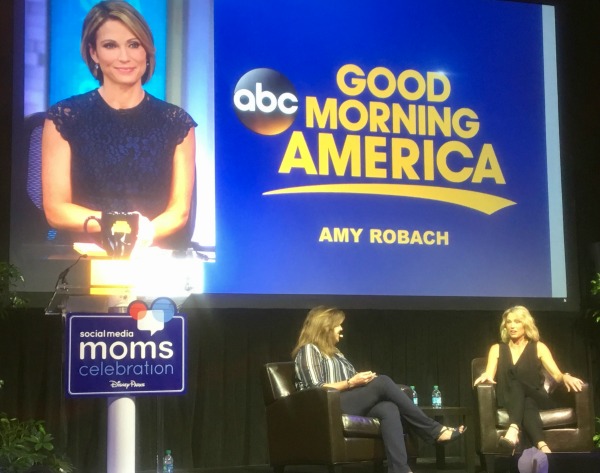 Amy featured a live mammogram on her show, Good Morning America, as a way to encourage viewers to get their own mammograms done. Shockingly, she received devastating results of her mammogram afterwards, as she was told she had breast cancer., Amy shared that it was one of the most eye-opening and shocking events of her lifetime!
"I started surviving the day I got the diagnosis." – Amy Robach.
All I could do was sit and listen to her story and quietly wipe tears from my own eyes. She is amazing and positive and inspiring and reminds me of a very good friend of mine who is currently battling cancer.
Attitude is everything in situations like theirs. It seems like the more positive energy you exude, the more positive outcome you will get!
Disney Social Media Moms Celebration "On-The-Road" included such a wonderful collection of presentations and speakers and Disney magic and was nothing short of a memorable experience for the attendees.

I got to connect with influencer friends, many of which I usually only "see" online. There's really nothing like the community of Disney Moms and how much they support each other and to be in a room filled with many of them that day, was definitely My Happy Place.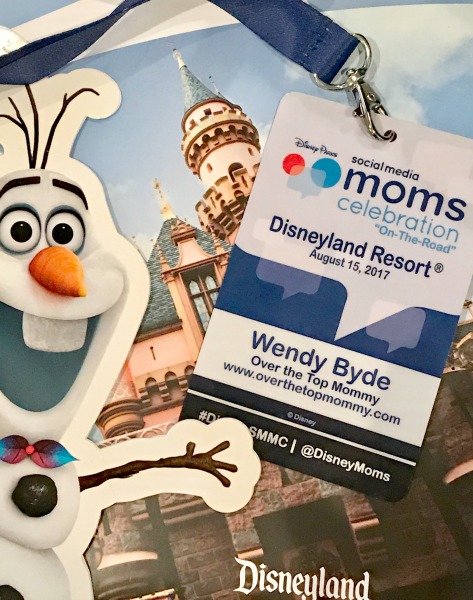 The conference portion of the day ended at noon but the day was far from over because we were then hosted to play in both Parks until closing time. We were also lucky to be given a pre-loaded FASTPASS to experience the all-new Guardians of the Galaxy – Mission: BREAKOUT!  and  enjoyed the perks of having MaxPass on our Park Hopper tickets that day, which included PhotoPass.(The park photographers are amazing!)  I highly recommend trying out MaxPass on your next visit! It is so convenient! 
It was such a wonderful day and I was so grateful to have been invited this year's Disney Social Media Moms Celebration "On-The-Road".  A special thank you to Leanne, Courtnee, Lisa, and the entire Walt Disney World Resort Events Team for including me.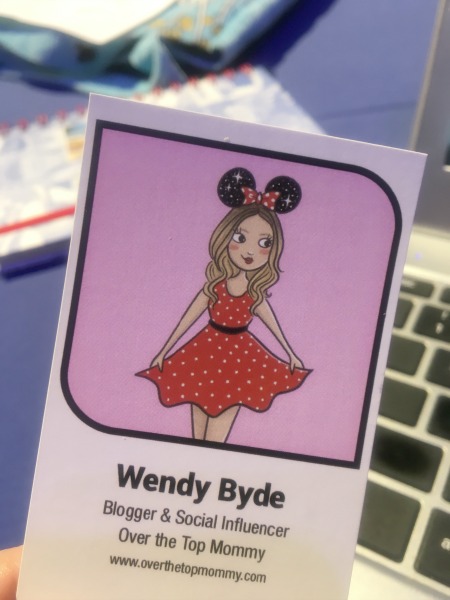 You can join in on the conversation by following the hashtag #DisneySMMC on Twitter and Instagram. I also recommend you follow @DisneyMoms on Twitter, too, so you can keep up with the latest announcements regarding the Disney Parks Moms Panel and other exciting events up and coming with Disney Parks.