I was invited to a media day in the park in order to write this post. All opinions are my own. 
One of our family's favorite places to visit throughout the year is Knott's Berry Farm. From Halloween time to Christmas to their annual Boysenberry Festival, there is always something fun happening at Knott's.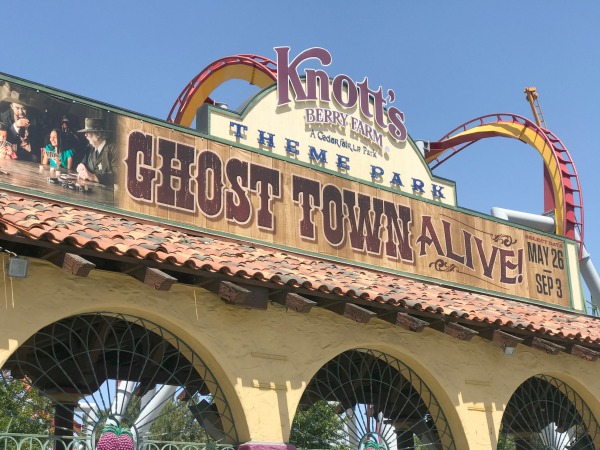 This summer, we added another favorite "season" to our list: summer time! Knott's has a fun, interactive experience during summer, happening now through September 3, called Ghost Town Alive!   
As you enter Calico Ghost Town in the morning, you'll see the citizens getting ready to celebrate Founders Day.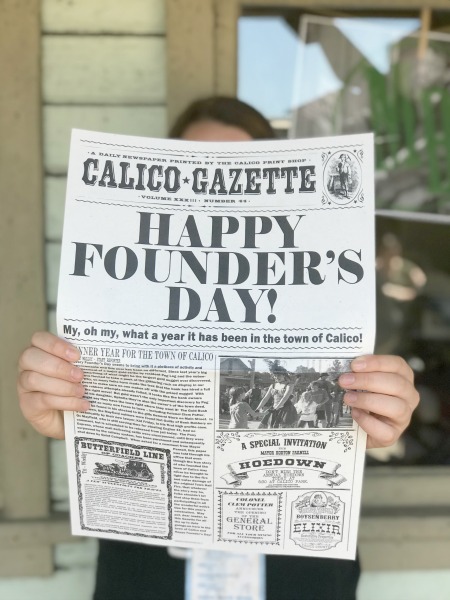 Park guests have the opportunity to interact with the citizens of Calico and spend the day living among them. You'll literally feel as if you've stepped back in time and are living in the Wild West as you engage with the townsfolk, cowboys, bandits, judges, all kinds of other interesting people who live in the beloved town of Calico.
There are so many fun ways to participate in all of the town's happenings. You can become an honorary citizen of Calico and even help out in the town. Just make sure you stay on Sheriff Wheeler's good side or you could end up in jail! 
Here are just some of the things you should do in Calico during Ghost Town Alive!:
Grab a copy of the Calico Gazette, hot off the press
Participate in the town election and vote for the Mayor
Witness a wedding in Town Hall
Stop by the Barbershop for a "shave" and a mustache
Help deliver a package from the Post Office
Visit the animals in the Livery Stable
Go to school in a one-room schoolhouse
Every evening, the town's "story" culminates with a town-wide celebration in Calico Square at the town's Hoedown. It's so much fun for guests to dance and mingle with the folks of Calico.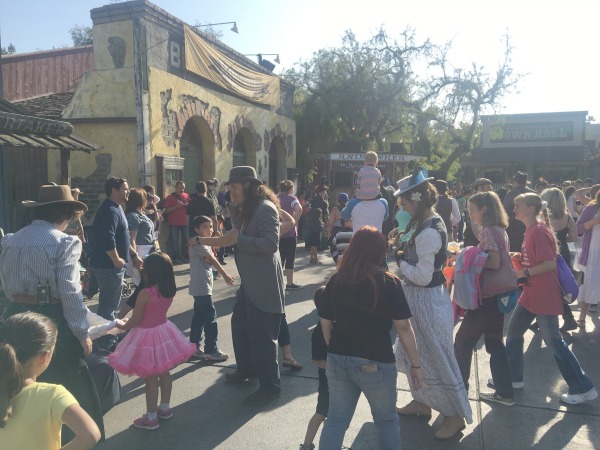 In addition to all of the fun happening in the town of Calico this summer, check out Knott's great lineup of entertainment:
Beach Blanket Beagle – New this year! Relax in the air conditioning of the Charles M. Schulz Theatre and enjoy this musical dance party set to the classic beach comber tunes of the 60's and 70's, and stars the coolest beagle around, Snoopy! Showing select days June 9 – August 19.
Calico's Mountain Jamboree – Performed at the Calico Mine Stage, this new show is a stunt-filled spectacle featuring the rivalry between the Timber Mountain Loggers and the Calico Miners set to an upbeat soundtrack and comedy galore. Showing select days June 9 – August 19.
Wild West Stunt Show: Frontier Feats of Wonder – Held in the open-air Wagon Camp theater, this wild west stunt show takes you on a rip-roarin' visit to the West when it really was wild.
Krazy Kirk & the Hillbillies – Things get krazy when Krazy Kirk and the Hillbillies perform their toe tappin', knee-slappin', side splittin' country comedy show that has Knott's audiences clamoring for more!
Calico Saloon Show – Find this show in the heart and soul of the park in the Old West Ghost Town. Drop by the Calico Saloon for a demonstration in the finer points of the can-can or the musical mis-matchings of Cameo Kate and Dakota Dan.
If you haven't experienced Knott's Ghost Town Alive! yet this summer, you'll want to head to Knott's before September 3. This action-packed experience is included in the price of a Knott's ticket (or Season Pass.) Speaking of a Knott's Season Pass, summer is the perfect time to grab a Knott's Regular Season Pass, which offers unlimited visits in 2018 or even a Knott's Gold Pass, which also includes admission to Knott's Soak City Waterpark. 
For more information about Knott's Season Passes, go here. For more information about Knott's Ghost Town Alive!, including park hours and ticket information, please go here.