I love to make fun snacks. It's even more "fun" if they're something I can quickly throw together that tastes good and doesn't make too much of a mess. Also, snacks with M&M's® earn bonus points in my book! With Disney-Pixar's "Finding Dory" in the front of my mind (since it's about to be released) I made a batch of this "Finding Dory Snack Mix" the other day. Before we go any further though, have you watched the trailer yet?
When I was at the store the other day, a box of M&M's®  landed in my shopping basket, which isn't a rare occurrence, considering they're like one of my favorite candies.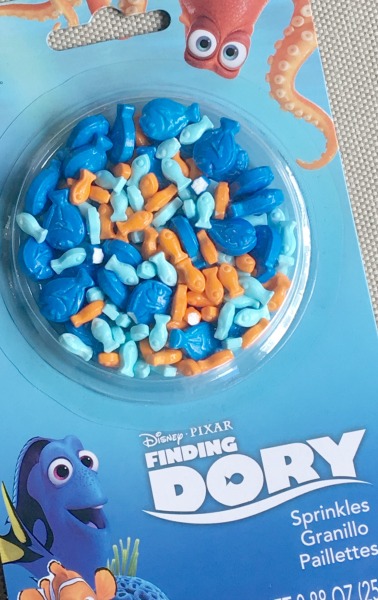 Then, I came across these adorable "Finding Dory" sprinkles. How could I not do something with these? So, I bought them both! 
Once I was home, I almost immediately opened the box of M&M's®  and starting to separate out the "Dorys" and the "Nemos". You know all the blue and orange ones? (Do you ever do that?) I actually ended up sorting all of the candies and finally made a big heart! 
Since my mind is pretty much always snack-focused, I popped a couple bags of popcorn in the microwave and separated out any un-popped kernels.
In my cupboard I found some pretzels and some cute yellow, green, and blue sprinkles. In my opinion, sprinkles are magical! 
Finally, I grabbed a large bowl and started to combine the ingredients. First the popcorn and the pretzels, followed by the M&M's®. Then the sprinkles. I saved the little "Finding Dory" candies for last so they'd land right on top! I love how cute the snack mix turned out! 
I love how the popcorn, pretzels and M&M's® taste together. It's the perfect combination of salty and sweet. For some reason, I always have cute little snack boxes in my stash, so I had to serve them in a coordinating box! I'm hoping they'll help me to speak "Whale"! Yep, it's all about "Finding Dory"!
Do you have a "go-to" snack that you make with M&M's®? If so, share it with me!
This is not a sponsored post. I just love M&M's®! All opinions are 100% my own!