This is a sponsored post. All opinions are my own.
Have you watched Disney Channel's Newest Original Movie "ZOMBIES", yet? It's such a fun movie! Full disclosure here: I've probably watched it more times than I can count on both of my hands!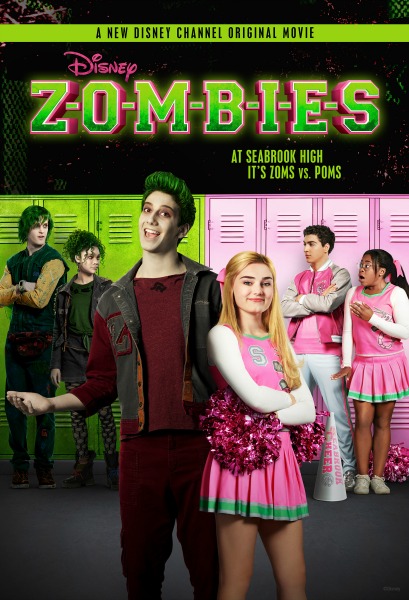 Disney's "ZOMBIES" is a music- and dance-filled story set in the fictitious world of Seabrook, a cookie-cutter community brimming with perky conformity 50 years after a zombie apocalypse. Today, the zombies pose no threat, but are required to live in Zombietown, an isolated, rundown community infused with their unique creative spirit. When zombies are finally allowed to enroll in Seabrook High School, the charming, charismatic zombie Zed, who is determined to play football, meets freshman Addison who dreams of being a cheerleader — the ultimate form of status in Seabrook. Addison takes a lot of flak for befriending Zed and his zombie friends, but comes to learn that zombies and cheerleaders aren't so different after all. Zed and Addison work together to show Seabrook what they can achieve when they embrace their differences and celebrate what makes them a community.
The ZOMBIES cast includes:
Milo Manheim

as Zed

Meg Donnelly

as Addison;

Trevor Tordjman

as Buck

Kylee Russell

as Eliza

Carla Jeffery

as Bree

Kingston Foster

as Zoey

James Godfrey

as Bonzo.
ZOMBIES will be on Disney DVD beginning April 24th and there are so many fun features included in the Bonus Material of this DVD, you won't want to miss out.
Zombie Blooper Reel (DVD Exclusive)  

– Laugh out loud at the Cast of ZOMBIES in this compilation of the funniest bloopers and outtakes from the making of the film.

The Zombie Survival Guide To High School (DVD Exclusive) – This piece uses a visual motif of a Zombie Survival Guide, with styled infographics and hosted by the talent. We go down the list of some of the most important survival tips for Zombies and humans on how to get along and make the best of high school.
Dance Tutorial – Join Meg Donnelly (Addison), Kylee Russell (Eliza) and ZOMBIES Choreographer, Christopher Scott, as they show you how to dance along to the 'BAMM" Music Video.
Deleted Scene #1 (DVD Exclusive) – It's a Cheer-tastrope
Deleted Scene #2 (DVD Exclusive) – New Jacket, New Name
Audition Tapes (DVD Exclusive) for Milo Manheim & Meg Donnelly's Auditions
Music Video – "BAMM"
Lyric Video – "BAMM"
At Seabrook High, it takes GUTS to be Yourself and it's Zoms vs.Poms, well at least at the beginning of the movie. We made a fun "Zom Pom Friendship Snack Mix" recipe that was super easy to make and perfect for watching "ZOMBIES" together! The mix represents "Zoms" with a bit of green and "Poms" with pink.
Here's what you'll need to make your own batch of "Zom Pom Friendship Snack Mix":
1-2 bags of microwave popcorn, popped and cooled down
1 bag of pink (or lime green) candy melts
any kind of colorful sprinkles
vegetable oil
fun cups for serving
Instructions
Pop bags of popcorn in the microwave. Allow to cool down and put into a large bowl, removing any unpopped kernels.
In a separate glass bowl, pour in 1/2 to 3/4 of the bag of candy melts. Heat in microwave for 30 seconds, remove and stir. Do this 2 more times. Add a little bit of vegetable oil to the melts and stir until smooth. Pour over popcorn in the bowl and mix together to coat the popcorn to your liking.
Shake in some fun sprinkles. (You can add other things like chocolate chips, pretzel sticks or small candies too.)
Serve up your mix in cute bowls for an extra fun touch and grab a seat on the couch to watch "ZOMBIES"!


I'm also hosting a giveaway! One (1) of my readers will each win a copy of the Disney "ZOMBIEs" DVD! To enter the giveaway, just leave a comment on this blog post telling me if you've watched this movie yet and if so, how many times? I will accept comments as entries through Thursday, April 26, 2018 at 11:59 p.m. One (1) winner will be chosen via Random Number Generator and contacted via email. Giveaway is open to U.S. residents of the Continental U.S., ages 18 years and older. Good luck everyone!
Some images and logo are property of Disney and used with permission.