I was invited to dine as a guest of Lucille's in order to write this post. All opinions are my own. 
During the month of April, Autism Awareness Month, Lucille's Smokehouse Bar-B-Que, the family-owned, award-winning barbeque destination, has teamed up with three autism organizations to raise awareness and funds during the month of April to support the autism community. The three organizations include Autism Speaks, the Southwest Autism Research and Resource Center and the Grant a Gift Autism Foundation.
Lucille's will donate to these three worthy causes through Round It Up America contributions – in which guests "round up" their purchases to the nearest dollar – at all 23 Lucille's locations throughout Arizona, California and Nevada during the month of April to support Autism Awareness month. For donations of $5 or more made during the month of April, Lucille's will give guests a $10 bonus card good for a return visit between May 1 and June 30, 2018 (one per table, please).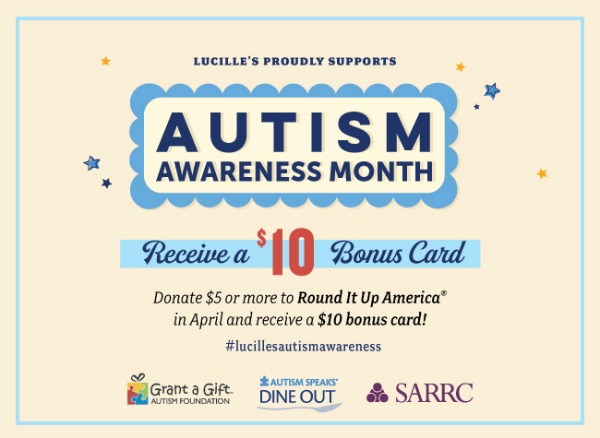 Lucille's has been participating in Round It Up America, platform that encourages restaurant guests to donate change; over the past ten years, Round It Up America has collectively raised millions of dollars for charitable organizations and programs across the country.
As another way to support these organizations, Lucille's will be serving up a drink called the "Blue Bayou", inspired by the color for autism awareness and is made from fresh blueberries & blackberries, 1800 Reposado and Coconut Tequila, Cointreau, fresh lime juice and agave nectar. For each Blue Bayou sold in April, Lucille's will donate an additional $1 towards the cause.
"We first started this fundraiser in our Las Vegas restaurants in 2016 because this condition hits close to home for many at Lucille's, employees and guests alike. We have since taken the fundraiser across all of our locations. We have seen that the Lucille's community can make a difference when we come together for a common cause, and we know that this year will only prove the same for these three organizations." – Brad Hofman, President, Hofman Hospitality Group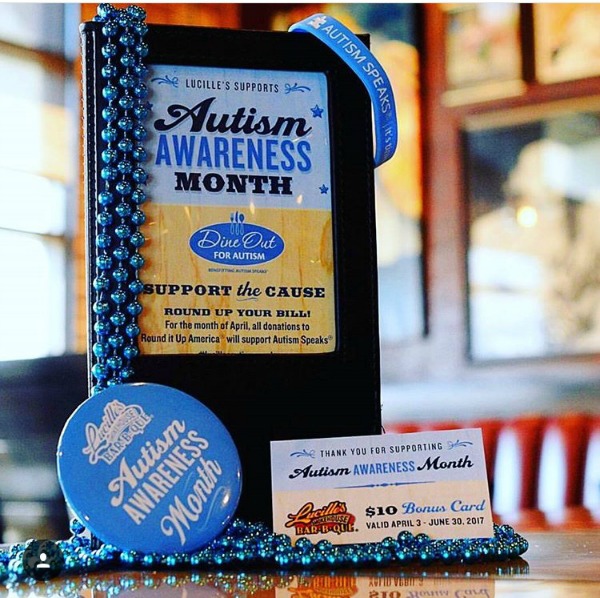 Connect with Lucille's on Facebook, Twitter, and Instagram.
About Autism Speaks
Autism Speaks is dedicated to promoting solutions, across the spectrum and throughout the life span, for the needs of individuals with autism and their families. We do this through advocacy and support; increasing understanding and acceptance of autism spectrum disorder; and advancing research into causes and better interventions for autism spectrum disorder and related conditions. We empower people with autism and their families with resources, online tools and information covering the life span. Go to AutismSpeaks.org to learn more, donate or join a fundraising walk.
About Grant a Gift Autism Foundation
Founded in 2009, Grant a Gift Autism Foundation grew out of the struggle of a mom whose son, Grant, was diagnosed with autism and other neuro-developmental conditions. Grant a Gift Autism Foundation is a non-profit 501(c)(3) organization helping children, youth and their families fight autism by providing diagnostic and treatment funding, support services, social skills and vocational training, transition planning, and education. For additional information, please visit http://www.GrantAGiftFoundation.org.
About SARRC
Established in 1997, the Southwest Autism Research & Resource Center (SARRC) is an internationally recognized nonprofit that conducts innovative research, provides evidence-based practices, disseminates effective training and builds inclusive communities for individuals with autism and their families. For more information on SARRC, visit http://www.autismcenter.org.


Some images are property of Lucille's and used with permission.