This shop has been compensated by Collective Bias, Inc. and its advertiser. All opinions are mine alone. #ad #MakeHeartburnHistory #CollectiveBias
The holidays are the best! I love everything about this time of year! The decorations, the shopping for gifts, the festive music, and all of the opportunities to celebrate with family. Our family celebrations always revolve around food. That's normal, right?
Spending time in the kitchen with my daughter and getting to cook and bake with her this time of year is so special and one of the activities we love doing together most. What I don't love about this time of year is my "holiday heartburn"! It literally tries to ruin my time! Heartburn is the worst!
I didn't always suffer from heartburn but now whenever it flares up, I'm extra sensitive to many of my favorite foods and have to miss out. Well,  I am NOT going to let heartburn ruin my holidays this year!Thank goodness I discovered Nexium® 24HR Capsules 42ct at Walgreens near the antacids! It's just one pill a day and it gives me all-day and all-night protection.
It's such a great way to treat frequent heartburn and gives me the confidence and comfort to enjoy all of the festive holiday foods, especially my most favorite: peppermint. I could eat peppermint everything! I think peppermint should be its own food group! I even stock up on peppermint goodies this time of year so I have enough to last me once winter is long gone.
One of the recipes I always make during the holidays is Holiday Peppermint Bark. It's so simple to make and I get asked for the recipe quite frequently by other family members. The recipe only has a few ingredients and doesn't take very much time to prepare.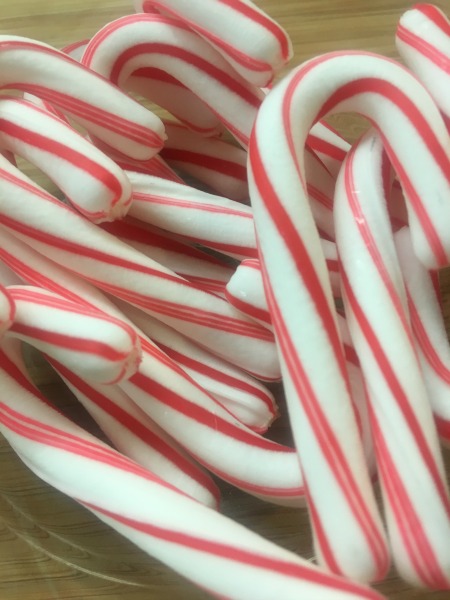 Holiday Peppermint Bark is also perfect for gift giving. Who doesn't love to receive homemade goods at the holidays? It's also something special you can leave out for Santa when he visits your home on Christmas Eve. This year I'm going to leave out some Holiday Peppermint Bark for Santa, along with some Nexium® 24HR. I know he'll appreciate this too!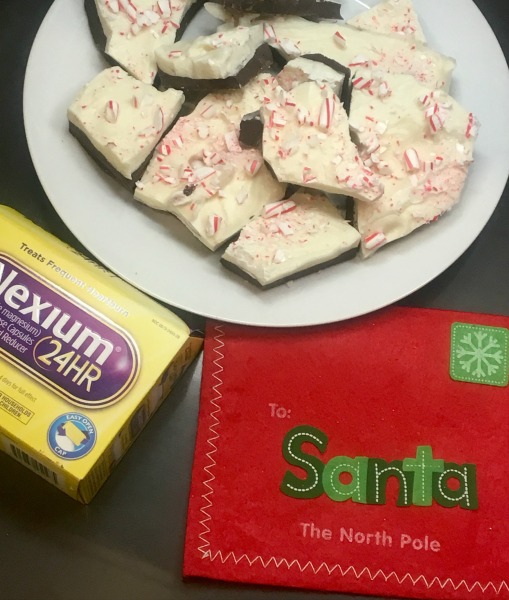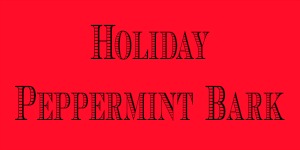 Ingredients:
24 oz. White Chocolate Baking Chips (usually 2 bags)
24 oz. Dark Chocolate Baking Chips (usually 2 bags)
1/2 teaspoon Peppermint Extract
12 large or 24 small candy canes, crushed
Vegetable oil
Preparation:
Remove wrappers from candy canes, place in a sealable sandwich bag, and crush up to your liking. (Some people prefer to use a food processor but I like my pieces larger.) Set aside.
Line a baking sheet or pan with parchment or wax paper.
Place Dark Chocolate Baking Chips in a microwave safe bowl to melt them in.  Heat for 1 minute, remove, and stir. Put back in for 30 seconds, remove and stir again. At this point, you should add in a little bit of vegetable oil, which will help it stir easier. If it's still not completely smooth, try microwaving it for about 10 more seconds. *Do not overheat the chocolate.
Pour melted dark chocolate into pan and level it out.
Stick into the refrigerator for 20-25 minutes to firm up. Remove from refrigerator and set aside.
Repeat same steps for microwaving but with the white chocolate baking chips now. Once it's melted and you can stir it easily, add the peppermint extract.
Pour melted white chocolate into pan, on top of dark chocolate layer, and level with a spatula.
Immediately sprinkle the crushed candy canes on top to your liking.
Place back into the fridge.
Remove and allow to get to room temperature before cracking the bark to serve or package up for gifts.
*May take 1 to 4 days for full effect. Use as directed