Disclosure: We attended a media preview of Holiday Snow Days and Winter Nights. No monetary compensation was received. All opinions are 100% my own.
I'm always excited for the start of the holiday season! Emily and I had the opportunity to kick ours off by spending a special day together at LEGOLAND California Resort to preview their Holiday Snow Days + Winter Nights!
It was a beautiful Southern California day and we enjoyed skating and playing in the snow, while wearing short-sleeved shirts and getting a little bit of a suntan!
Every day at LEGOLAND from November 22 through January 4 is a Holiday Snow Day! With a regular admission, park guests also get to enjoy a ton of fun activities! The Fun Town area is transformed into a snowy wonderland for the holiday season!
On Holiday Snow Days, park guests can have fun:
Snow Tubing
Snow Play, including getting to build a snowman and throwing snowballs at fun targets
Watching live entertainment
Doing a Holiday Village Build in the LEGO Clubhouse
Enjoying special holiday treats available for purchase on the Fun Town Holiday Food Truck.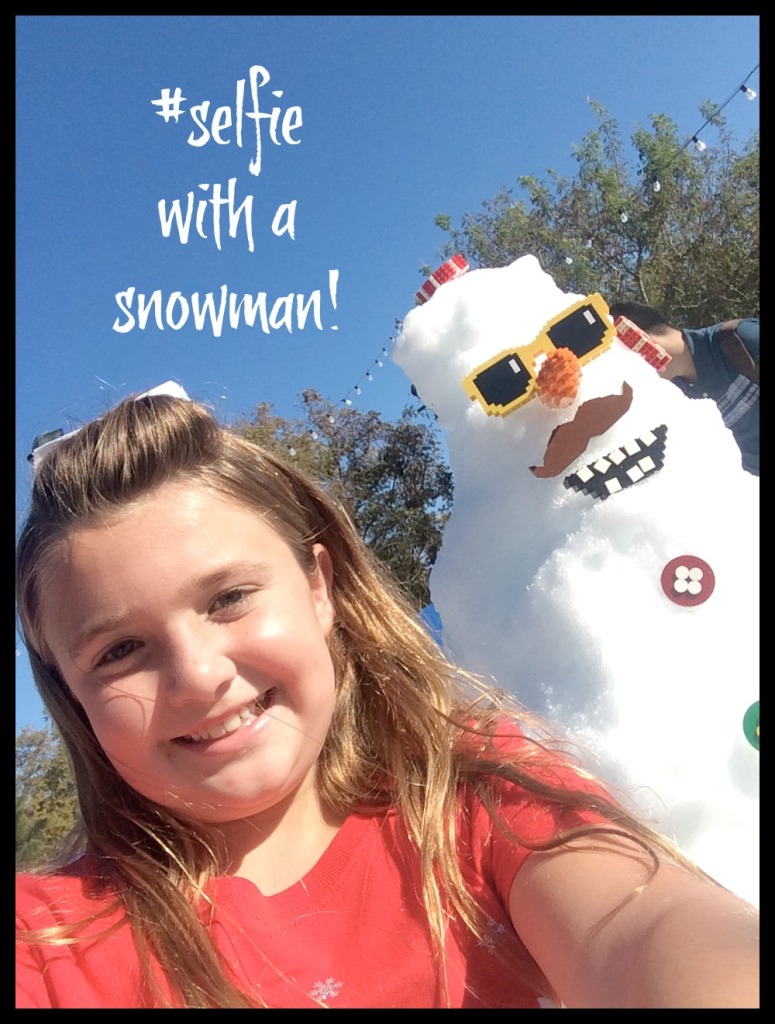 Also, enjoy the spectacular 30-foot tall LEGO Christmas Tree, made of more than 245,000 green DUPLO® bricks and adorned with ornaments made of LEGO bricks. Look out for special holiday characters like LEGO Santa, Lego Toy Soldier, and more. There are definitely lots of photo opportunities!
As part of Legoland's Holiday Snowy Days +Winter Nights, the Winter Nights portion will take place on November 28, 29 and December 6, 13, 20, 21, 22, 23, 26, 27, 28, 29, 30 from 5-7pm. Holiday Snow Days activities continue into nighttime and guests can also enjoy watching holiday entertainment, including The Big Test Holiday Show, and see the magic of holiday lights come to life after dark as the buildings, trees and the LEGO Christmas Tree twinkles along to Festive Holiday tunes throughout Fun Town. Guests can also enjoy Holiday Fireworks will at 7pm on December 26-30.
New this year…..Ice Skating! 
It's so exciting that LEGOLAND California Resort has set up a real ice skating rink, between the ticketing booths and the Legoland Hotel! It's was so fun to skate outdoors in the sun! Admission for ice skating is separate from park admission. Although you are welcome to bring your own ice skates, the cost of your ice rink admission tickets includes skate rentals and helmet protection for guests requesting extra head protection.
Guests may also rent a "bobby", which is a seal-shaped skate aid. A child or adult can push it in front of him to help balance. A small child can also sit on the front of the bobby while the adult pushes the bobby. I used one to push Emily around and it helped me avoid the embarrassment of falling down! I think the bobby was the best invention ever created!
When you purchase your ice skating ticket, you will be asked to reserve a specific time slot. Session are 90 minutes long and there are 6 ice sessions available each day* and there is limited capacity, so book your ticket now by clicking here. *There are only 4 sessions available on the following dates: Dec. 2, 3, 9, 10, 16, 17.
Skaters must be ages 3 and up, and must be able to walk unassisted. All skaters (or guardian for under 18) must sign Release and Waiver of Liability and Assumption of Risk Agreement (fill out the waiver once for entire season). Go straight onto the ice by filling out the Ice Skating Waiver form in advance! http://www.smartwaiver.com/v/LEGOLANDiceskate
After you spend time out on the ice, you can purchase a s'mores kit and head over to the fire pits to make your s'mores. They'll even provide a long dowel so you can roast your marshmallows over the fire. This was one of our favorite parts about our day! I think everyone loves s'mores!
LEGO® Christmas Tree Lighting
This year, the official annual tree lighting ceremony will take place on December 1st. There will be a surprise celebrity guest who will help light the world's tallest LEGO Christmas tree. Families in the park are invited to gather around the Lego Christmas tree in the middle of Fun Town at 5:30 pm. Other  opportunities to view the LEGO Christmas Tree Lighting ceremony will take place at 5pm on December 4, 5, 6, 7, 8, 11, 12, 13, 14, 15, 18, 19, 20, 21, 22, 23, 24, 25. Here comes a cool part….One lucky child has a chance to light the LEGO Christmas Tree December 4-Decemeber 24. Winners will be selected each night through LEGOLAND California Resort's Facebook Page, so keep an eye on their page if you're planning on visiting the park during that time.
Legoland's Free Ticket Offer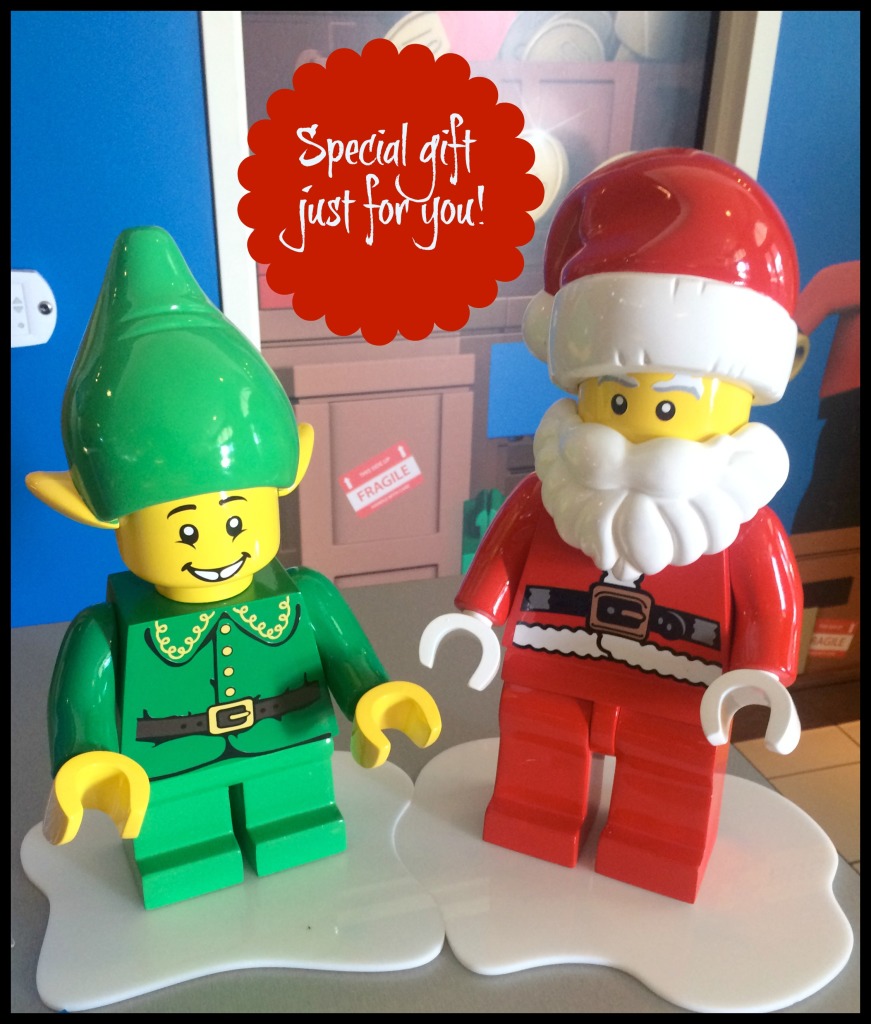 LEGOLAND California has a very special gift for you. When you visit LEGOLAND  between November 1, 2014 and January 4, 2015, you'll receive a FREE ticket to return between January 5 and March 1. You must present your paid admission ticket at the Our Gift To You kiosk inside the Park on the day you visit to receive a ticket to return to LEGOLAND California and SEA LIFE Aquarium. Additional restrictions may apply. For more information, click here!
We had such a fun time at Legoland Calfornia Resort and can't wait to go back again!