If you aren't familiar with Disney's most recent campaign, Disney Side, it's this really fun campaign spotlighting Disney lovers' own love for Disney, whether it be showing their #DisneySide while in a Disney park or on a Disney vacation or showing it off at home or just in their everyday life, it's a chance to have some fun and show the rest of the (social media) world at the same time!
One of the latest opportunities to participate in this campaign was the chance to host a #DisneySide @Home Celebration. There were 1000s of applicants who applied to host one of these parties at home, to be held between February 15 and March 1st, integrating a party kit which they chosen hosts would be receiving. I decided to apply for it but felt discouraged at first when January 10th came and went and I didn't receive an acceptance email. I didn't talk about it to anyone, but I was disappointed, until I saw some other people mention online that they also had heard nothing nor had they heard of others getting an acceptance email. At that point, a little bit of hope re-ignited inside of me. I still chose not to talk about it to anyone though. I sometimes feel like if you talk about something too much, it won't happen. 
My Facebook newsfeed was blowing up with a ton of people who had also received the magical email, as were my Instagram and Twitter timelines. It was such an exciting day for so many of us. I don't think I slept that night because all of a sudden my brain wouldn't shut off with ideas for my #DisneySide party! I was literally up for work at 2:30 a.m. that next morning because my wheels wouldn't stop turning enough for me to sleep. I think this euphoria stayed with me for about 2 days before I could go back to being normal again, whatever that is. 
 Next came more excitement because at this point, the chosen ones were now all waiting for our "magical boxes" to be delivered by UPS! My mind started spinning again because it seemed like every post I'd see was relating to the date of delivery, the weight of the box or boxes, people trying to guess what was going to be in the boxes, people trying to ask others if they knew about the contents of the box, etc. It was nuts! I understand how excited and anxious everyone was, but for me, I just wanted to be completely surprised and I knew my box would come at some point! I tried to stay away from anything posted that might give anything away and I definitely didn't worry myself about when my box was being delivered. One day I got the email about my delivery and coincidentally, I happened to be home on the day my box was delivered. Not only was I home on that day, but I was home at the moment the UPS guy rang my doorbell, which is rare, since I'm hardly ever home for more than 5 minutes at a time! Boy was he in for a surprise! Just as he was trying to hand me the big box, with the magical blue #DisneySide tape on it, I asked if we could take a selfie? At first he seemed confused, and actually acted as if I were making a joke. It didn't take him long to learn just how serious I was! Yep, as I started to explain WHAT the importance of the box was, I also stressed that it was vital I make "as big a deal as possible" about the delivery of my party kit!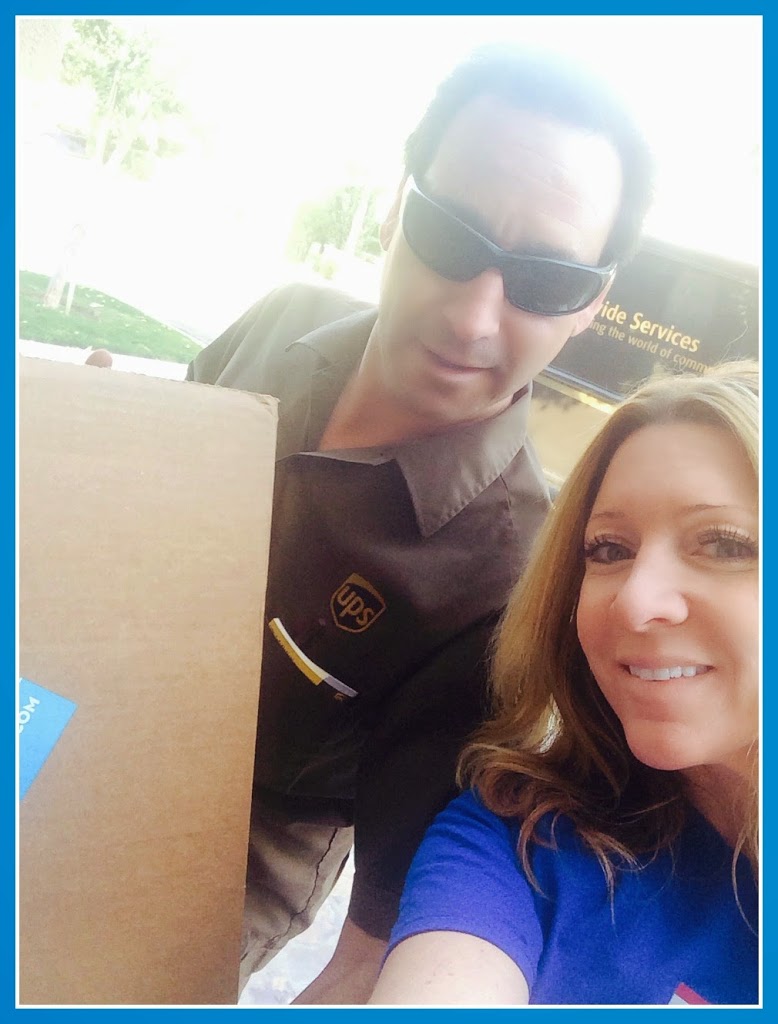 I swear our UPS guy was cut out for this stuff! After we took the first shot with my iphone, I realized that it didn't get the wording on the box in, plus it was actually my bad side, so we switched spots! 
Then he kept offering to switch poses and spots and try different angles! He was HILARIOUS and the best sport about it! He told me that he often chats with my husband when he delivers to our house, so he was no stranger to convo on my porch! I'm seriously considering inviting him to my #DisneySide party! I mean, he WAS one of the first highlights of this process. People who saw the pic, LOVED how fun our UPS guy is!
Next came the box opening. Unfortunately my box was delivered around 2pm and my daughter was still in school which meant that I HAD to wait until I picked her up from school to tell her about it and actually open it. 
Emi was so excited about all of the goodies that were inside of our box, but her biggest "WOW!!!" came right when she opened the box and saw there was an American Tourister suitcase!!! And it was purple!
 I think the suitcase may have been the coolest part for Emi! 
We were both overwhelmed by all of the goodies inside of the suitcase though! There was a whole bunch of Mickey Mouse Clubhouse plates, cups, cupcake liners and a matching tablecloth with some coordinating hanging decorations! There was a hostess planning kit with suggestions for games and even a face painting guide. There were Craisins, like they serve in the parks, and these adorable rubber bracelets and stickers and some adorable Minnie and Mickey prints, all to give out to our guests. There was also a huge box of printer photo paper from HP! I know there were other things too. The list just goes on.  It was all so Magical! I mean seriously, how amazing to have been chosen for this opportunity and now this generous pile of things to help us with our party? Wow! 
I guess it's  time to get to planning! Stay tuned for more details and a post about our #DisneySide Party!  http://disneyside.disneyparks.disney.go.com