I will fully admit that I actually enjoy watching many of my daughter's
Disney Channel
and
Disney Junior
shows and movies with her. Although"Sofia the First" is aimed at the younger, preschool audience, it is one of those feel-good shows that seems to enamor her whenever it comes on. The storyline is about a young girl, "Sofia", who transforms from a "regular girl" into a princess, and becomes part of a blended family, overnight, after her mother marries a king. The episodes are lighthearted and often include a positive, empowering message in them, that they are convey to the  young audience.
 I recently had the opportunity to preview the new CD, "Sofia the First: Songs from Enchancia" on Walt Disney Records. The day that the CD arrived was what we like to call "A Happy Mail Day" at our house! You can see my daughter doing one of her "signature incognito poses" with the envelope!
After listening to the CD just once, Emily and I had already fallen in love with so many of the songs! Now we can't stop singing them on a daily basis! This CD is what's currently playing in my car!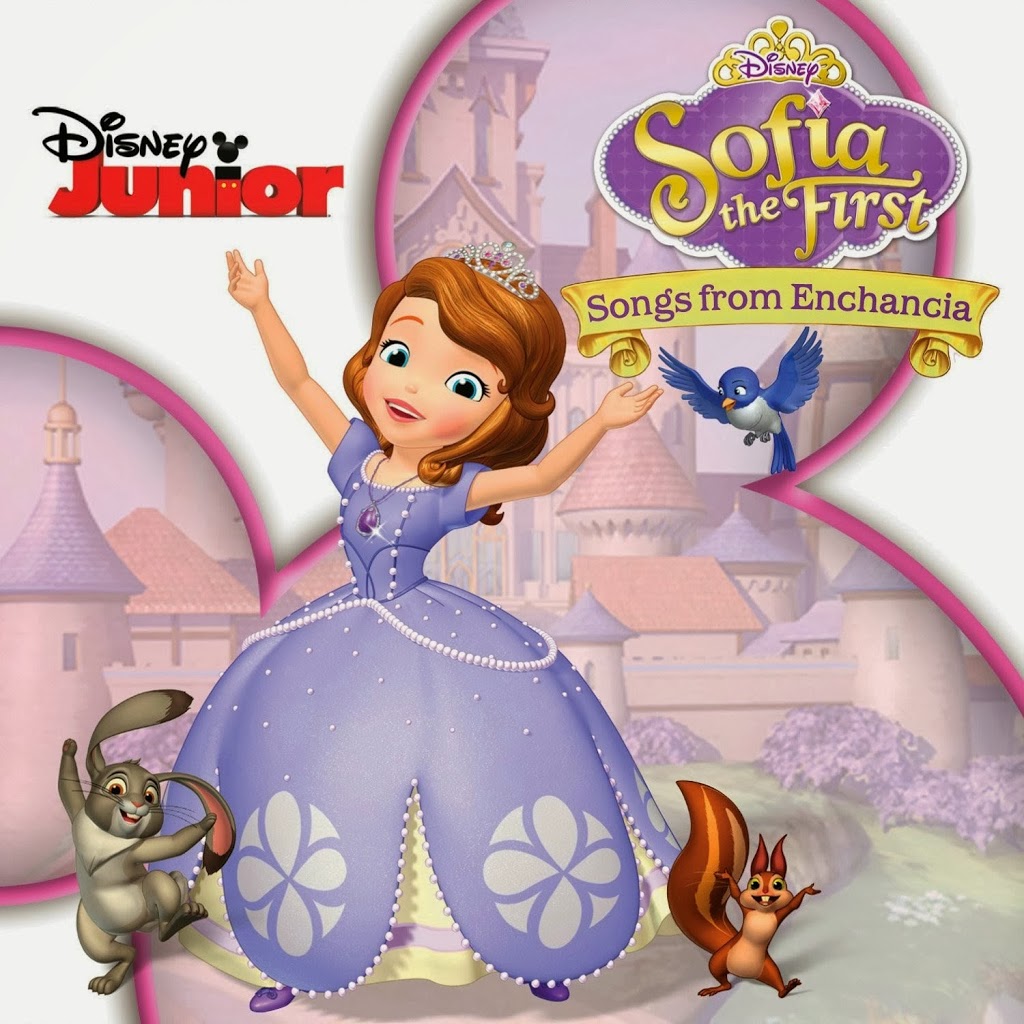 Sofia the First, Songs from Enchancia includes 15 tracks, a bonus track & 4 karaoke instrumentals!
 Here's a list of the songs on the CD:
1. Sisters and Brothers-Sofia
2. Merraway Cove-Sven, Oona and Sofia
3. The Love We Share-Ariel and Sofia
4. Bigger is Better-Amber
5. (You Can Always) Count on Bailywick-Cast
6. Make It Right-Belle and Sofia
7. Good Little Witch (Ballad)-Sofia
8. Good Little Witch-Lucinda and Sofia
 9. The Ride of Your Lives-Jasmine, Sofia and Amber
10.A Recipe for Adventure-Aunt Tilly and Sofia
11.Bring My Best Friend Back-Clover and Sofia
12.The Simple Life-Cast
13.Make Way for Miss Nettle-Miss Nettle
14.Enchancia-Ruby, Jade and Sofia
BONUS TRACK 
15.Be Who You Wanna Be-Jake and Sofia
BONUS KARAOKE INSTRUMENTALS
16.Merraway Cove
17.Bigger is Better
 18.Good Little Witch
19.A Recipe for Adventure"Sofia the First: Songs from Enchancia" is available now for purchase on
Amazon
 or for immediate download on
iTunes 
!
 Here comes the magical part….Disney Music is offering three (3) lucky readers of
Over the Top Mommy
, the chance to win a  copy of "
Sofia the First: Songs from Enchancia
" of their very own! This giveaway is open to US Residents only, ages 18+ years of age and ends 2/26. Enter the Rafflecopter below for your chance(s) to win! Good luck everyone!
a Rafflecopter giveaway
I am a participating Influencer at The Entertainment New Media Network. I have received free product for review and to give to my readers. I was not compensated for this review and all expressed opinions are strictly my own.