In honor of April being designated as "World Autism Month", family-owned, award-winning barbeque destination Lucille's Smokehouse Bar-B-Que is teaming up with Autism Speaks to help increase understanding and acceptance of autism this month.
Did you know that an estimated 1 in 68 children is on the autism spectrum? People with autism spectrum disorder may have challenges with social skills, repetitive behaviors, speech or nonverbal communication, but they also may have unique strengths. I think we all have people near and dear to our own hearts who are affected by autism.
During April, Lucille's will donate Round It Up America contributions to Autism Speaks.  This great in which Guests dining at 22 participating Lucille's locations throughout Arizona, California, and Nevada, are provided with the option to "round up" their purchases to the nearest dollar, which are then donated to Autism Speaks.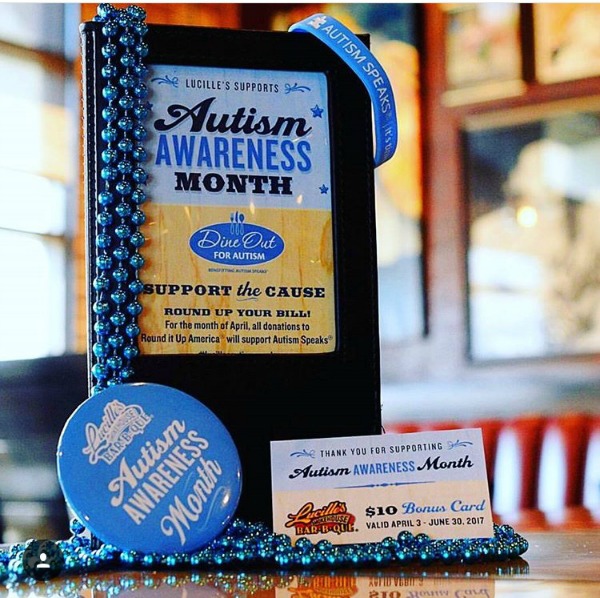 Team members at Lucille's restaurants will wear buttons and blue beads, the color of Autism Speaks, to show their support. Tabletop signage will share information about autism and Autism Speaks.
During the month of April, Lucille's will also be serving up a 'Blueberry and Basil Margarita,' a blue drink inspired by the color of Autism speaks, that combines El Jimador Reposado Tequila, fresh basil, vibrant blueberries and is then hand-shaken with agave nectar and fresh lime juice. For each drink sold, Lucille's will donate an additional $1 towards their final donation to Autism Speaks.
Last year, Lucille's two Las Vegas restaurants raised about $2,000 for Autism Speaks. This year, Lucille's hopes to raise more than $30,000 to help the nonprofit organization support research into the causes and better interventions for autism. Lucille's is thrilled to work with Lucille's on a larger scale this April. This fundraising campaign helps to ensure that children and adults with autism have access to reliable information and services throughout their lives.
If you'd like to join in on the efforts to raise money for this great cause, you can do soo by heading over to your local Lucille's location. It's easy to give back while enjoying a meal with your family. Remember to do so before the month of April ends!
About Autism Speaks
Autism Speaks is dedicated to promoting solutions, across the spectrum and throughout the life span, for the needs of individuals with autism and their families. We do this through advocacy and support; increasing understanding and acceptance of autism spectrum disorder; and advancing research into causes and better interventions for autism spectrum disorder and related conditions. We empower people with autism and their families with resources, online tools and information covering the life span. To find resources, join a fundraising walk or make a donation, go to http://www.AutismSpeaks.org.
This is not a sponsored post. Some images are property of Lucille's. All opinions are 100% my own.