I was invited as a guest of Knott's Berry Farm to a day in the Park in order to write this review. All opinions are 100% my own.
If you've been following along on my Instagram lately, you may have notice a few of the delicious pictures I posted from Knott's Boysenberry Festival.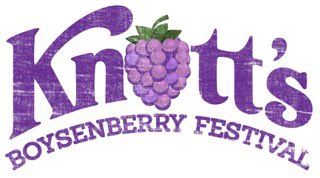 I had the opportunity to spend a day in the Park, enjoying many of their boysenberry-inspired foods and drinks. I got so excited to see Ghost Town all decked out for the occasion!

Did you know that the boysenberry originated at Knott's? Yep! The roots of Knott's Berry Farm stretch back to the early 1930s when Walter Knott nurtured the only surviving boysenberry vines back to health and began selling the berries from his fruit stand on Beach Blvd. in Buena Park, California.
The popular purple little boysenberry put Knott's Berry Farm on the road to being America's first theme park. The rest, as they say, is history. As the birthplace of the delectable boysenberry Knott's Berry Farm.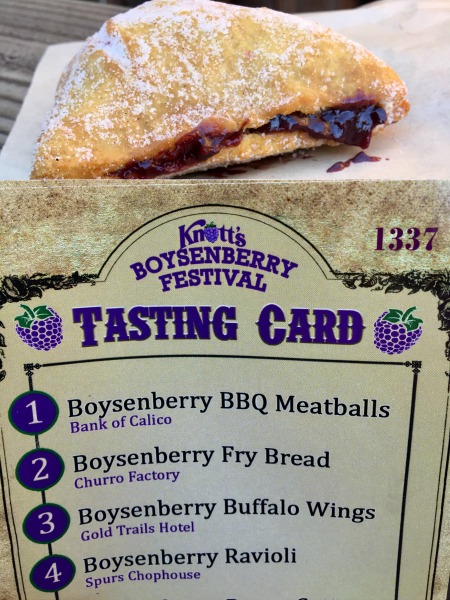 Knott's Boysenberry Festival runs from April 1-23 this year. During the festival, guests have the opportunity to enjoy boysenberry foods, both sweet and savory, and boysenberry-inspired craft beer and wine. Trust me when I say that you need to try all of the special boysenberry offerings during Knott;s Boysenberry Festival. One of the best ways to get a tasting of a variety of these foods is by purchasing a Festival Tasting Card. For just $25, you'll get to sample 6 different items. As you can see, I started with one of the desserts, Boysenberry Panna Cotta! 
The Festival Tasting Card gives you quite a bit of food as you get samples of Boysenberry BBQ Meatballs, Boysenberry Fry Bread, Boysenberry Buffalo Wings, Boysenberry Ravioli, Boysenberry Panna Cotta, and Boysenberry Pizza!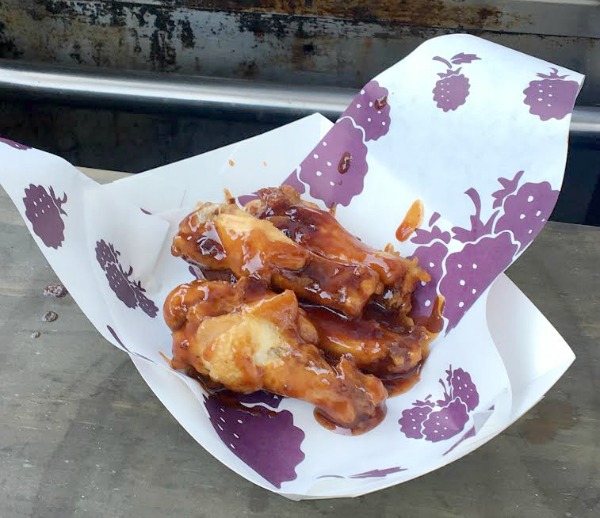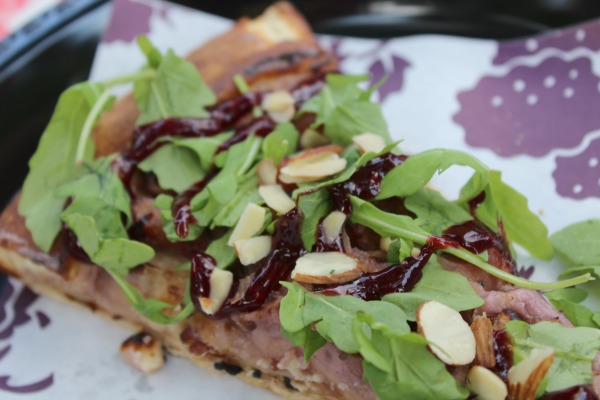 I loved all of the items I got to try but I couldn't stop there because there was still so much more boysenberry goodness to try! Some of the other boysenberry items you can find during the festival include:
Ri

bs and grilled chicken smothered in Knott's farm-made 

Berry Market Boysenberry BBQ sauce

Corn on the Cob with Boysenberry Butter and Boysenberry Mayo
Boysenberry Short Ribs over rice
Deep Fried Alligator & Fries with Boysenberry Aioli
Chocolate covered Boysenberry cheesecake on a stick
Boysenberry Corn Dog
Boysenberry & Apricot Pulled Pork  Sandwich in a Boysenberry Bun Combo
Boysenberry Nutella crepes
Boysenberry Cookiewich Sandwich & Boysenberry Ice Cream Cone
Boysenberry Flautas
Boysenberry Cotton Candy
Boysenberry ICEE floats, Boysenberry Cream Soda, and Boysenberry Lattes & Frappuccinos
Fun Bun – Fried Cinnamon Roll with Boysenberry Cream Cheese Topping
Many of the special Knott's brand jams, jellies, sauces, candies, and other boysenberry products are available year-round inside the park in General Store (located in Ghost Town)  and outside the park at Berry Market (located in the California MarketPlace), as well as online. This is such great news for someone like me who is obsessed with all things boysenberry.
Aside from all of the boysenberry goodness at Knott's Boysenberry Festival, there's also a great lineup of entertainment for the whole family, you won't want to miss including Snoopy's Boysenberry Jamboree (on the Calico Mine Stage), Old Time Melodrama (Bird Cage Theater), The History of Boysenberry & Knott's Berry Farm (in Town Hall), Cloud 9 Ballroom/Studio K Classic Dance Party (in the Boardwalk Ballroom), Wild West Stunt Show: Frontier Feats of Wonder! (in Wagon Camp Theater), and the fun Camptivities (in Camp Snoopy). Also stop by Calico Park for some fun, music & games and visit the animals Old MacDonald's Farm (in Ghost Town).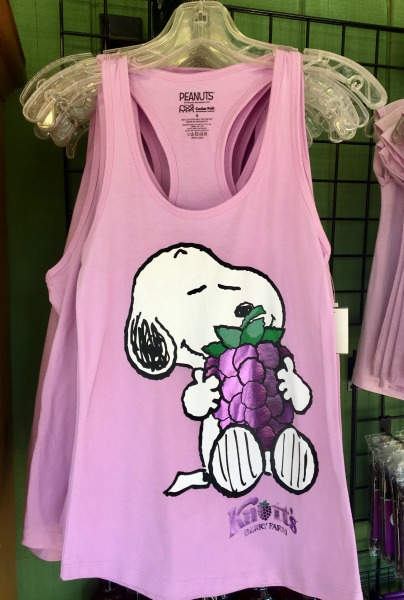 Knott's Boysenberry Festival is a must-do. Be sure to stop by before April 23rd! For more information, visit Knott's Berry Farm's site here.
Some images and logo are property of Knott's.