This post sponsored by Gigasavvy. All opinions are 100% my own
It's Hatch Chile Season and you'll want to get your hands on some of these amazing, flavorful chiles from New Mexico at a Northgate Market near you.  They're available now through 8/28 at your nearest Northgate Market.
During the month of August, Northgate Markets are hosting in-store Hatch Chile Roasting events on the weekends. For a list of the locations hosting the events, along with dates and times, visit here. 
We stopped by the newest Northgate Market location in Anaheim, which is my new favorite grocery store to shop at, and grabbed some Hatch Chiles to take home and cook with.
Lately, my daughter has been asking me if she could do more cooking in the kitchen. I'm happy that she has an interest in learning to cook, so of course, I want her to. She suggested we incorporate the Hatch Chiles into one of her favorite foods, Macaroni and Cheese.  
I think most adults love "Mac & Cheese", too. I know I never turn down a simple comfort food! I love the flavor of Hatch Chiles, so I knew it would be a great combination.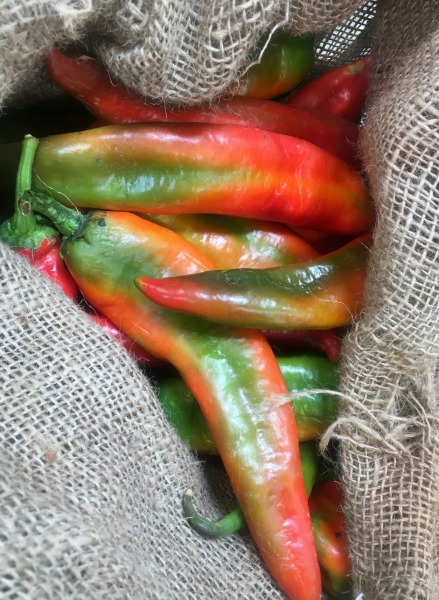 I first guided her through the process of roasting the Hatch Chiles. It's not difficult, it just takes some time.
I love using our cast-iron skillet so we used it to roast the chiles. I like the way they seem to "dance" while they sizzle. You need to allow both sides to roast really well. It's Ok for the chiles to appear blackened on the outside. Depending on what you're making, you either remove that part anyway, or incorporate the blackened part into your recipe, to give it a smoky taste. Mmm! 
After the chiles are roasted to your liking, you immediately stick them back into the produce bag (if they came in one) or else into a plastic bag and seal it, allowing them to "sweat". After about 10 minutes, you'll be able to easily remove the outer skin of your Hatch Chiles. It will literally just peel off . You'll slice open down the center and remove the seeds with a spoon. (or by hand)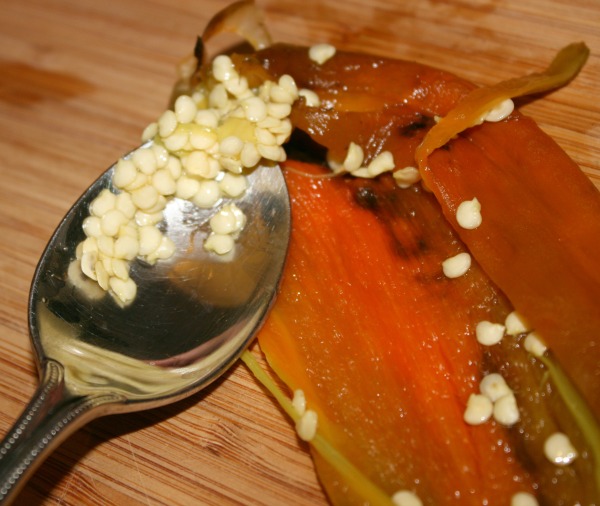 For this recipe, my daughter diced up the Hatch Chiles and set them aside while we prepared the rest of the iingredients.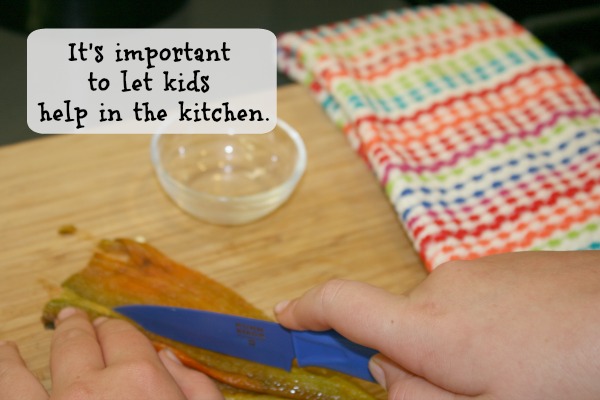 Ingredients:
3-4 Hatch Chiles, roasted and diced
2 cups milk
2 cups large elbow macaroni (or your preference of noodles)
1 1/2 cups Monterey Jack cheese, shredded
1 1/2 cups Mexican Blend or Cheddar cheese, shredded
2 tablespoons flour
1/2 tsp salt
1/2 tsp pepper
1/2 tsp onion flakes or 1/4 cup white onion, finely diced
1/4 cup breadcrumbs (crushed croutons may also be used)
Directions for preparation: 
Roast Hatch Chiles, dice, and set aside. (see above for roasting instructions.)
Preheat oven to 350 degrees. Use non-stick cooking spray to coat your baking dish. (We used a Cast Iron Pan for this recipe.)
Boil the macaroni in a pot of lightly salted water according to the instructions on the package. Drain and place back into pot. 
On the stovetop, pour milk into a saucepan and whisk in flour, salt and pepper, and onion flakes or diced onion over a medium heat. After mixture comes to a boil, allow to simmer for about 2 minutes.  You'll notice the mixture start to thicken. 
In a large bowl, toss the cheeses together, add milk mixture into the bowl and whisk together until all are mixed well. 
Pour cheese sauce over pasta in the and mix well. Add diced chiles to the mixture.
Transfer to the broiler-safe cooking dish and top with a generous layer of bread crumbs. 
Bake at 350 degrees for 20 minutes. Set the oven to "broil" for 3 minutes, watching it closely, until the top is slightly browned. Immediately remove from oven and allow to cool prior to serving. 
This recipe was so simple for my daughter to prepare, with my supervision of course. You can find all of the Hatch Chile recipe ingredients at your nearest Northgate location. Here are just a few locations:
230 N Harbor Blvd, Santa Ana, CA 92703
2120 Pacific Ave, Long Beach, CA 90806
1410 S 43rd St., San Diego, CA 92113
Click here for a list of all the Northgate Market locations. Do you have any favorite recipes using Hatch Chiles? I'd love to hear about them.
Find Northgate Market on Facebook, Twitter, and Instagram.