Disclosure: I was invited to attend a social media day at Knott's Merry Farm and provided with information to share with my readers about Knott's Merry Farm and 2015 Knott's Season Passes. No other compensation was received.  All opinions are 100% my own. 
The holiday season is officially underway! There are decorations popping up in stores everywhere, Christmas commercials are playing on the radio and on TV, and moms like me are already starting to think out about WHAT to buy everyone on our Christmas Shopping List! (I already feel like I'm behind on that part!) There are so many fun family holiday activities and events happening around Southern California this time of year also. Our family is really excited to be invited to experience the opening day of Knott's Merry Farm this year on November 22! It'll be our first time and we're counting down the days.
Knott's Merry Farm has been a Southern California Holiday Tradition since 1985 and is one of Knott's Berry Farm's seasonal events. The celebration of the Christmas season will start on November 22 this year and go through January 4, 2015. The event includes park-wide lavish decorations, festive food, live entertainment, and a shopping wonderland filled with local artisans.
Festive Food
Knott's Berry Farm's culinary elves have created delicious festive treats including Santa's homemade cookies, sundae bar, decadent hot chocolate topped with hand carved chocolate shavings, and winter wine and craft beer tastings. Savor the ultimate comfort foods with Knott's world famous desserts, including fresh made-to-order Maple Lollipops, churros from the Churro Factory, cakes, cookies, muffins and gingerbread men in the Farm Bakery, as well as the legendary cooking at Mrs. Knott's Chicken Dinner Restaurant. I can hardly contain my excitement.
Live Entertainment
I think I'm most excited to experience all the things Snoopy that Knott's has in store during Merry Farm, starting with going to see a performance by the world famous beagle, himself, as he performs a brand new ice spectacular, Merry Christmas, Snoopy!, held inside of the 2100 seat Charles M. Schultz Theatre.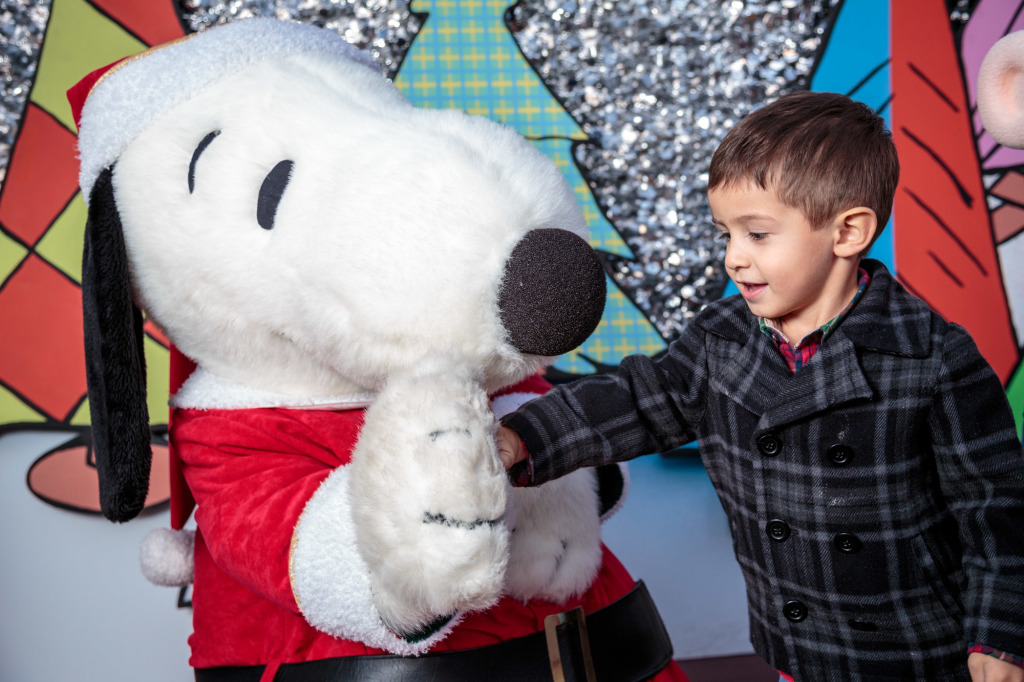 Other live entertainment offerings include:
• Live performances of Charles Dickens' "A Christmas Carol" or O. Henry's "A Gift of the Magi" in an intimate setting of the historic Bird Cage Theatre.
• When the sun sets on the Farm, Calico Stage lights up with the celebration of the season in Snoopy's Merriest Tree Lighting. Join us for a musical, whimsical tree lighting featuring a cast of Toy Soldiers, Snowmen, Elves and America's most famous beagle, Snoopy!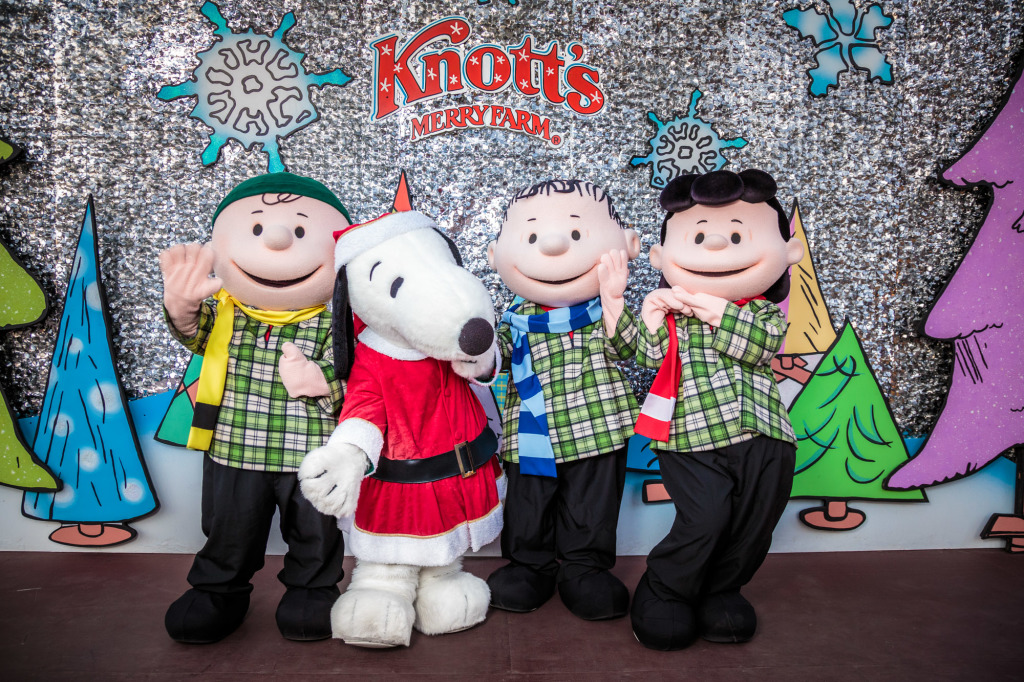 • Over in Camp Snoopy, Charlie Brown, Linus and Lucy invite you to dance, sing and join in on the holiday fun in the Camp Snoopy Theatre.
• Introduced in 2013, the Ghost Town and Calico Railroad celebrate Christmas on Engine 41. Climb
aboard a vintage railcar and meet an ever-changing group of Ghost Town residents eager to share their
Christmas plans and songs with you.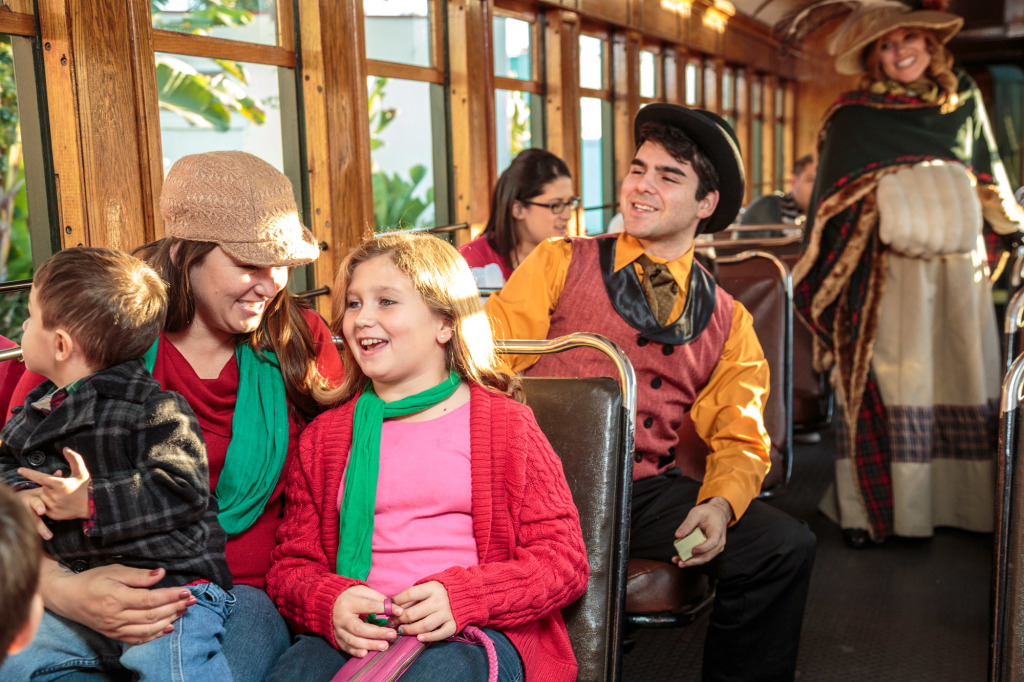 • Ghost Town also celebrates of the sounds of the season with its very own Dickensian vocal quartet, Calico Carolers and interactive country Christmas blue grass quartet, the Ghost Town Miners.
Santa's Christmas Cabin
Christmas wouldn't be complete without visiting Santa Claus. The Wilderness Dance Hall in Ghost Town becomes home to Santa's Christmas Cabin for the holiday season. Here, the young and the young at heart can share their wish lists with jolly Santa Claus and take home a picture of the occasion. We're excited to capture a special family memory like this because we like to use our annual Santa photo for our family holiday cards!
At Santa's Christmas Cabin, guests can also indulge in holiday delights such as:
 Santa's homemade cookies
 Hot fudge sundae bar
 Decadent hot chocolate topped with hand carved chocolate shavings
 Winter wine and craft beer tastings paired with fresh fruit, cheese and more!
Christmas Crafts Village
Relax and unwind in Knott's Christmas Crafts Village as it transforms Ghost Town into a shopping wonderland filled with dozens of local artists and artisans selling their unique wares including a chainsaw sculptor and glass blower. Entrance to the Knott's Christmas Crafts Village is free Monday through Thursday and is included daily with theme park admission.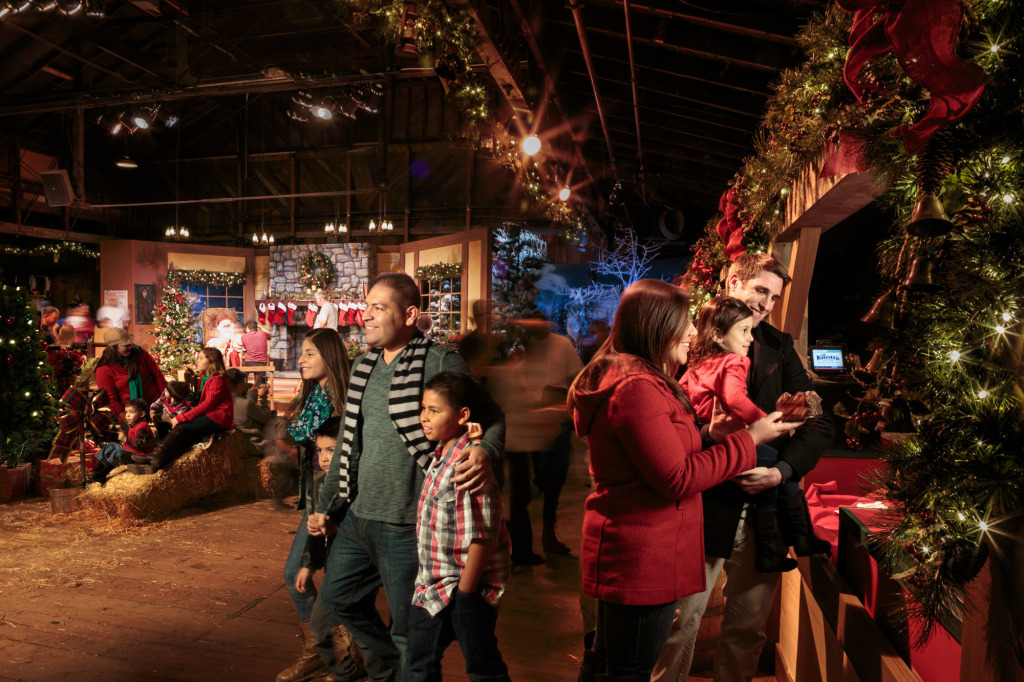 So, let's get back to when I mentioned about how I'm starting to think about WHAT to get everyone on my holiday shopping list! I came up with the best idea! It's a one-size, fits all, and it's sure to please EVERYONE who receives it! It's a 2015 Knott's Season Pass! Why not grab one for everyone on your list? Seriously though!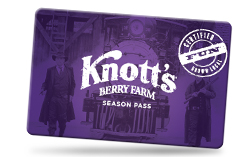 Look at some of the benefits of having a Regular Season Pass:
Six Easy Payments (as low as 13.25 each)
One FREE Merry Farm Visit
Additional 2014 Visits Only $9.99
Unlimited Visits In 2015
Early Ride Times
Food & Merch Discounts
Knott's Hotel Discounts
Scary Farm 2015 Ticket Discounts
Bring A Friend Days
Knott's is California's best amusement park and the prices for a year-long season pass are incredibly affordable! All the fun activities, shows and entertainment happening during the holidays at Knott's is something you don't want to miss! Why not purchase a Knott's Berry Farm 2015 Season Pass for someone (or your entire family), which makes the perfect holiday gift and plan your own day out at Knott's Merry Farm this year, which would be included with your pass as your one 2014 visit?
We'll be there on the 22nd and can't wait to share a ton of fun pictures with everyone! Will you be going to Knott's Merry Farm this year? I sure hope so!
Photo and Logo Credit: Knott's