Disclosure: My family & I were invited by GigaSavvy to attend a Media Day at Knott's Merry Farm in order to write this review of our experience.  No other compensation was received. All opinions are 100% my own.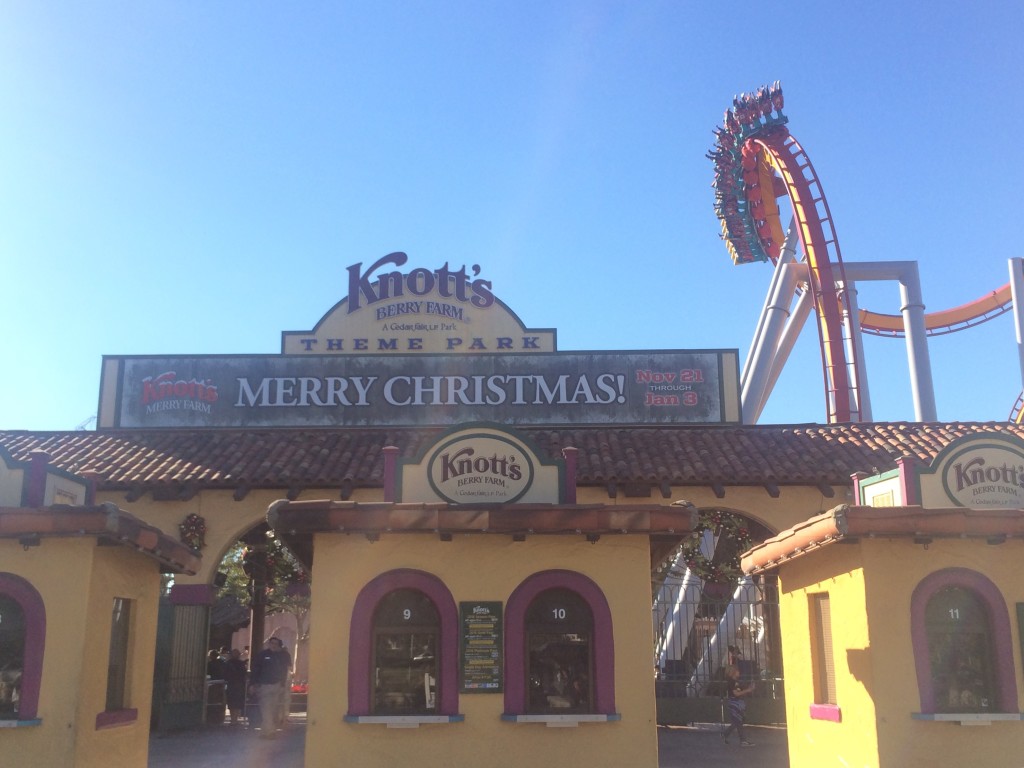 Every year, Knott's Berry Farm is transformed into Knott's Merry Farm for the entire holiday season and it makes my hear happy to be in the park and share all of the holiday fun with my family. This year, you can come to the park and enjoy all of the holiday offerings through January 3rd.
We were invited to spend a media day in the park, experiencing all of the holiday offerings. Sunny SoCal weather allows you to enjoy it all while wearing tank tops and shorts but the decorations and make you feel like you're in traditional Christmas town.
Kids always love to spend time over in Camp Snoopy, riding attractions that are just their size, and it's decorated really cute this time of year. In the Camp Snoopy Theater, you can catch a performance of "Christmas Time is Here, Charlie Brown!", starring all of your favorite Peanuts characters.
One of our favorite places to dine while we're in the park is Grizzly Peak Lodge. They make a great cheeseburger and feature a condiment bar where you can build your burger just the way you like it!
After we finished our lunch, we headed straight over to the Charles M. Schulz Theatre to watch the "Merry Christmas, Snoopy!" Ice Show. This show is beyond fabulous and a must-see on your visit to Knott's Merry Farm and is something we look forward to each year.
Watching the ice show always makes me tear up (in a happy sort of way) and this year was no different! The skaters in the show are extremely talented and perform each song so elegantly.
The set designs are even more beautiful this year as are the costumes and you can always count on classic Peanuts fun within the show and of course, Snoopy is the star!
I probably could've just spent my entire day inside the theater, watching all 4 performances of the day, if the kids would've let me, but they wouldn't. They were ready to head over to see Santa next! You can find him, along with a ton of yummy treats, in Santa's Christmas Cabin, located in Calico Ghost Town.
Santa's sitting up, on the stage, ready for kids to visit and share their holiday wish lists with him.
You can take photos with Santa, which are also available for purchase, and come in a keepsake Knott's Merry Farm folder.
 I wasn't exaggerating about the word "ton"  when I referred to the treats available for purchase inside Santa's Christmas Cabin. Among the treats, you'll find roasted nuts, pastries (including adorable cookies), Starbucks coffee, hot cocoa, beer and wine, and homemade Santa's cookies with milk.  Luckily, there's always room in my tummy for treats!
While you're inside Santa's Christmas Cabin, don't forget to snap some fun photos at the digital photo booth. Afterwards, you can email the photos to yourself.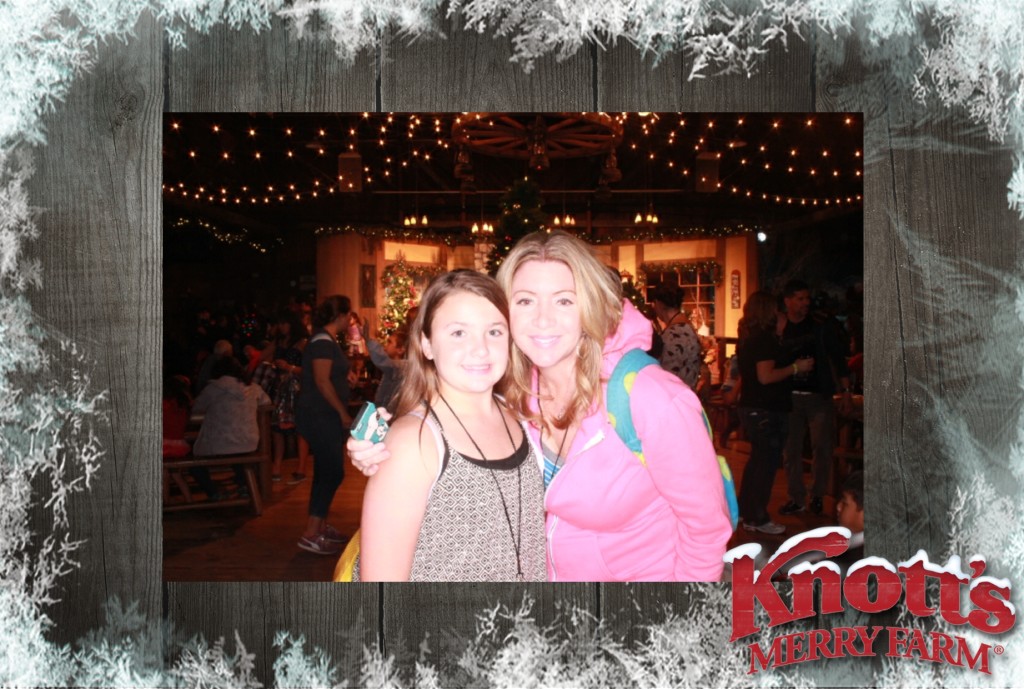 You can find special Christmas Carolers wandering around Ghost Town, singing favorite seasonal songs and playing handbell chimes. Their beautiful holiday attire and carols will put you in the holiday spirit.
It's also fun to take a ride aboard the train to experience "Christmas on Engine 41"! As you cruise along, you'll be serenaded by carolers and holiday folk.
As nightfall approaches, guests start to gather around the Calico Square Stage to wait for Snoopy's Merriest Tree Lighting to begin.
This fun stage show is filled with holiday music and dancers and stars Santa & Mrs. Claus and the Peanuts Gang. It's a fun, family experience and afterwards, if you stick around Ghost Town, you can also experience "glow and snow" on the buildings and paths in Ghost Town's Main Street and School House Road. Thousands of sparkling lights dance to the beat of "Let It Snow" while snow gently falls in this spectacular one-of-a-kind moment. and Glow.
Knott's Merry Farm was so much fun! It's something you won't want to miss out on. Just all the more reason you'll want to grab a 2016 Knott's Season Pass. When you purchase a pass for the new year, you'll also receive one free visit in 2015. It'd be perfect to use to visit during the Knott's Merry Farm season. For more information about Season Passes, click here.
Find Knott's on Facebook, Twitter, and Instagram.