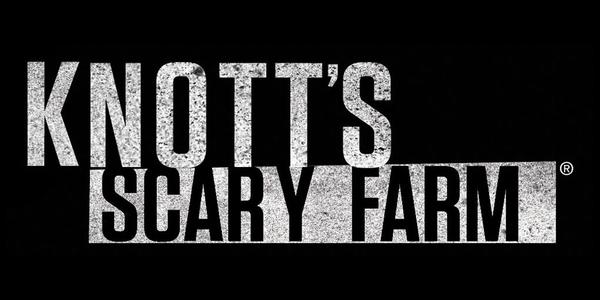 I'ts almost time for Knott's Scary Farm again! If you know me, you know that I have a serious love-hate relationship with all of the scary things at Scary Farm! They terrify me in a big way but I can't stop myself from wanting to be around them either! Last year's Haunt was so crazy-fun that I cannot wait to experience it again this year! Knott's Scary Farm seems to get freakier every year, which is probably why it's so much addicting! This year's Scary Farm will run for 24 frightful nights between September 24 and October 31st! Are you ready for all of the details?
Before I proceed with the the details about the mazes, scare zones, shows, and thrill rides, let's first talk the Scary Farm Pass! The pass gives you unlimited to all 24 event nights at Knott's Scary Farm and is such an amazing deal at just $80! Knott's is also offering a specially discounted price on the Scary Farm Pass to current Knott's Berry Farm Season Passholders.
This year, you also have the option to add parking to your Scary Farm Pass. If you are a current Knott's Berry Farm Season Passholder and already have parking and purchase a Scary Farm Pass, you will automatically have parking on your Scary Farm Pass and don't need to add it! Honestly, the Scary Farm Pass is an amazing deal and pays for itself by your 2nd visit. You should go grab yours now as quantities are limited!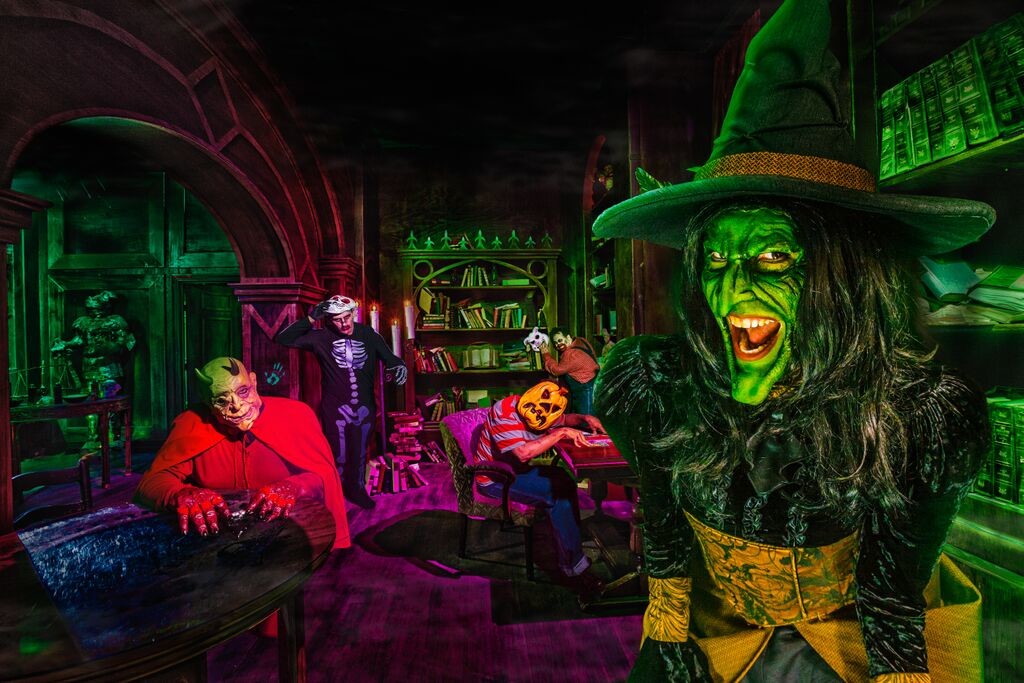 So, let's get on with the details of what you can expect to find at Knott's Scary Farm this year! 11 mazes, 1000 monsters, 2 live shows, 12 thrill rides, and 3 scare zones! So many fan favorites are returning this year with an addition of some crazy, new things. I swear Knott's raises the bar every year for this event!
Here are the 11 terrifying mazes you'll find at this year's Scary Farm:
Pinocchio Unstrung
Black Magic
Trick or Treat
Forevermore
VooDoo: Order of the Serpent
The Tooth Fairy
Special Opps: Infected-Patient Zero
The Gunslinger's Grave
Dead of Winter (new this year)
My Bloody Clementine (new this year)
Paranormal Inc. (new this year) 
One of the options that Scary Farm guests have is to add Fright Lane with Skeleton Key to their ticket. This offers unlimited priority access to 10 mazes all night long. The Skeleton Key, which is included with all Fright Lane passes, unlocks a secret extra room inside of five mazes. I went into some of the secret rooms last year and whoa! Extra freaky! Guests purchasing Fright Lane with Skeleton Key will receive a commemorative lanyard and collectible keychain with purchase (While supplies last)! Click here to purchase yours.
This year, both of the shows returning to Knott's Scary Farm are big fan favorites! I loved seeing both of them at last year's Haunt.
You can always expect a great performance by Elvira: The Mistress of the Dark! She is back with a brand-new show called Asylum, which will include music, dancing, and comedy! Also, fans have the chance to meet Elvira just by stopping by Elvira's Boo-tique and spending a minimum of $50. (Meet and Greet opportunity is only available to a limited to a number of guests each night)
The second live show is The Hanging®-Straight Outta Calico! This show is a hilarious and controversial parody show performed on the stage in Calico Square! I can't wait to see what kind of political jokes they're going to bust out this year! I also cannot wait to see which celebrity they're going to hang!
I love the scare zones! They pretty much cover the entire park so if you're not in line for a ride, you're walking through some portion of a scare zone! There are 3 different ones returning this year throughout the park and each have their own theme and set of monsters and other creepers to deal with.
CarnEVIL (The Boardwalk)
Fiesta De Los Muertos (Fiesta Village)
Ghost Town– the largest Scare Zone at Knott's Scary Farm (Old West Ghost Town®)
Also, new for 2015 is The Deadly 7  which is park-wide.
Knott's offers a couple different dinner options to "feed the beast". You can enjoy the Knott's Scary Farm Boo-fet Dinner with seatings at Chicken Dinner Restaurant or Spurs Chophouse. After dinner, you'll enjoy early entry into Knott's Scary Farm before it opens to other mortals. Click here for pricing.
Knott's also offers hotel packages at the Knott's Hotel for Scary Farm fans wanting to turn a night of thrills into a full-service weekend getaway! Packages are based on double occupancy and are subject to availability. Call the Knott's Hotel at (714) 995-1111 or (866) 752-2444 or click
here
for reservations and pricing.
The dates for Knott's Scary Farm this year are:
September 24, 25, 26
October 1, 2, 3, 4, 8, 9, 10, 11, 15, 16, 17, 18, 21, 22, 23, 24, 25, 28, 29, 30, and 31!
Knott's Scary Farm hours are:
7:00pm – 1:00am Wednesdays, Thursdays and Sundays
7:00pm – 2:00am Fridays and Saturdays
Knott's Scary Farm Parking
Parking for Knott's Scary Farm is $20 per vehicle and can be purchased online (plus applicable fees) or at the parking booth upon arrival. All Season Parking is valid during Knott's Scary Farm.
Other information about Knott's Scary Farm
Scary Farm is not recommended for children under 13
Guests may not wear costumes
Re-entry is not permited
Buy your tickets early because this event is expected to sell out!
 So are YOU ready for this year's Scary Farm? Tell me, what are YOU most excited for?
For more information about Knott's Scary Farm, click here.