I was compensated by Evite for my time in developing this post. All opinions are 100%  my own.



Spring is my favorite time of year! I love hearing the chirps of baby birds and getting to wear my new sundresses and sandals excites me too! (Ok, technically we can do that year-round, here in California.) All of the bright flowers in bloom make me happy! 
Planning a get-together for Easter is always fun for me to do too, because I enjoy any excuse to get together with friends and family. This year, Easter just kind of snuck up on me and although I'm great at pulling things off at the last minute, I was grateful to discover that Evite has an app for my iPhone! I downloaded it and within minutes, I had the information for our Easter Brunch filled out and an adorable family party invitation sent from my phone to my favorite "Peeps"! (aka my friends and family) 
Evite offers free and premium cards that you can customize. It's is the perfect solution for busy people on the go, which are probably most of us. When I plan a get-together, I like to carry the theme through, beginning with the invitation and extending throughout the details of the party. How adorable is the design I picked?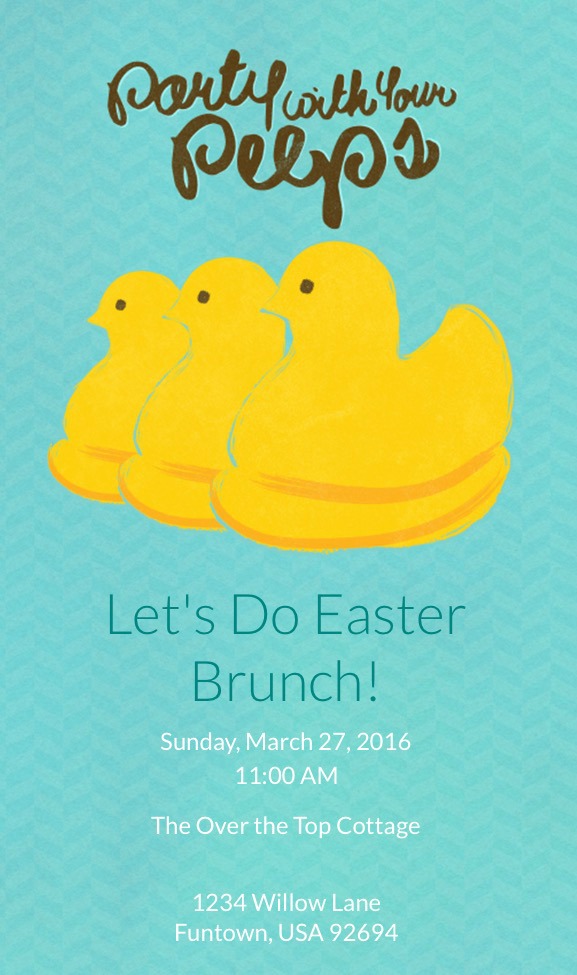 One of the conveniences I love about using Evite is that it allows me to check the status of the RSVPs, so I can plan better when I go shopping for our Easter Brunch. There's also an option to add a feature that guests can sign up to bring something, if you're planning a potluck type of party. It eliminates 5 different people all showing up with a gelatin salad! (Let's hope NO ONE shows up with one of those though!) It's such a great way to keep organized! 
We are really looking forward to our Easter Brunch. Easter egg hunting, delicious brunch food, bottomless mimosas, pretty Easter attire, but mostly getting to create more holiday family memories together! 
What are your plans for this Easter? Have you thought about organizing your Spring get-together with an Evite? It's a great resource!