This is a sponsored post. I received promotional products in order to write this post. All opinions are 100% my own.


As a super busy mom, I find myself packing lunches, ironing school uniforms, driving carpools, making phone calls, returning texts, paying bills, and doing just about everything for my family, all throughout the day. On most days, it feels like I spend about 99% of my time in the car trying to do a lot of those things.
Overall, Americans are spending more time than ever in the car—45 billion hours a year to be exact—so I guess I'm not alone. In doing so, they're accessing the power of their phones while driving because it's become a necessity and that's how most are connected to the world. According to a study, about 75% of American drivers admit they need a better way to integrate their mobile phones with their cars.
 I'm sometimes distracted while driving. You'll never find me putting mascara on while driving with my knee or brushing my teeth in the car, and I don't text and drive. However, because I'm such a busy mom, I am forced to "multi-task" and do things while I'm on the road. Some of my distractions include: drinking my coffee, eating on-the-go, or making phone calls (using Bluetooth, of course). Regardless of the type of distractions, no distractions are the ideal situation when it comes to being safe while driving.
Have you heard of Navdy yet? When the company reached out to me to try their portable head-up display (HUD) in my car, and explained that it was created to help you focus better with fewer distractions while you're driving,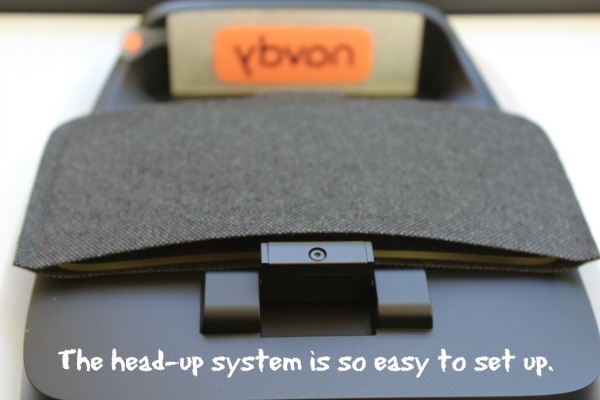 I was all over that opportunity. Navdy sits on your car's dashboard, right in front of you, allowing you to stay connected to your network, your car, and the road, all at the same time. It's the first device of its kind, projecting information into the distance so the road remains in focus.
Watch this video that demonstrates how Navdy works:


Navdy was very simple to set up and install in my car, with the HUD installed on the dashboard and the Navdy dial, your main tool for interacting with the device, easily accessible on your steering wheel. The system is compatible with both iPhone and Android, and you begin by downloading the Navdy app. Using the app, you walk through installation, in addition to looking through the illustrated installation guide.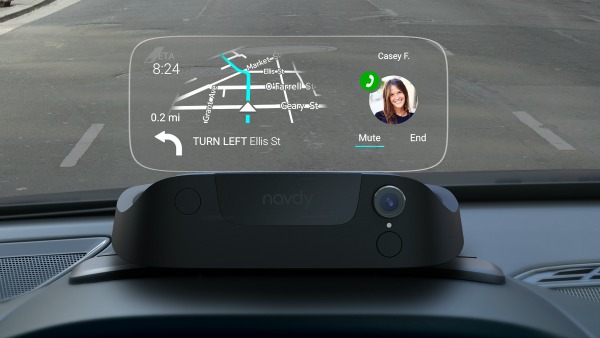 Since the system connects wirelessly with your phone, it allows you quick and direct access to your phone apps as well as your contacts. Once Navdy is set up and installed in your car, it enables simple, gesture-based access to the phone functions drivers need most and projects everything directly in your line of sight over the road ahead.
You can customize the display to include info such as speed limit, MPG, fuel range, directions, RPM, compass, calendar alerts, and more. They system is a comprehensive eyes-forward solution allowing drivers to manage all their phone necessities while keeping their eyes on the road.
Some of the things drivers can do with Navdy include:
Receive calls and texts without touching your phone
Control your favorite music apps
Get directions and beat traffic with navigation powered by Google Maps
And much more…
Not only do I feel like Navdy is the best new solution for busy adults like myself, but it also seems like something I would insist my teenage driver utilize in the car. Don't you agree? We want the safest possible scenario for our children, especially when they are new drivers and there are so many possible distractions that might take away from their eyes staying on the road.
Navdy is a truly effective way to minimize your distractions in the car and complies with all of the new hands-free driving laws. This award-winning technology system is currently offered at the great price of $499, or as low as $28/month for 18 months at 0% financing and includes free shipping to the U.S. and Canada. It's a great price for something that's helping to ensure the safety of you and your family in the car.
For more information about Navdy or to purchase, please visit their site at http://www.navdy.com.
Please note: Some images, logos, and video are property of Navdy and used with permission