Rubio's® Restaurants has counted the ocean as a source of inspiration since its founding more than 30 years ago and remains committed to helping protect it.
Here are just some of the ways that Rubio's® is a friend to the ocean:
Most of the seafood they serve is sustainable.
They celebrate World Oceans Day each year in June and have given away over 60,000 reusable tote bags to help prevent plastic from ending up in our ocean.
They use compostable packaging.
They recycle plastic and glass bottles in their restaurants when infrastructure exists.
On July 18, Rubio's is inviting Southern California residents to its 4th annual Rubio's CoastFest in Oceanside, Calif. One of the largest organized beach cleanups in San Diego, the clean up includes a celebration of the ocean with live music, complimentary food and drinks, a beer garden, and dozens of activities for kids of all ages including a mobile ocean education center, surf lessons, disc golf, surf-shaped corn-hole and more.
Rubio's CoastFest has continued to grow year after year, with a record turnout of more than 2,000 attendees and over 400 pounds of trash removed from the coastline in 2014. This year's event is gearing up to be even bigger with the addition of performances by one of Billboard magazine's chart-ranking artists, The Mowgli's, as well as popular children's band Hullaballo.
Additional experiences include an exhibit from the California Surf Museum, pop-up gardens featuring fresh ingredients used in Rubio's dishes, an outdoor cinema provided by Cox Media and photo booth provided by Cox Communications.
The festivities at the Oceanside Pier will kick off at 10 a.m. with community members going the extra nautical mile at a beach cleanup hosted by I Love a Clean San Diego.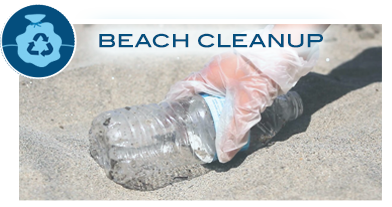 To get in on the cleanup action, participants should plan to bring a reusable bucket, gloves, comfortable clothing, sun protection and a reusable water bottle. Volunteers of all ages are welcome to participate. A signed waiver (available for download here) is required for each participant. The check-in process will be more streamlined if you bring a waiver that is already signed, especially if you are part of a large group. For beach cleanup participants that are looking for community service credit, volunteer verification forms will be available on site. Simply ask a CoastFest representative for a verification form when you are done with the cleanup.
Following the beach cleanup, the CoastFest celebration includes:
Complimentary food and drinks – Attendees will get to sample the Santa Fe Crusted Tilapia Taco that's not yet on the menu, in addition to enjoying handmade guacamole and chips, freshly prepared salsa, beverages and more.
Music festival – Guests are invited to visit the main stage throughout the celebration for free live music from a collection of local Southern California bands, as well as giveaways from 94.9 FM and KSON 97.3. Standout musical acts include The Mowgli's, a Los Angeles-based group incorporating rock n' roll, indie-folk and heartfelt ballads to create a quintessential California sound, and Max and the Moon, an alternative rock band with sounds that resemble the classic harmonies of the Beach Boys and early Coldplay.
Beer Garden – Guests 21+ can enjoy a cold brew at the beer garden featuring local craft selections. All proceeds from the beer garden will benefit I Love A Clean San Diego.
Kids' Zone – To help ensure a love of the ocean is passed down to future generations, there will be several educational and experiential activities for children that teach kids about different aspects of the ocean. These include a mobile learning center courtesy of the Wyland Foundation®, San Diego County Office of Education Splash Van, Rubio's prize wheel and performances by popular children's bands Hullabaloo and Clint Perry & the BooHoo Crew.
Activities and Games – Guests of all ages can enjoy free onsite surf lessons from Surfin' Fire and a sea of other activities including face painting, corn-hole, disc golf and more.
This year's on-site event partners include: I Love a Clean San Diego, Cox Communications, Motts®, Wyland Foundation, Honest Kids, Regal Springs® Tilapia, Trident Seafoods, Dasani®, Spy, Fiat, San Diego County Water Authority, San Diego County Office of Education, San Diego Credit Union, Surfin' Fire and more.
For directions to CoastFest, click here. For other info about the 2015 CoastFest, click here.