This shop has been compensated by Collective Bias, Inc. and its advertiser. All opinions are 100% my own. #BigGameSnacks #CollectiveBias
The Big Game Day is approaching quickly! It's almost party time! I'm going to let you in on a little secret here…I don't really worry about who's playing in the game or who even wins it! Don't get me wrong, football is fun to watch and all, but my real priorities on that day usually include:
watching the hilarious commercials
catching up on the latest gossip with my girlfriends who come to our Big Game Day party
enjoying lots of good food at the party
Hey, I know what's important! I love any excuse to throw a party that involves food and this is one occasion that requires some major snacks!  We usually order pizza or cook up some hamburgers at half-time so I like to set out simple types of things on the food table such as veggies, popcorn, chips & dips and some sweets for guests to grab during the game.
When I was out shopping for our Big Game Day party, I picked up a box of Original Cheddar Cheez-It Grooves crackers and a bag of new Cheddar Cheese Cheez-It Crunch'd.  As you can tell, we are big Cheez-It lovers in our house.
 The Cheez-It Grooves definitely live up to the description on the box: best of Cheez-It and a chip in one!'.  Cheez-It is dedicated to using only 100% real cheese which is baked into every delicious cracker. I'm going to set them out next to some veggies and ranch dip for the party.
They are delicious! 
I never knew the cheddar cheese Cheez-It Crunch'd existed! They're new and just appeared on store shelves last week. Crunch'd is Cheez-It's first-ever crunchy puff made with 100% real cheese. I was dying to try them immediately so I opened up the bag as soon as I got to the car!  I'm not the only one who does that, right? They are so good by themselves! For our party I plan on throwing them into a big bowl along with mini pretzels, buttered popcorn and some chocolate candies. It requires very little time and is a great mix, combining the salty with the sweet in a bowl.
I like to put something into the bowl that guests can use as a scoop and set out cute little cups to scoop the mix into. This eliminates "little hands" in the bowl  that everyone is taking from.
I'm a pretty big fan of sweets so I also decided to make these adorable chocolate dipped "football" strawberries for the table. They're very simple to prepare and Emi even helped me do the white piping. (She did an awesome job!) I'd suggest making a double batch since they probably won't last very long on the table.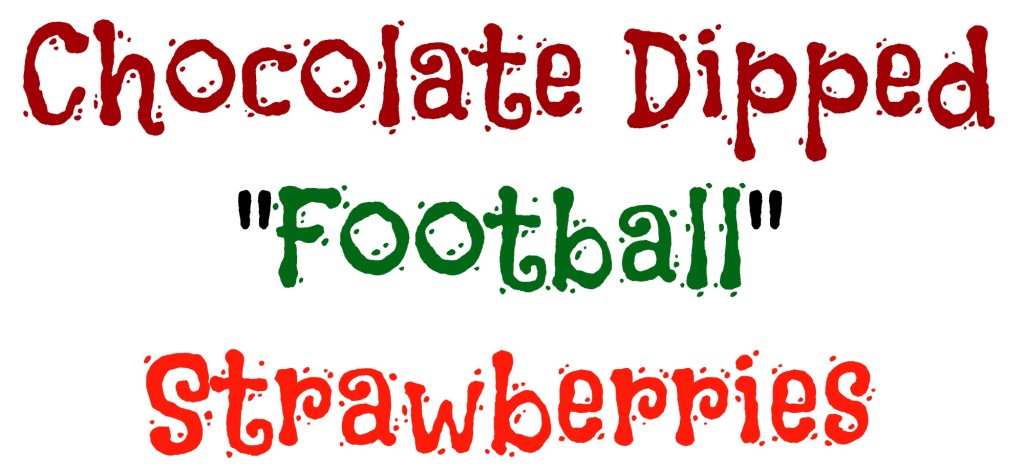 Ingredients:
1 lb strawberries, rinsed and dried
1 bag of brown chocolate candy melts
1 bag of white candy melts
vegetable oil (you won't need much)
Preparation:
Prepare your work area by putting some parchment paper down on the countertop. This is where the strawberries will be drying after they're dipped.
Place the brown candy melts into a microwave-safe bowl and heat for 30 seconds. Take out and stir. (They won't be very melted yet.) Heat for an additional 30 seconds and stir again. Add a tiny bit of vegetable oil to the bowl and mix in. The oil just helps to make your mixture a little bit smoother. Let the mixture settle for about a minute before starting to dip the strawberries. 
Dip each strawberry into the bowl, slowly turning it by its stem. Then use a spoon to cover the strawberry with the chocolate up to a fairly high point, trying to stay even all the way around the strawberry. Remove from the bowl and set onto parchment paper to dry. 
After the chocolate has completely dried (I stick mine into the fridge), prepare the white candy melts exactly like you did the chocolate ones. Transfer the white mixture into a piping bag (you can use a plastic sandwich bag) with the tiniest tip and pipe on the white football accents. If you make a mistake, you can quickly scrape off the white melt with a toothpick since it won't be dry yet. Again, wait until thoroughly dry before serving. 
It was really fun for my daughter to get in the kitchen and help me with these! She's got a pretty stead hand for piping! 
I found everything I needed to make my Big Game Snacks at Walmart! Both of the Cheez-It products were on the end of an aisle so I could just grab and toss them into my basket!
I think my snack table is all ready to go for the Big Game with all of the necessities! Can you think of anything I might be missing?
What are YOU most excited for on the day of the Big Game? Do YOU have any special recipes that you serve on that day?