I think the holiday season is my most favorite time of the year! There are an abundance of family fun holiday events to attend and enjoy together as a family. People everywhere just seem so happy during this time of the year.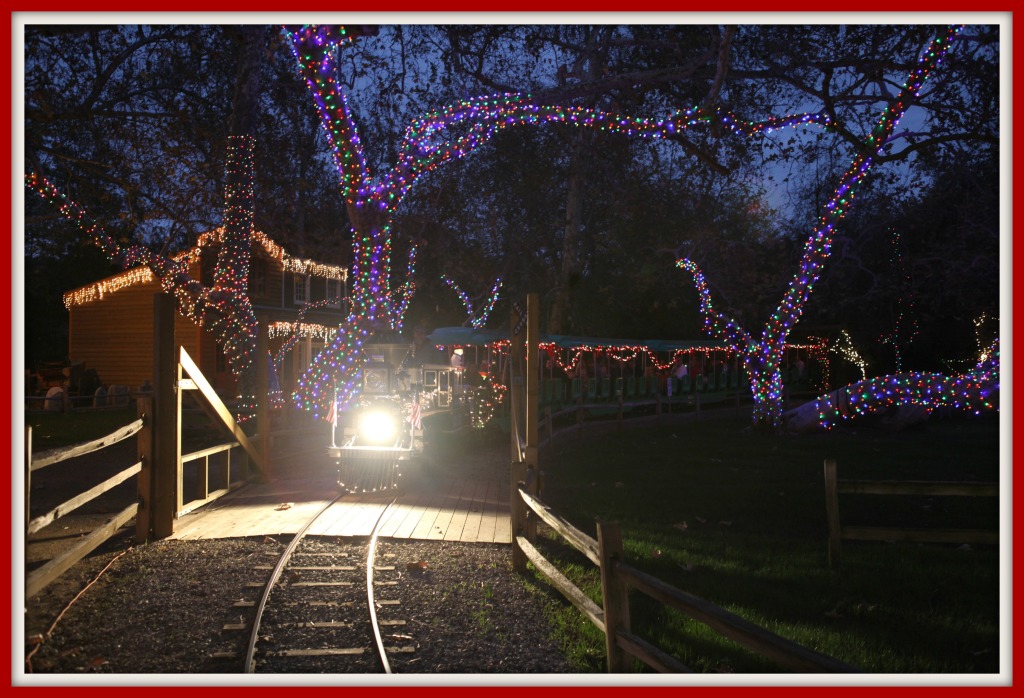 One of our favorite things to do before Christmas is to visit the Irvine Park Railroad's Christmas Train! You can visit with family and friends and take an enchanting night ride through historic Irvine Regional Park to meet Santa Claus. The train departs every 15 minutes from the brightly-lit train station and drops passengers off at the North Pole, where Santa is waiting for the children!
It's fun to ride the train at night and see all of the twinkling lights! Don't forget to dress warmly! 
We didn't get to go last year so this year we're extra excited about visiting on the weekend after Thanksgiving, which is opening weekend! We like to get there early and walk around Santa's Village, which is set up just next to the train station. Emi loves to participate in all of the fun activities there. (Activities in Santa's Village will open one hour prior to when the Christmas Train runs)
Irvine Park Railroad always sets up adorable photo props! I think we make a pretty cute penguin and polar bear, don't you? 
Here's what you'll find in Santa's Village:
• Story Time with Mrs. Claus
• Christmas Cookie Decorating
• Carnival Games
• Ice Fishing
• Santa Claus Moon Bounce
• Christmas Coloring Corner
• Picture Stands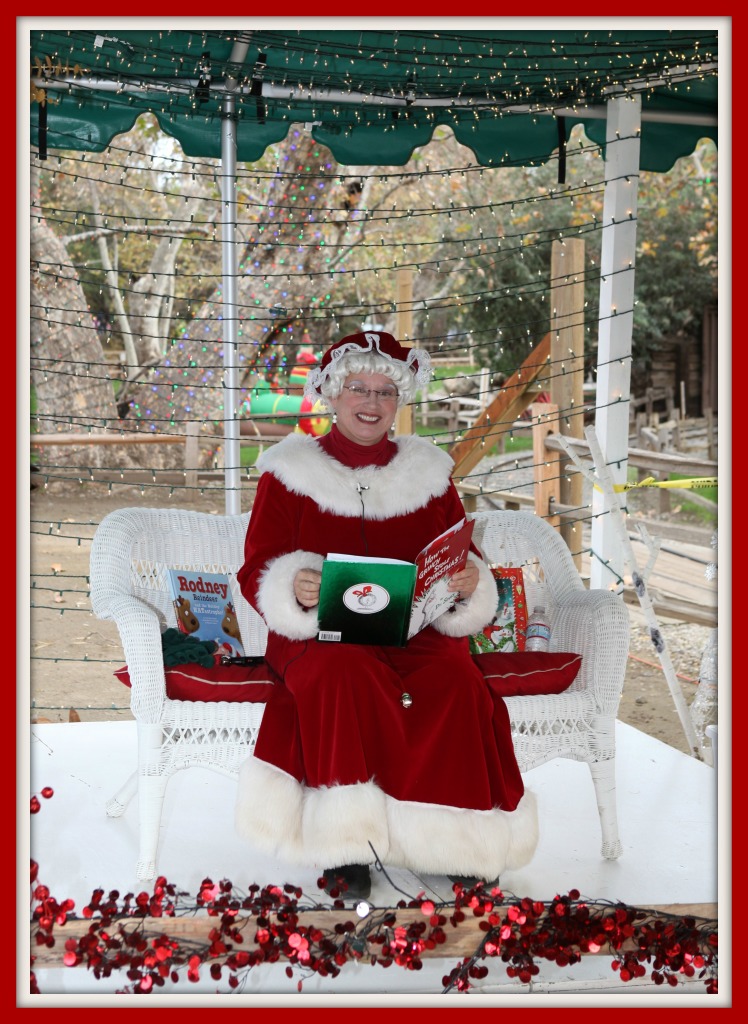 Enjoy story time with Mrs. Claus in Santa's Village. (photo credit: Irvine Park Railroad)
Activities are open weekends ONLY. Activities will be open daily starting December 15th Prices for activities in Santa's Village vary; for additional information and costs, visit http://www.IrvineParkRailroad.com.
Let's get back to talking about the Christmas Train though. When visitors are transported on the Christmas Train to "The North Pole", they are greeted by Santa and his elves.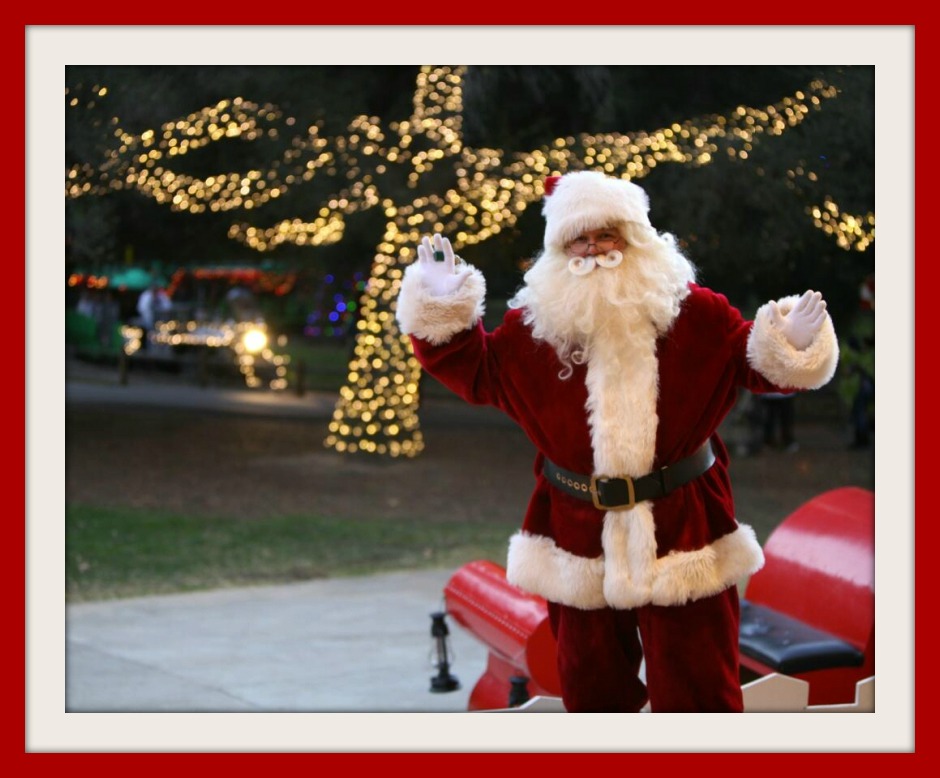 Santa will be waiting to take pictures with you and your family when you arrive at The North Pole! (photo credit: Irvine Park Railroad)
Coffee, hot chocolate, and other snacks are available for purchase from the Elf House Snack Bar. (A full kitchen menu is also available at the train station) Visitors may take their own pictures with Santa or may also purchase a picture taken by Irvine Park Railroad. Each 5″X7″ photo will be presented with an Irvine Park Railroad border and are available for pickup shortly after being taken.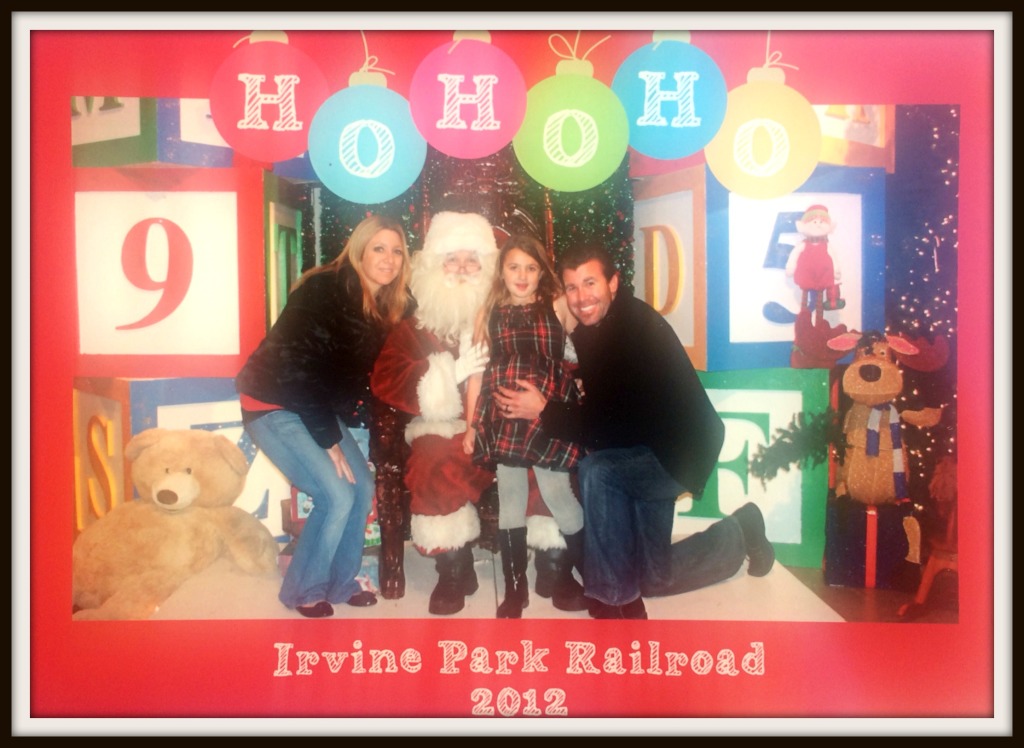 This was our keepsake photo with Santa from 2012! (excuse the quality of it being a picture of a picture) 
After visiting with Santa, hop back aboard the train and enjoy the colorful Christmas lights and decorations, as well as the magical "Tunnel of Lights", on the ride back to the station. You'll LOVE the tunnel! Oh and there's (faux) snow too!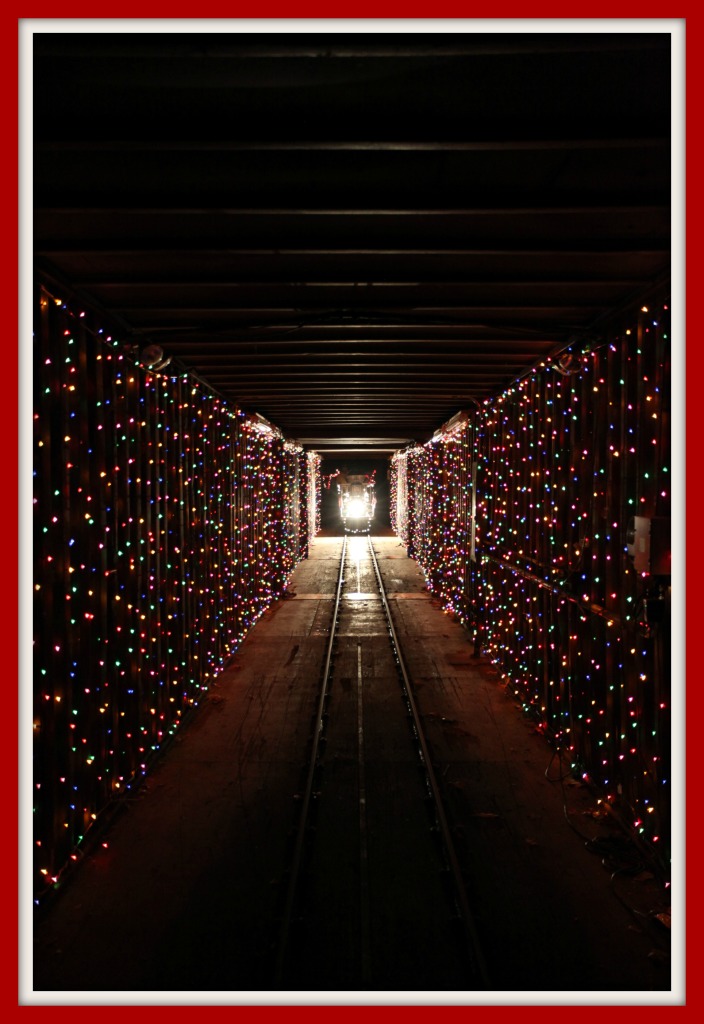 The Tunnel of Lights! (photo credit: Irvine Park Railroad)
Christmas Train tickets may ONLY be purchased online and can be purchased beginning November 1st! Tickets may not be purchased in person. You can purchase your tickets to ride the train on a specific date and time. Then, you print them out, bring them with you, and get in line to board the train any time during the hour for which you purchased your tickets.
Here's what's NEW this year at Irvine Park Railroad…..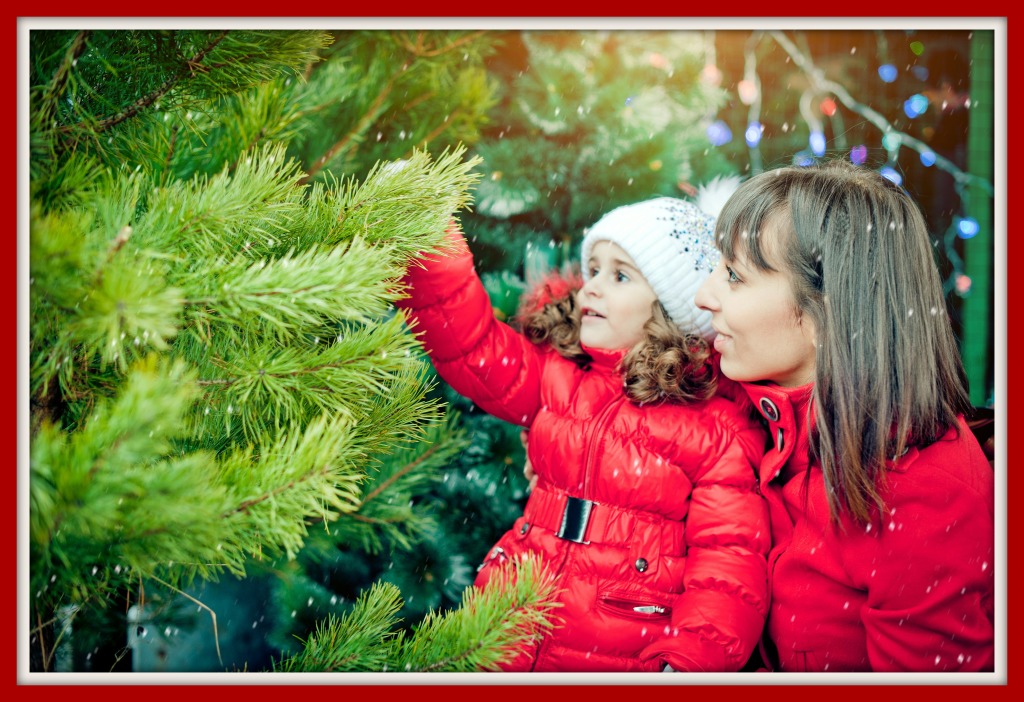 After visiting Santa, why not pick out your own special Christmas tree to take home at the all-new Christmas Tree Ranch? (photo credit: Irvine Park Railroad)
Beginning the day after Thanksgiving, families will be able to purchase Christmas trees at the all-new Irvine Park Railroad Christmas Tree Ranch! Visitors will be able to choose from among Douglas fir, Noble fir, and Grand fir trees ranging in height from 4′ to 12′. Christmas tree stands, preservatives, tree disposal bags, wreaths, and garland will also be available for sale. The Christmas Tree Ranch is open daily at 10:00 am beginning Friday, November 28th through Tuesday, December 23rd. Families can walk the Christmas Tree Ranch to find their perfect Christmas tree.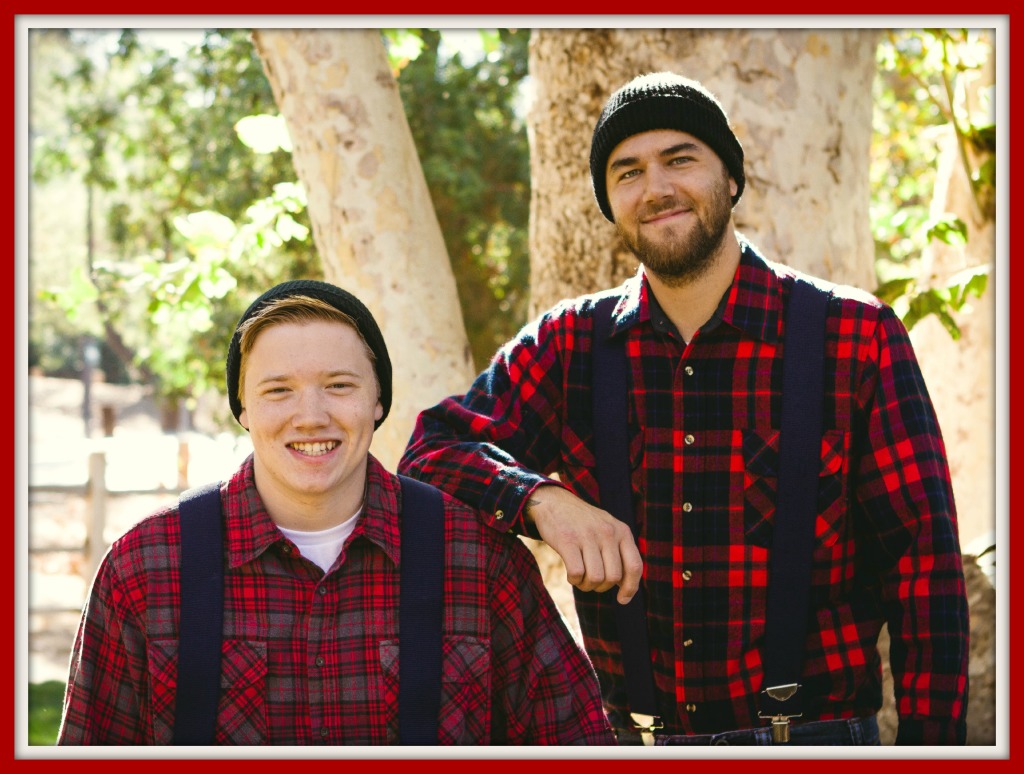 Irvine Park Railroad staff will help you load your Christmas Tree into/onto your car. (photo credit: Irvine Park Railroad)
I am already feeling the holiday spirit and am pleased to announce a giveaway hosted by the Irvine Park Railroad! I'm giving away 4 tickets for the Christmas Train, 6 Christmas Activity tickets, 1 Wheel Fun Rentals® at Irvine Park bike rental (excludes the double surrey), and 1 Wheel Fun Rentals® at Irvine Park paddle boat rental! Just enter below on the Rafflecopter! Good luck and happy beginning of the holiday season!
a Rafflecopter giveaway
Dogs and professional videography/photography are prohibited. Hours are subject to change without notice. The Christmas Tree Ranch is open weather permitting.
Annual Irvine Park Railroad events include the Christmas Train, Anniversary Celebration, Easter Eggstravaganza and Pumpkin Patch.
Visit Irvine Regional Park's other activities including Wheel Fun Rentals® at Irvine Park — fun and unique bike rentals that can be enjoyed by single riders or an entire family — paddle boat rentals, the Orange County Zoo and pony rides.
Irvine Park Railroad is located inside of Irvine Regional Park. The address is:
Irvine Park Railroad
1 Irvine Park Road
Orange, CA 92869
Become a fan of Irvine Park Railroad on Facebook, Twitter, Instagram, and Flickr.
For pricing, park directions and complete details, please visit http://www.IrvineParkRailroad.com.
Disclosure: I was invited to attend a media event as a guest of Irvine Park Railroad and given information to share with my readers. No monetary compensation was received. All opinions are 100% my own.