The magic of Macy's Believe campaign returns for the eighth year to celebrate the season's spirit of generosity and goodwill, all while benefiting Make-A-Wish. Make-A-Wish Orange County and the Inland Empire, are teaming up with Macy's for this holiday campaign benefiting Make-A-Wish called Believe! The campaign will help benefit local kids in the area who are battling life-threatening illnesses by raising a million dollars for Make-A-Wish®.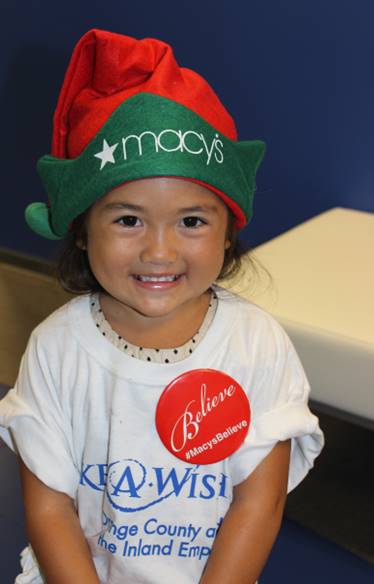 From November 6 through December 24, "Believers" of all ages can bring their stamped letters to Santa to their local Macy's store or send a letter by visiting macys.com/believe. For each letter received, Macy's will donate $1 to Make-A-Wish, up to $1 million, to help grant the wishes of children with life-threatening medical conditions up to 1 million dollars. New this year, Macy's Wish Writer™ stylus and app are a fun way kids can learn the magic of giving through interactive games and write the most magical letters to Santa. Available at approximately 600 stores across the country and macys.com, the stylus can be purchased for $14.99 and $1 from each sale will go to Make-A-Wish, which can also be used to write letters to contribute to the campaign!
The Believe campaign is a great way to get kids involved in helping local community children in need during the holiday season.  Why not incorporate the Believe campaign into your own holiday traditions this year? Thanksgiving is the perfect occasion for the whole family to write letters to Santa, which can also benefit a wish kid. You could also set aside a night to take letters to Macy's, and while there purchase a gift for a family in need. Even just hosting a cookie decorating party could result in 10 letters to Santa. Whatever the occasion, won't you consider joining in this year?
This is not a sponsored post. Images and logos property of Macy's and Make-A-Wish.