This summer, we've filled a lot of our time off with some exciting road trip adventures. Since we live within proximity to great beaches, mountains, and desert areas, a couple of road trips were the perfect way to enjoy the time together.
Road trip prep and packing has changed over the years. Gone are the times of loading up the car with pillows, blankets, snacks, and paper maps for a road trip. Do you remember watching your parents use actual map books? (and even squabbling over which route to take?) I do. I don't even think kids nowadays know what paper maps are. I mean, with technology, the need for those kinds of maps seems obsolete.
One thing that was so helpful to have on our road trips was our Navdy HUD (Head-Up Display System). I already have this system installed in my vehicle and use it all the time for city and highway driving. I recently shared about Navdy on my blog and how convenient it is for everyday driving. Now I need to tell you just how useful Navdy can be on a road trip, too.
If you aren't familiar with Navdy, it's a Head-Up Display system you install on your vehicle's dashboard. Navdy has many convenient features for you to access, all while remaining hands-free and keeping your eyes on the road thanks to hand gestures, voice control, and the dial attached to your steering wheel. With smartphone information like texts, maps and calls projected directly in your line of sight, you never have to look down at your actual phone.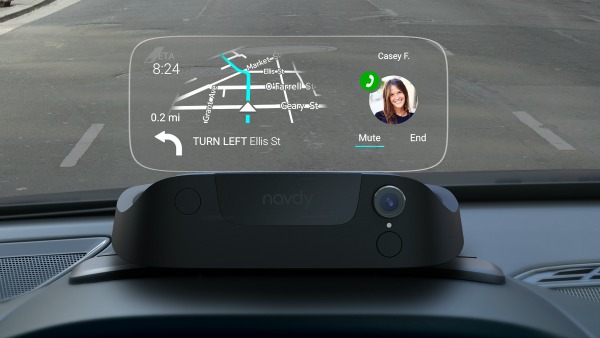 Let's face it, cell phones and distracted driving are a big problem nowadays. Navdy also has these other technological features:
directions
music control
speed limit
read and reply to texts
make and receive phone calls
Watch this brief video that shows how Navdy works:

Just watching that video makes me wonder why I didn't install one in my car sooner, especially for road trips. Here are 3 ways that Navdy helped our road trips.


Keeping your eyes on the road, especially in a road trip situation, is the most important thing. With the projections right in front of you on the screen, it minimizes the distractions because you don't even have to look away to do such things as use maps or voice command to call one of your contacts. Navdy is set up to project into the distance with transparent images, so the road stays in focus at all times.


Navdy is projected onto the screen right in front of you and is clearly visible to the driver whether it's bright and sunny outside, cloudy and grey, or there's a dark, nighttime sky. There was no need to feel like I was rushing to beat the daylight to still be able to use it. I also didn't have to worry if it was cloudy or even if it rained outside. Navdy has the capability to be visible to the driver regardless of the lighting situation and the weather outside, and that was reassuring.
I already mentioned that maps is one of the basic features on Navdy. However, the part I really appreciated the most about using Navdy on a road trip was the fact that no matter where we were driving, especially in the middle of nowhere, Navdy still had capability to navigate. Thanks to its onboard GPS, Navdy has a clear line of communication with the satellites above. Since its access comes from offline maps stored within the device, it didn't matter if there was cell reception or not. How many times have you been on a road trip and had your "maps" go out because your phone had "No Service"? That's scary! Being able to access maps through Navdy, regardless of where we were, was the ultimate win on our road trips.
In addition to these things, being able to make phone calls, receive and reply to text messages, and control the music in the car ― all while remaining hands-free ― was very convenient and something that helped our family on our road trips. You can customize your Navdy's display system ahead of time, too. 
Whether you're going someplace local or are out on a road trip, you want to avoid distracted driving at all costs because it isn't safe and can result in dangerous, unsafe situations for all of those on the road. Navdy technology was an immense help on our road trips and I highly recommend it for everyone! .
Now if Navdy could just come up with a feature that stops kids from asking "How many more minutes?", that would be the ultimate dream!
For more information about Navdy, please go here. You can also watch more informational videos on their YouTube channel here.