This shop has been compensated by Collective Bias, Inc. and its advertiser. All opinions are mine alone. #TinkandNeverBeast #CollectiveBias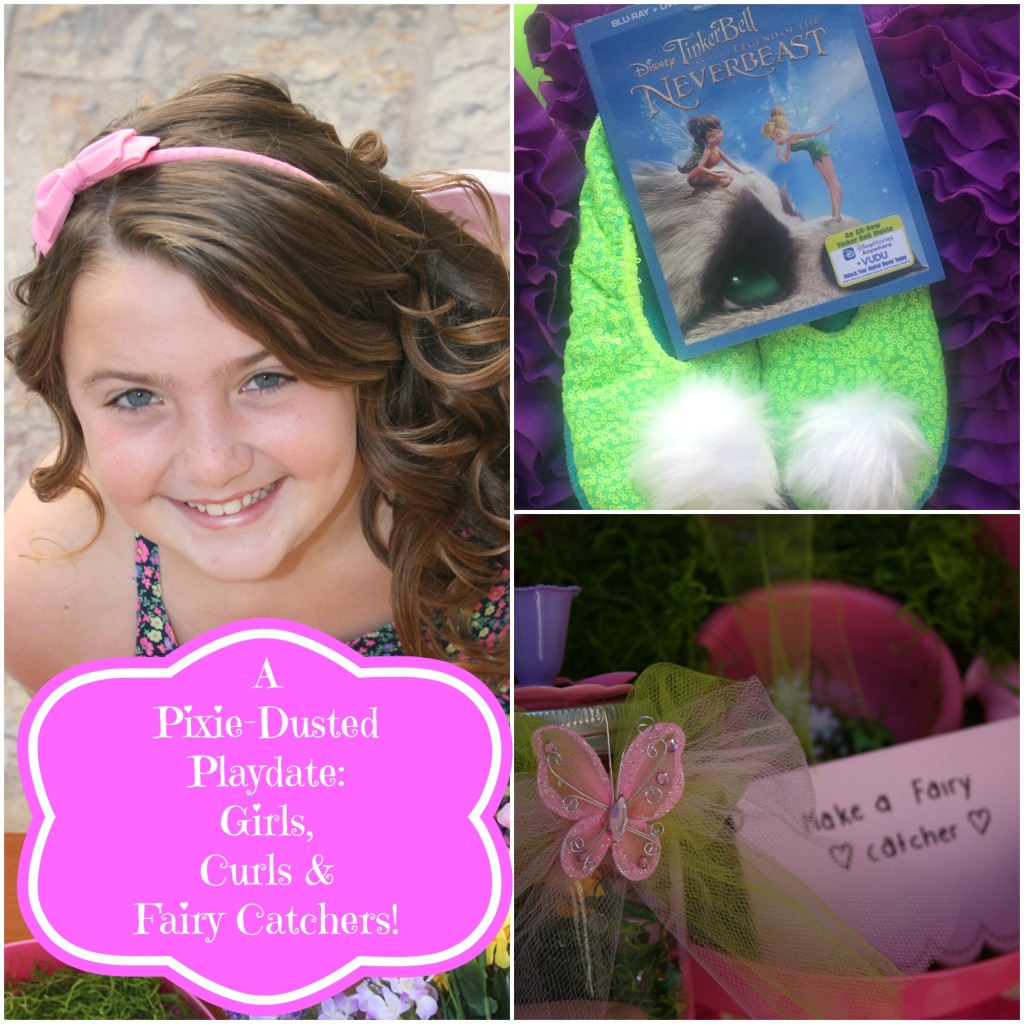 In our home,  just the mere mention of a new Tinker Bell movie coming out on DVD creates a level of excitement that's off the charts! It could be our love for Disney movies. It could be my own personal connection with Peter Pan (since I'm "Wendy"). It could be that I believe in fairies! Whatever the case, we were ecstatic when we heard that "Tinker Bell and the Legend of NeverBeast" was coming on DVD and in celebration, I decided to throw a Pixie-Dusted Playdate for my daughter and a few of her friends, so they could all watch it together.
As soon as March 3 arrived and the DVD released, I practically flew right over to Walmart to grab a copy for us! Oh and these slipper socks were a "need" also!
I fell in love with these sparkly green slipper socks so I bought some pom poms and put them on with my glue gun! How simple is that? It was like Instant Tinker Bell! 
For our Pixie-Dusted Playdate, I wasn't sure where exactly to begin the planning because I had SO many ideas going through my head, so I hit up Pinterest for ideas and created a Fairy Party board. There are tons and tons of ideas for food, crafts, games and more! I wanted to gear ours toward the pre-tween age since my daughter is 9 and her friends are 9-11 years old. I know that the girls at that age are still imaginative but I also know that nowadays I am also kind of competing with such things the girls' iPods, cell phones, and their Instagram accounts. I just wanted to have some fun things for them to do that would keep their attention and interest and not be "too young" for them. So, I had an idea. I gave up my (usual) total control of planning this playdate alone and let my daughter help! I asked her to brainstorm some ideas she thought her friends would be most interested in doing. She was so helpful and was there to assist with the set up, gathering things we needed and making samples. Look how cute these simple signs turned out that she made, too!
I asked the guests to arrive at our Pixie-Dusted Playdate dressed "springy" attire. As a special surprise, I hired a hair stylist to do the girls' hair. I know they love that sort of thing and why not make them feel extra pretty?  I love that Tinker Bell wears a bun but I envisioned my daughter and her friends with more of a free-flowing fairy hair look.  While they took turns getting their hair done by the stylist, the others were working on one of two crafts that we'd planned.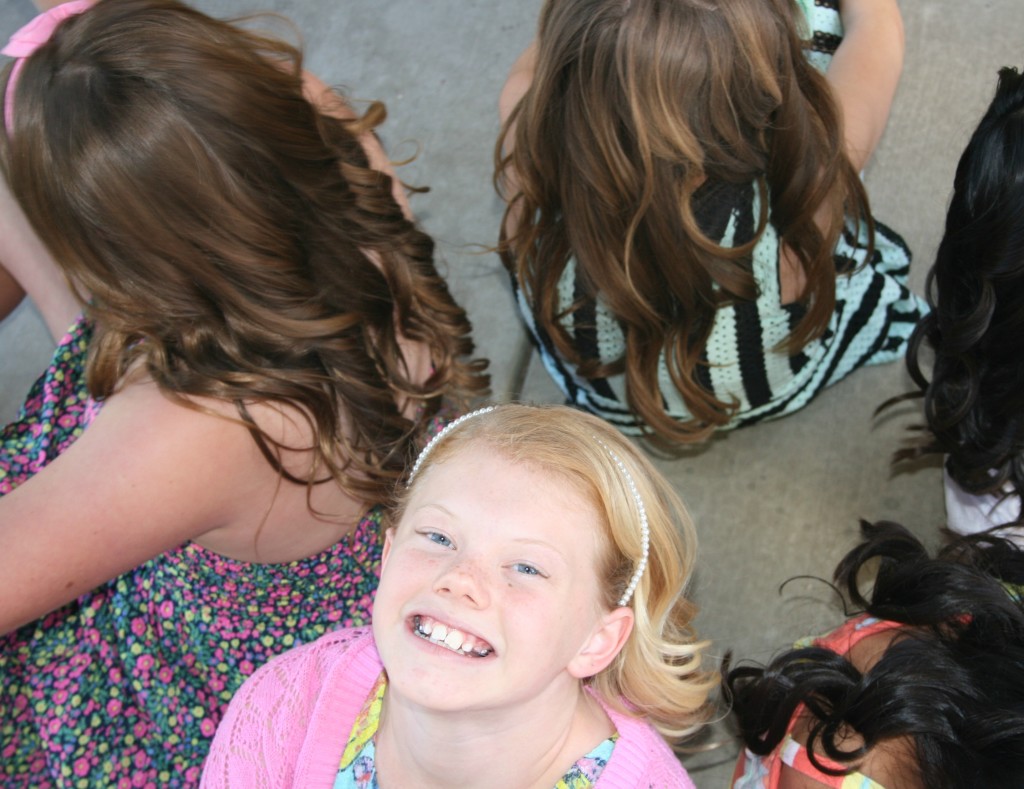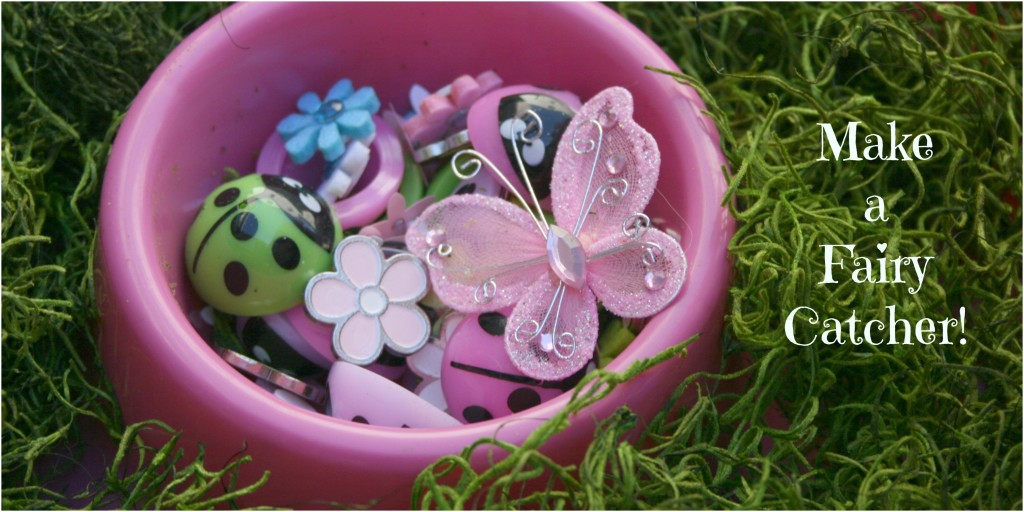 Our first craft was "Make a Fairy Catcher".
The girls were excited when they saw the area set up and expressed how cute they thought it was which really made me happy to know I'd picked out something age-appropriate. They really took their time to make each one just they way they liked it. Each one was so cute and perfect to catch a fairy with!
Here's what you'll need to make your own "Fairy Catchers":
Mason jars with tops, 1 per guest
"Magic" stones
Spanish moss
a variety of silk flowers
multi-colored "Magical" gems
small trinkets, such as ladybugs, butterflies, and paper flowers, to put inside
teeny, tiny teacups for the lid of the Mason jar
a few different colors of tulle
a hot glue gun
Instructions for "Fairy Catchers":
Choose a Mason jar and have the guest write their name on the bottom of the jar with a permanent marker.
Remove the lid from the jar and put some "magic" stones in the bottom of the jar.
Place some Spanish moss on top of the "magic" stones and fill to your liking.
Cut some silk flowers off of the stick and add to the jar. Using multiple colors makes it even prettier!
Grab a handful of "Magical" gems and toss inside.
Add some small trinkets, such as ladybugs, butterflies, or paper flowers, to your catcher, as well.
Glue a small teacup to the top of the Mason Jar, using a hot glue gun. (Parents should help with this part.)
After the glue is dry, replace the lid onto the Mason Jar, until you're ready to use it.
Choose some tulle to wrap around your jar, tie a bow with it, use a little bit of hot glue to secure it to the glass, and finish off with an embellishment of your choice. (We used metal flowers.)
Now your "Fairy Catcher" is ready to use.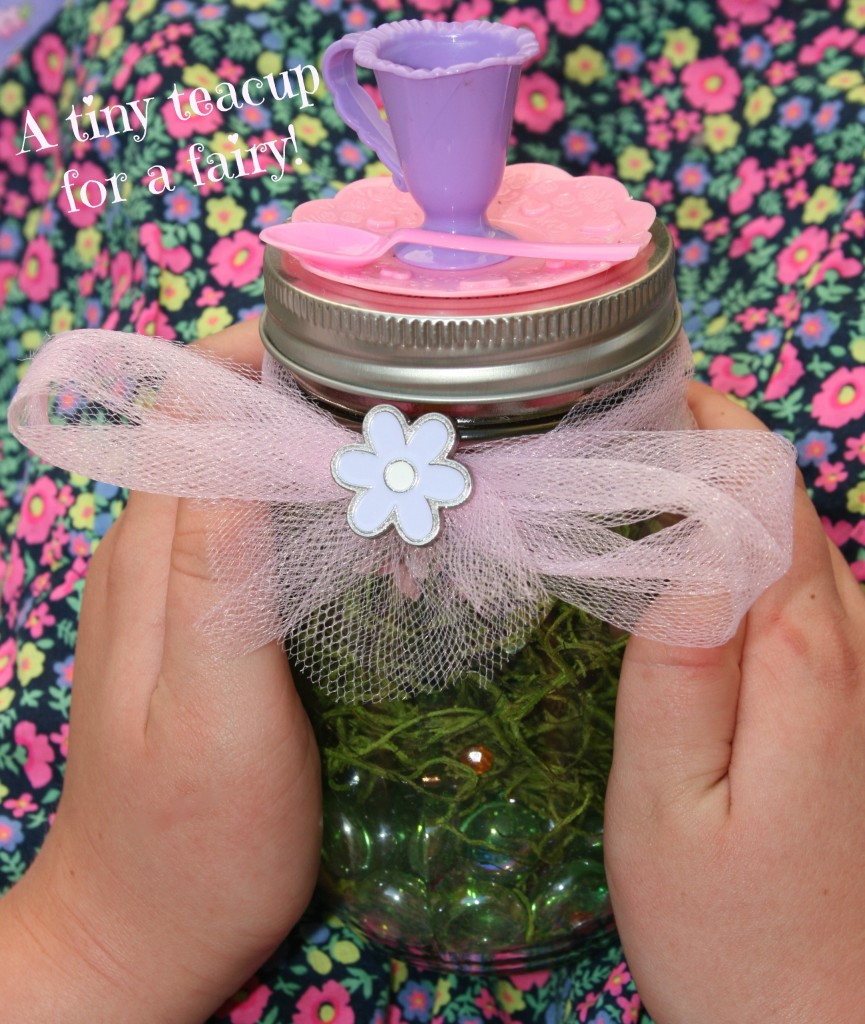 I loved the way that each girl's fairy catcher turned out. I also loved the little conversations going on while they were working on them.
Our 2nd craft was also something that my daughter came up with. It was a "Decorate Your Own Teacup" craft. It was so simple to set up and the girls needed no help with this. (other than me baking the cups in the oven)
Here's what you'll need to set up your own "Decorate a teacup" station:
1 white ceramic teacup for each guest, prewashed (coffee mugs would work too)
1 set of permanent markers in a variety of colors
1 package of baby wipes
1 roll of paper towels
1 sample cup for others to see, if your guests are on the younger side.
Instructions for decorating the teacups:
Have each guest select a cup to decorate.
Start by having them write their name or initials on the bottom of the cup.
Encourage them to make their designs colorful and decorate all the way around the cup and even inside the cup.
Mistakes can be easily "erased" (prior to baking) using a baby wipe. Dry thoroughly with a paper towel prior to resuming the decorating with pens.
Bake cups on a cookie sheet at 350 degrees for 30 minutes.
Remove cups from oven and allow them to cool down before distributing them to guests.
*Please inform guests that cups should be handwashed and not placed in the dishwasher.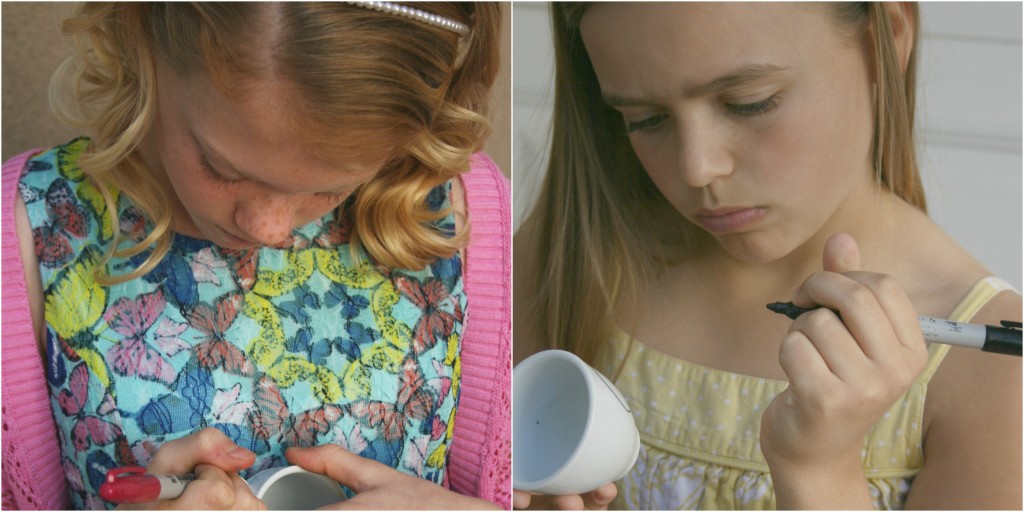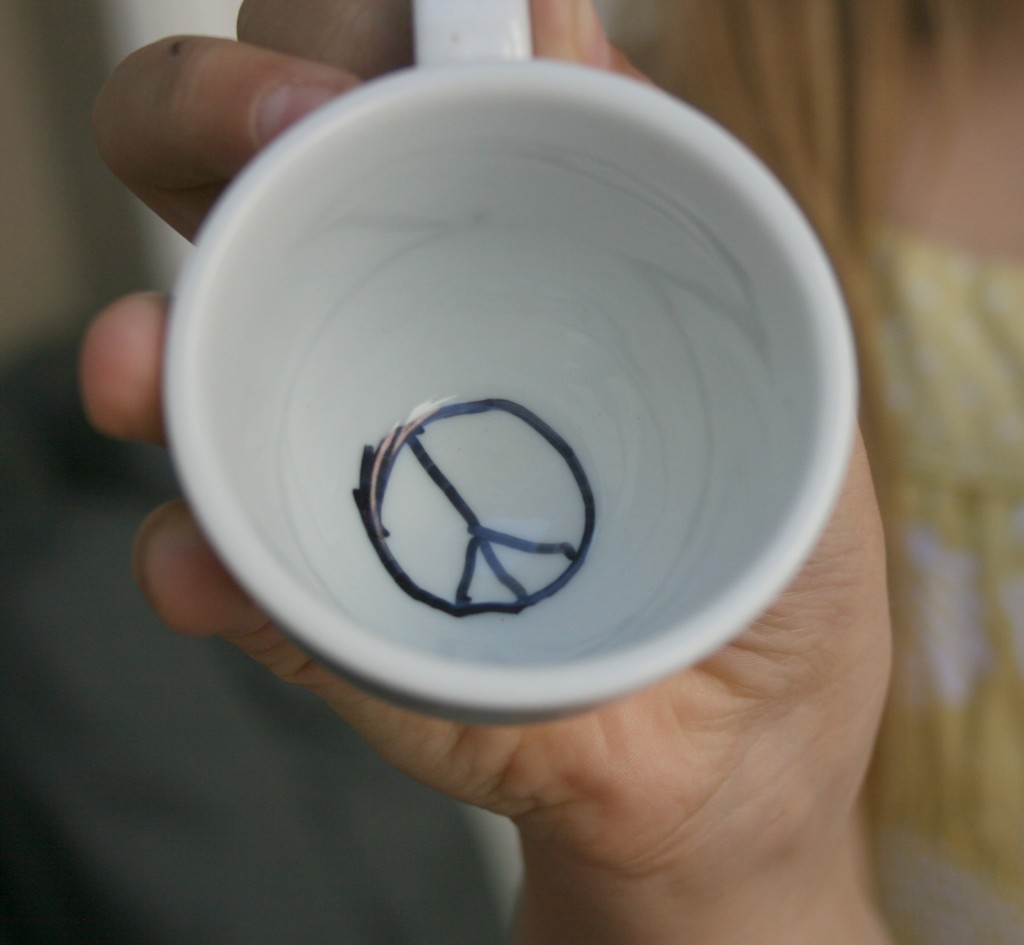 After all of the girls were finished having their hair done and they'd all done the crafts, they took a break to have some tea and fairy cookies while they finally got to watch the highly anticipated "Tinker Bell and the Legend of the NeverBeast" movie. There were giggles and there were tears, but overall, they loved it!
After the movie was over, the girls sat down outside together in a circle to play "Down By the Bank"! Before each round began, they'd place a fairy prize in the middle that was up for grabs! I don't know if they realized that I'd purchased a fairy for each girl or not because regardless, they were going to each be going home with one!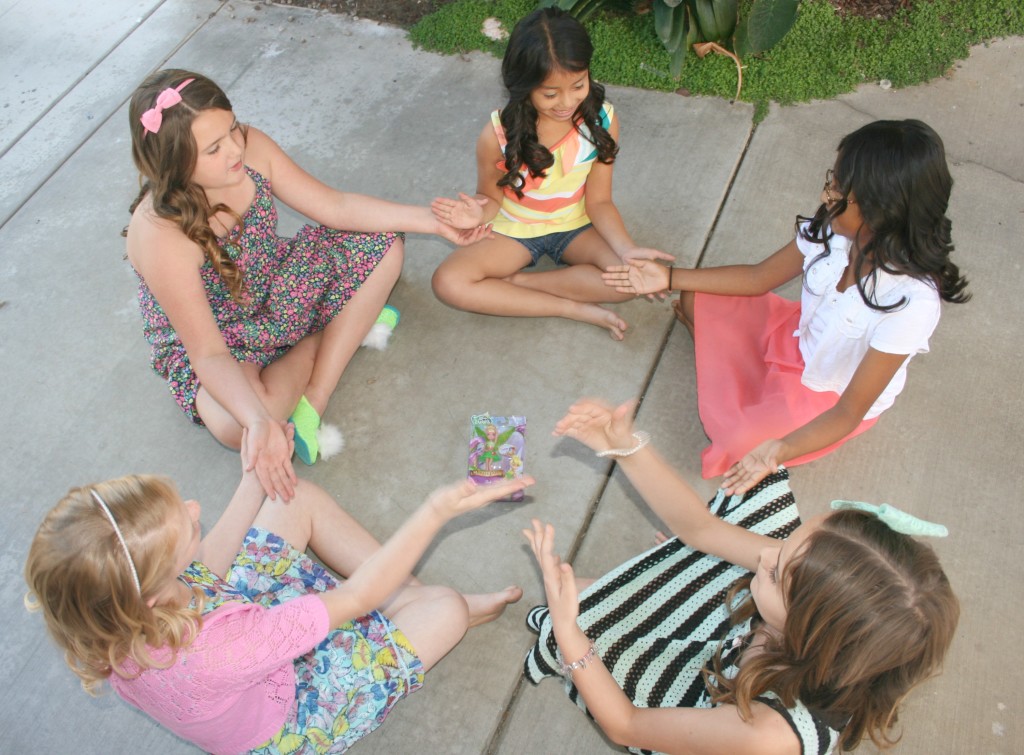 After they played a few rounds, it was time for cupcakes! We like to save the best for last! During our party planning, my daughter was the one who planned what kind of cupcakes to serve. I ordered a dozen simple, white cake/white frosting cupcakes from the store bakery and she topped them with a few fondant flowers, and stuck them into a polka dotted cupcake liner all on her own! So simple and inexpensive but they looked elegant!
Transforming plain cupcakes into elegant-looking ones is as easy as 1-2-3! 
Cupcakes and fairies in hand! I'd say life is good for these girls! 
After all of the guests left and we were just sitting down taking a break, I asked my daughter if she had fun at her Pixie-Dusted Playdate that afternoon? I adore her response!
Have YOU seen "Tinker Bell and the Legend of then NeverBeast" yet? If not, what are you waiting for?
We found the DVD and the adorable fairy dolls at our local Walmart in the entertainment section and in the toy section! We also found everything we needed for our "Pixie-dusted playdate" there! It was a fun afternoon!