I received promotional products from Walt Disney Studios in order to facilitate this post. All opinions are 100% my own. 
Summer is here and we decided to celebrate by throwing an outdoor movie night for a few friends and family. I couldn't think of a better way to do so than by showing one of Disney's all-time classic films, "Bambi", which joined Walt Disney's Signature Collection at the end of May, in honor of its 75th anniversary.
I loved this movie as a child and was so excited to introduce my daughter and my nieces and nephews to it also.
The Signature Collection release, now available at retailers, contains a variety of new bonus material including:
Recordings of Walt Disney discussing the challenges and triumphs during the production of "Bambi;"
Deleted scenes and characters;
Dtories and effects that "Bambi" had on the Studio, other films and artists;
and much, much more
Additionally, the Digital HD release includes an exclusive, heartfelt feature on the incredible artist, Tyrus Wong, who inspired the film's soft watercolor backgrounds and beautiful palette. Here's a sneak peek:
In our home, movies always call for snacks, which is why we whipped up a batch of "Bambi Snack Mix" for our guests to enjoy while watching "Bambi" at our outdoor movie. (Please see bottom of this post for snack recipe.)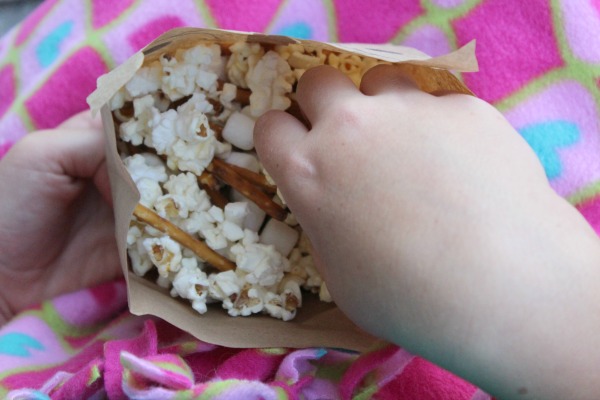 I was delighted to received an amazing bundle of goodies in the mail from Disney to host my outdoor movie night. My bundle contained an AAXA P300 Pico/Micro LED Projector, an Ion Audio Tailgater Portable Bluetooth PA Speaker System with Microphone, an Apple Lightning Digital AV Adapter for iPhone, and a copy of Disney's "Bambi" on Blu-Ray. I couldn't wait to get started.
Setting up your own outdoor isn't difficult. I promise. You can choose to project your movie onto on a light colored wall or garage, use a white sheet as a makeshift screen, or even purchase an inexpensive, portable movie screen. We opted for a wall to project ours onto.
The projector we received to use for our movie was a P300 Pico mini projector. It's small and pretty lightweight. It also produces the most clear, beautiful projections, with high resolution and vivid colors. This projector has the capability to show movies, as well as photos and videos and pairs up with your phone or mobile device or laptop. It's tiny but mighty and can be set up almost anywhere.
Although the mini projector already has sound coming out of it, pairing it with the Ion Tailgater speaker system really amplified the sound, to make it even louder for the outdoors. This portable sounds system includes speakers, an amplifier, audio inputs, and wireless Bluetooth technology, all in one durable cabinet that has handles for easy transport and allows you to enjoy your music whenever and wherever you want. . (It also works with iPad, iPhone, iPod, Android devices and more.)
For our outdoor movie, I streamed the digital copy of "Bambi" on my phone by using the digital code inside the DVD on the Disney Movies Anytime app. (Do you have this app yet?) Since my laptop doesn't have the capability to run an internal DVD, I just streamed the movie on my phone with Apple Lightning Digital AV Adapter and my phone hooked directly up to the projector. It was much easier than setting up a laptop anyway.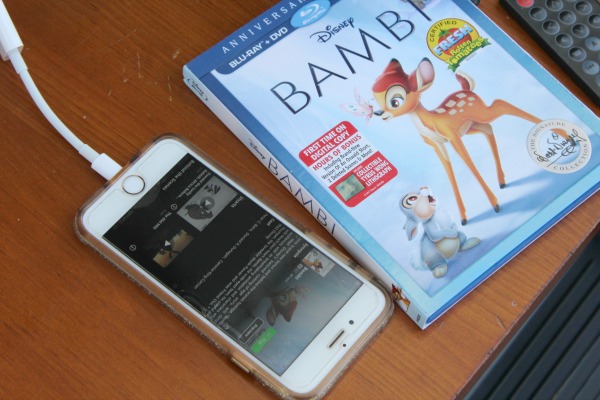 Whenever we have a party or a get-together, we like to do something thematic. Hosting an outdoor movie doesn't have to be complicated and you can get away with just serving simple snacks like popcorn and drinks. We decided to whip up a batch of "Bambi's Favorite Snack Mix" which is just a few goodies mixed in with popcorn and served in these adorable Bambi bags that my daughter created out of simple brown lunch bags we had in our cupboard.
To make your own batch of "Bambi Snack Mix", here are the ingredients you'll need:
microwave popcorn, 4-6 bags, popped and cooled
pretzel sticks or small pretzels, 1 bag
chocolate chips or chocolate candies, 1 bag
small marshmallows, 1 bag 
It's so simple to make, you just combine all of the ingredients in a large bowl. After ours was mixed together, I just filled up each Bambi snack bags with the mix and set out on a table for guests to grab before we started our outdoor movie.
To recreate these Bambi snack bags, you'll just need brown paper lunch bags, a black marker, scissors, a glue stick, and a cotton ball for each one.
 Here's a short time-lapse video showing how my daughter made a Bambi snack bag.

We had so much fun hosting our very first "Movie Under the Stars" and watching Disney's "Bambi". I can't wait to host our next outdoor movie party. Have you hosted an outdoor movie party before? Tell me what you watched and share some of the details of your outdoor movie party with me in the comments.
Sneak peak film footage is property of Disney.