I was invited super excited to join a fun group of my friends for Sunday brunch at KayNDaves Cantina in Culver City! It's of their 3 locations and is situated in a super fun little area of the city, right off Culver Blvd. 
After parking, I strolled through the hip downtown area until I reached the location and joined everyone on the outdoor patio. We were seated at a high, round table with a lit fire pit in the middle.
Southern California already has amazing winter weather but it also felt nice to have that fire going as we dined outdoors and started off with Fresh Muddled Watermelon Shots!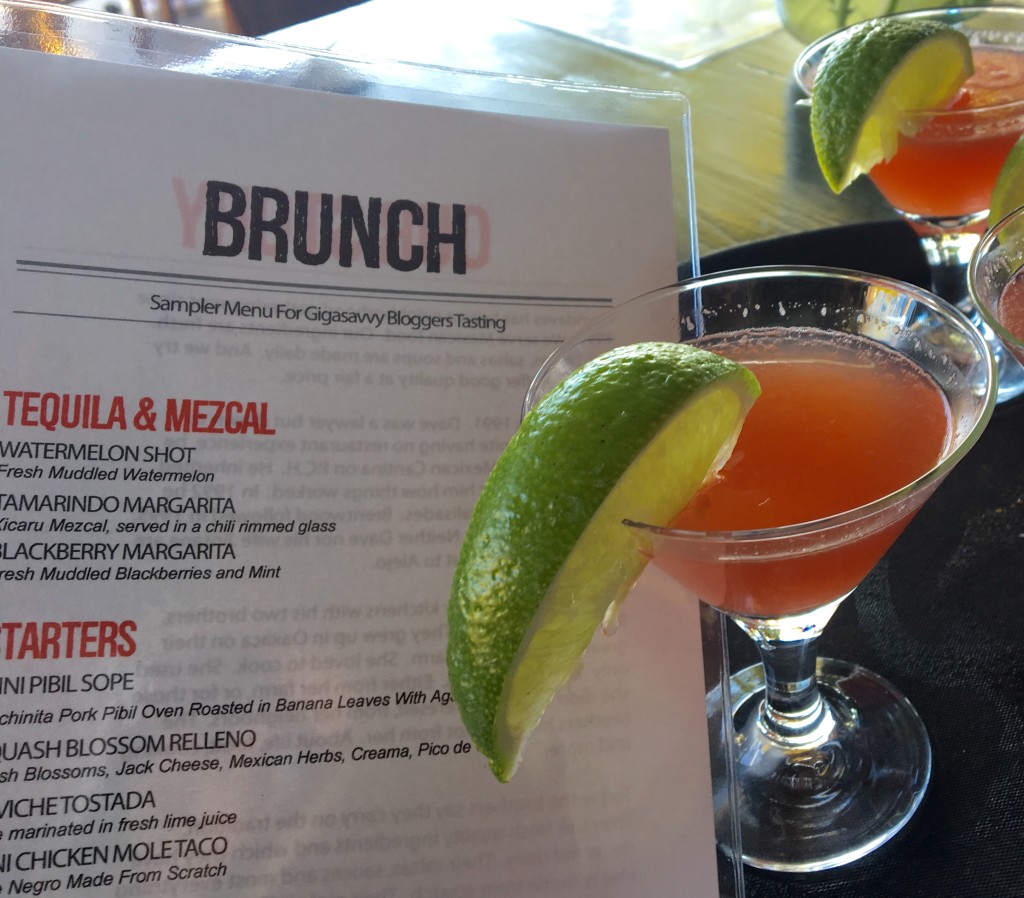 Kayndave's head chef, Alejo Grijalva, was raised in Oaxaca on his great-grandmother's farm. She too, loved to cook and taught Alejjo and his brothers a lot about life, food, and cooking. The recipes featured on the menu boast flavors and combinations of fresh ingredients that are straight from his great-grandmother's recipes that he brought to the United States all the way from Mexico. 
Alejo runs the kitchens at Kayndaves, along with his two brothers, Ruben and Roberto. If you ever meet them in person, you'll most likely question whether they are triplets! They look so much alike! Together, they're know as "Los Tres Hermanos" (The Three Brothers). The brunch that came out of that kitchen that day, was beyond amazing! 
The miniature versions of the "Starters" were beautifully plated together and my mouth was watering the moment they were placed in front of me alongside a Tamarindo Margarita, made with Xicaru Mezcal and served in a chili-rimmed glass! The "starters" included:
Mini Pibil Sope – A Cochinita Pork Pibil Oven-Roasted in Banana and Agave Leaves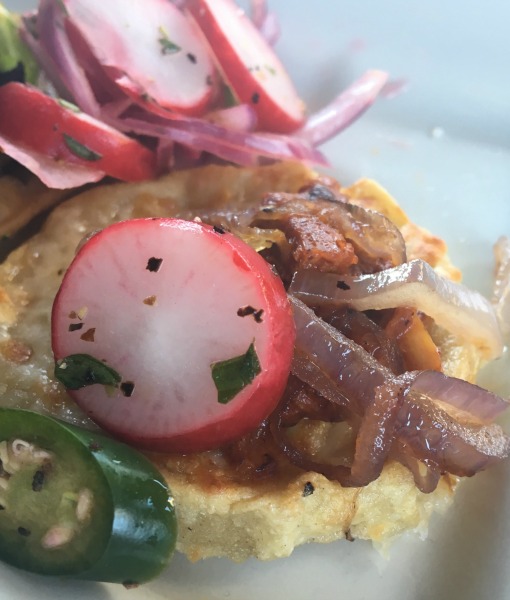 Squash Blossom Relleno – Fresh Blossoms, Jack Cheese, Mexican Herbs, Crema, and Pico de Gallo.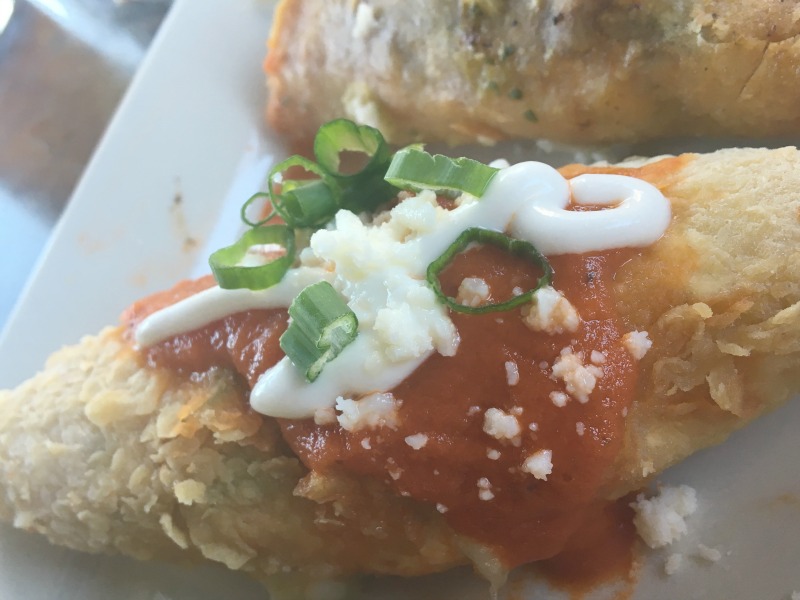 Ceviche Tostada – Sole marinated in fresh lime juice. 
Mini Chicken Mole Taco – Mole Negro made from scratch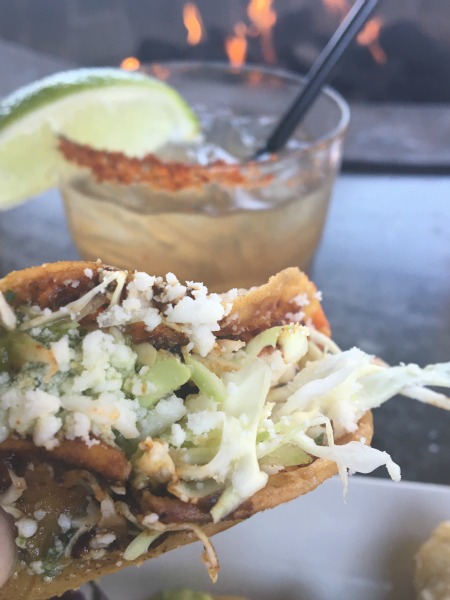 Please don't ask me which of the starters was my favorite because they were all amazing! If I didn't have to save room for the rest of the meal, I would've had seconds of each of these! 
After our starters, we were served Blackberry Margaritas. They had muddled blackberries and mint in them which made them not only look beautiful but taste that way as well! 
Next, our first entree arrived and it was Chiliquiles Verdes. This traditional Mexican breakfast/brunch dish was served in a skillet and topped with a spicy tomatillo salsa, Cotija cheese, and fresh herbs. I loved the presentation of the entire dish! 
Next, they placed a bubbling hot Molcajete Azteca down in front of me that smelled amazing! It had grilled steak, shrimp, and chicken in it that had been slow-cooked with a relleno in Guajillo sauce. 
By this point in our meal, although I'd been pacing myself, I was starting to slow down. Everything was so delicious though that it was hard to do so. However, I knew there would be dessert too and I ALWAYS have room for dessert, don't you? 
I had a huge smile on my face when they handed me an iced Mexican Mocha in a Mason Jar! 2 shots of espresso was just what I needed as an afternoon pick-me-up!
Topped with whipped cream and sprinkled with some "Abuelita", it tasted as good as it looked! It also paired well with the trio of desserts we were served: Tres Leche Cake, Banana Flautas, and Coconut Crusted Fried Ice Cream!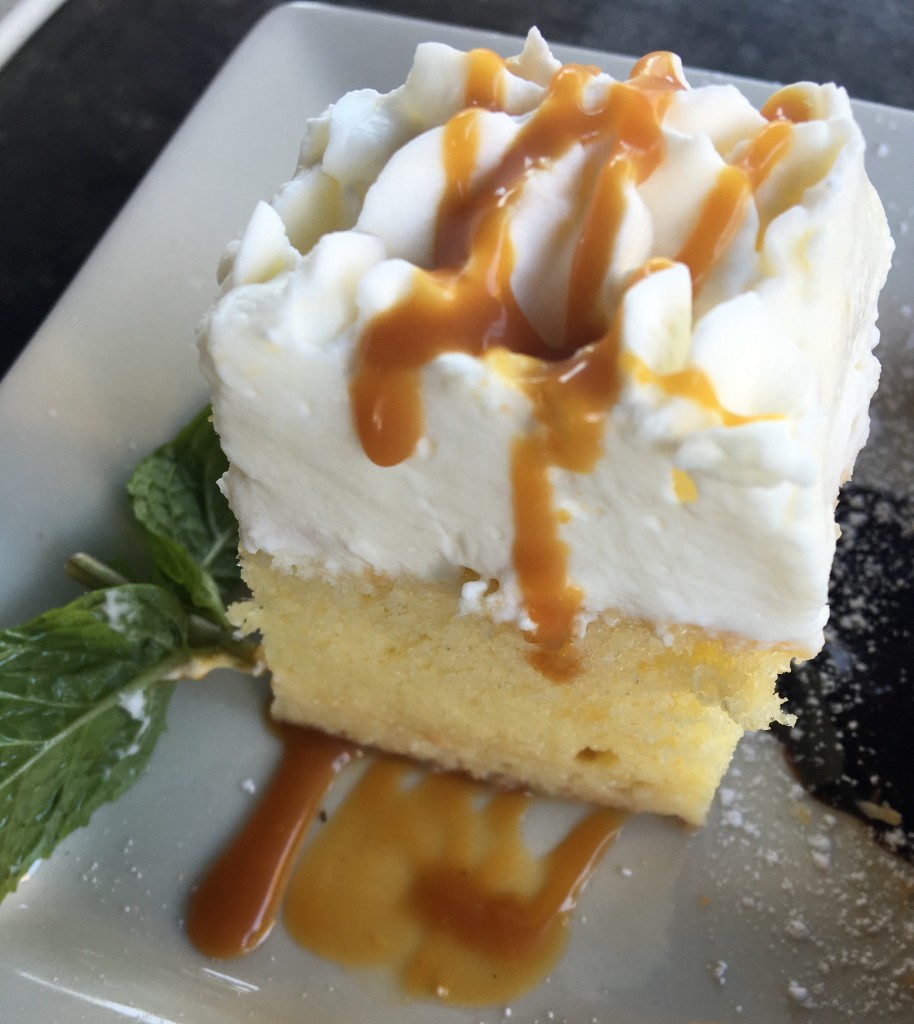 I had such a wonderful afternoon out at KayNDaves for Sunday brunch with my friends! I don't think I can ever get enough of authentic Mexican food made with such fresh ingredients like that and I hope to make it back there again to try their Happy Hour because I heard it's all the rage!
Visit KayNDaves on Facebook, Twitter, and Instagram.