This past week has been amazing for me from attending an advanced screening of Ghostbusters to touring Ghost Corps with Ivan Reitman on the Sony Pictures Lot to attending the Ghostbusters press conference at The Four Seasons in Beverly Hills. 
Ghostbusters has finally opened in theaters nationwide and I'm here to share my thoughts and opinions with you about the film. I won't post spoilers but I will give you 5 reasons why you should go see it.
It's a reboot, NOT a remake! 
No matter what your prior experience with Ghostbusters is (I grew up loving the original), this is not supposed to be a remake. It is a reboot. There's a huge difference. The film is this generation's Ghostbusters! Why wouldn't you want to see it? I go to the theater for entertainment and as way to escape the real world. The film has a story that many of us may already know, but also has more of a modern-day story line. The special effects are amazing (the ghosts are definitely scary) and I am a big fan of 3-D movies. I was laughing almost the entire time. As someone who was a huge fan of the original, my 80's Ghostbusters heart was happy to see cameos by some of the originals. 
It's (Somewhat) Kid Friendly
Let me just clarify, when I say it's somewhat kid friendly, I'm referring to kids that are on the older side. It's rated PG-13 so it's not appropriate for children of all ages,but I did take my 10 year old with me to see it and she loved it! I was honestly worried that she'd be scared because of the ghosts but when I asked her about it afterwards, none of those were anything she mentioned as bothering her.  I then thought she might be scared that night at bedtime or wake up the next morning and tell me she'd had nightmares, but she didn't. Instead, she woke up and asked if we could go and see it again? Heck yeah we can! There's definitely "language" in the movie but I was grateful not to worry about nudity. Having the opportunity to share this film with my daughter was exciting for me. It's her generation's Ghostbusters! 
Cause Chris Hemsworth
So I already said I wouldn't post spoilers but you're going to love Chris Hemsworth in this movie! Obviously many fans adore him for obvious reasons but he's hilarious in this film. After attending the press conference with the leading cast, Melissa McCarthy and the other ladies pretty much confirmed that after working with him on set, they're convinced there isn't anything Chris can't do. He acts, he sings, he dances, and he's nice? Wow! Seems a little unfair to any male out there. Anyway, my reason #3 for why you should go see Ghostbusters: Cause Chris Hemsworth!  I highly suggest you stay all the way through the credits for a little extra fun with Chris.
The All-Female Lead Cast
I'm astonished that there are people making negative comments about this film just because there's an all-female leading cast! Seriously? These women are amazing! Melissa McCarthy, Kristen Wiig, Leslie Jones, and Kate McCannon, are some of the most hilarious female actors in the business right now. They're women that girls (and boys) can look up to, especially as part of Ghostbusters! Isn't that what we want for our youth? The majority of films portray most superheros as males but here is a film that features women too! I adore and admire each of these women and even more after sitting in on the press conference they did for the film.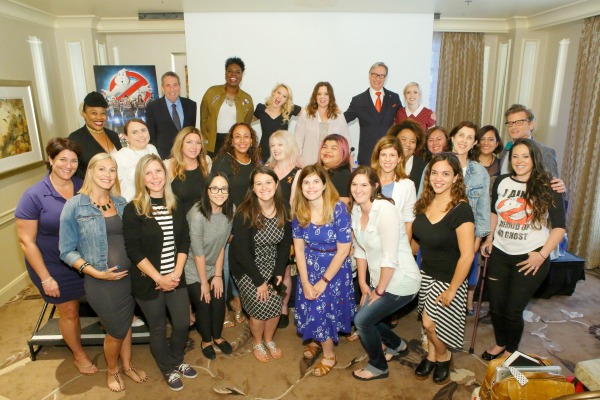 All The Things Ghostbusters 
So, back to the film.  People want to know if they should see it? Yep! Others have asked how it compares to the original. In my opinion, should it have to compare to the original? I loved the original.  I will also say that my experiences with 80's movies is that they can be quite outdated when you re-watch them years later. This new Ghostbusters was so much fun to watch, especially watching the ladies take on the ghosts to show them who's boss! You will love the location of the film, you'll love the ghosts, you'll love the storyline, you'll just love all the things Ghostbusters!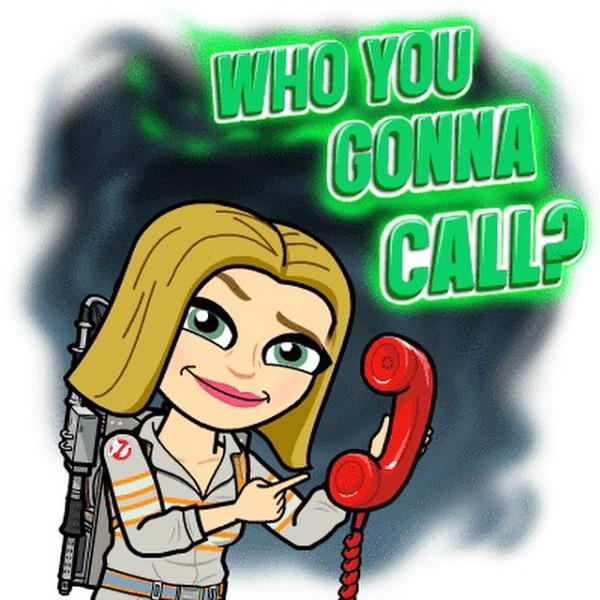 So…"Who YOU gonna call?" Are you headed to the theater to see Ghostbusters? If so, come back and leave me a comment with some of your thoughts about it! Thanks for reading!
Find Ghostbusters on Facebook, Twitter, and Instagram.  Also, down load the Bitmoji app in the iTunes store to make your very own Ghostbusters Bitmoji!
I was invited as a guest of Sony Pictures to attend the media press junket. All opinions are 100% my own. Some photos are property of Sony Pictures.