When Southern California Disney fans (like me) heard the news, back in August, about the Main Street Electrical Parade returning "home" to Disneyland Park for its encore performance at the start of 2017, we were all beyond ecstatic!
Although the "Paint the Night" parade is also a big fan favorite at Disneyland, there are so many Disney lovers that deeply cherish the Main Street Electrical Parade and have longed for it to return since it "glowed away" from Disneyland on November 25, 1996. 
The older generations of Disney fans remember this classic nighttime parade because we saw it during its originally run down Main Street, U.S.A. inside Disneyland, in its original "home". Others have either seen in another Disney Park or have possibly just been told about it from their parents. Whatever the case, the little kid in me comes out as soon as I hear the first synthesized tune of "Baroque Hoedown" start to play  the theme song for Main Street Electrical Parade. When I watched the TV spot for its return, my eyes immediately welled up with happy tears. Watch it here:

I was so honored to be invited to attend a very special preview and premiere of the parade, the night before it was scheduled to start the official limited time run of its encore performance on January 20, 2017. (It will only be here through June 18, 2017).
It was a magical night and for some reason, the Southern California rain, which had been pouring for a couple of days, suddenly halted for a few hours so that the 9 p.m. parade could take place. I had a case of the giggles as I sat on the curb in Town Square on Main Street, U.S.A., with some of my friends, waiting for it to start.
Before long, the parade lights lit up nice and brightly, and we could see the front of the Main Street Electrical Parade making its way towards us in Town Square on Main Street, U.S.A.. (It began all the way down by "It's a Small World".)
The iconic floats illuminated the parade route and were led by the train that Goofy's driving. Minnie and Mickey Mouse are also aboard this train greeting guests, all along the parade route. The train is pulling the drum which has a lit up text that says "Disneyland Presents Main Street Electrical Parade". 
It gave me all the feels to see it say "Disneyland" again, as the last time I had the pleasure of watching this parade, it was at Walt Disney World.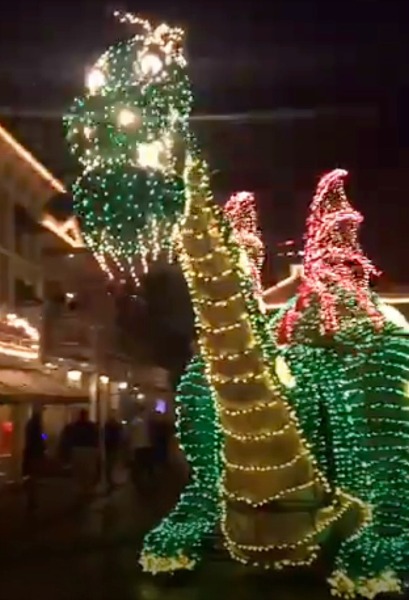 The Main Street Electrical Parade includes 22 floats in all, which is 10 more than the original parade which only included 12. You'll find characters in the parade from 7 different Disney films including "Alice in Wonderland", "Cinderella", "Peter Pan", "Snow White and the Seven Dwarfs", "Pinocchio", "Dumbo", and "Pete's Dragon".
In addition to the floats, there are about 80 parade performers, some of which are adorned in lighted costumes. There are also 27 beloved Disney characters that perform as part of this parade including Mickey & Minnie Mouse, Goofy, Cinderella, Tinker Bell, Peter Pan, Captain Hook, and more!
It's such a great time to plan a visit to the Disneyland Resort now, especially with the limited-time return of the Main Street Electrical Parade. If you haven't seen the SoCal Resident Discounted Ticket offer, it allows you to purchase park tickets at amazing prices, for a limited time. For more information about these tickets, go here.
The Main Street Electrical Parade's stay at Disneyland is only for a limited time so be sure to get there to see it (at least once) before June 18th! Do you have childhood memories of this special parade? Share with me in the comments. I hope to see you in the Parks!
I was invited to attend a special media preview of Main Street Electrical Parade in order to write this post. Some images and footage are property of Disneyland. All opinions are 100% my own.